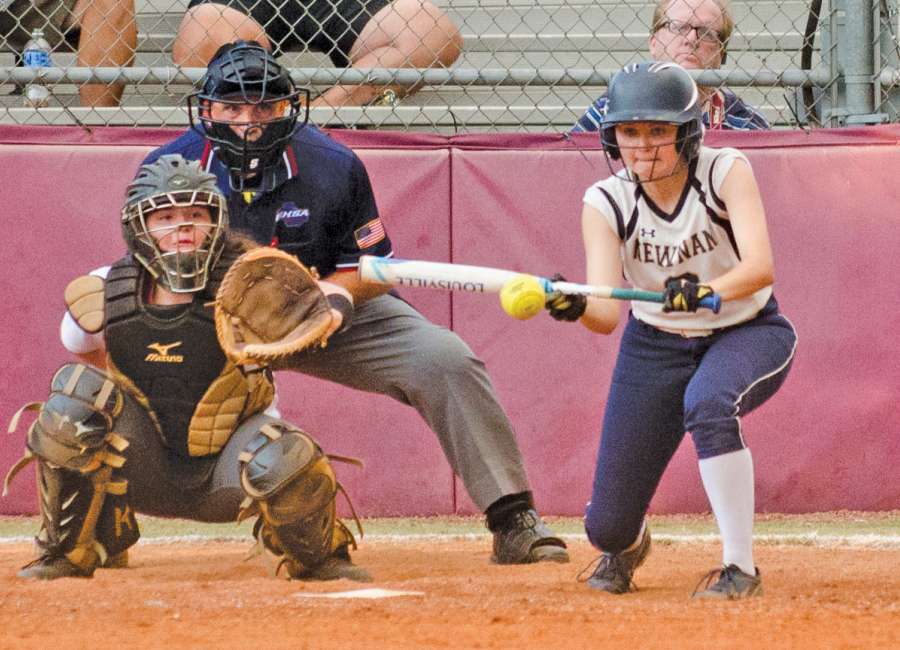 By DOUG GORMAN
dgorman@newnan.com
After getting shut out by East Coweta on Monday, Newnan head softball coach Carrie Gilmore challenged the Lady Cougars to bounce back Wednesday night on the road against non-region county rival Northgate.
The Lady Cougars responded to her plea in a big way, especially in the later innings, beating Northgate 10-1 in a game called in the sixth inning by the mercy rule.
It took Newnan three innings to get the offense started, but finally it broke the scoreless tie with three runs in the third.
From there, Newnan was just getting started.
The Lady Cougars increased the lead to 5-0 in the top of the fifth and put the game out of reach  in the sixth with its final five runs.
"I was very pleased with the way we played," Gilmore said. "Once we started scoring our bats just keep going. The best thing about this game was it was a total team effort."
Ansley Houston picked up the win from the pitching circle for the Lady Cougars, going the distance while allowing just five hits and striking out two.
Newnan's Alex Williams led the Lady Cougars' offense with four RBIs.
In addition to her strong pitching performance, Houston also drove in two runs.
Hailey Bloom, Danielle Curlee, Reagan London and Hailee Hartfree also knocked in runs during the Lady Cougars'  winning effort.
Hartfree drove in her run on a squeeze play and London and Williams drove in a pair of runs on groundouts.
It was producing in those clutch situations that pleased Gilmore.
"We have struggled with just doing the little things like that," she said. "It's the little things that we have been working towards."
After giving up 16 runs to East Coweta, Newnan's defense also bounced back and made some big plays against Northgate.
"I was very disappointed in our defense against East Coweta. Whether they shut us out or not, our defense has to come through."
Left fielder Marti Dunn made two spectacular catches and Bloom snared two hard hit liners to center field, one of which began a double play for the Lady Cougars.
"We have been moving our defense around a lot this year because of injuries," Gilmore said. So we have had to make adjustments."
Northgate kept the game close early with starting pitcher Olivia Cato strike out four through two innings.
She also pitched out of trouble in the second and third as Newan left base runners stranded in scoring position.
Northgate had its chances finishing the game with four doubles including two from Natalie Heath.
Gracie Storey also reached on a double.
Alissa Bolinger's double in the bottom of the sixth and later scored on Natalie Heath's RBI, but the rally attempt was short lived.
Lady Cougars 10,
Lady Vikings 1
Newnan   000 325—10 7 0
Northgate    000 001—1 53
W—Ansley Houston
L—Olivia Cato