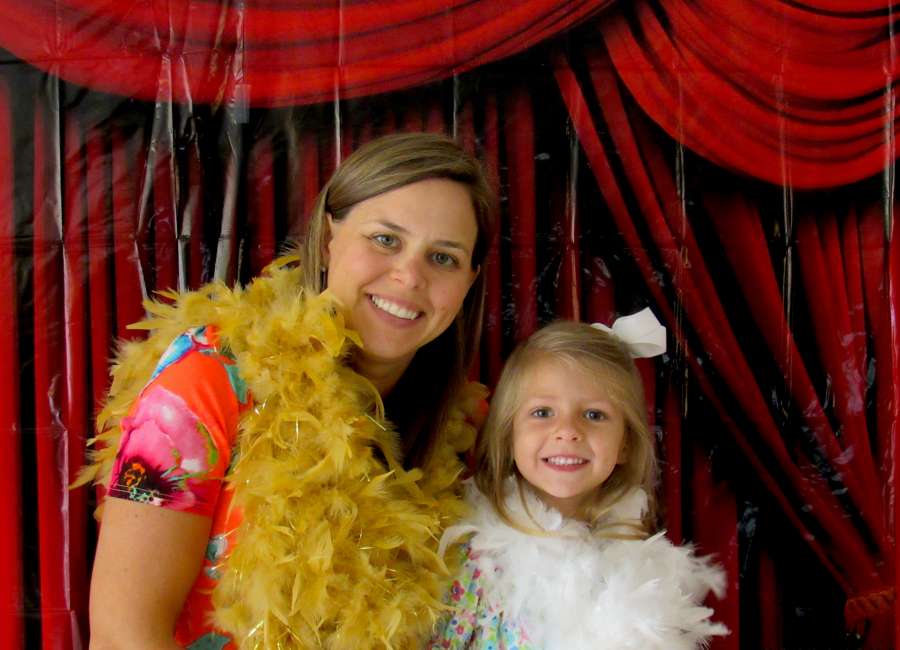 Smiles, laughter and meaningful conversations stole the spotlight during a Mother Daughter Tea Party at St. George Catholic Church.
Though classified as a party, the event was more of a bonding experience for women of all ages – grandmothers, mothers, teens and young girls.
Guests were already dressed in their Sunday best, but had fun adding more accessories to their outfits, such as feather boas, decorative necklaces and jewels, long gloves and tiaras.
The fashionable affair accompanied a sing-along of the tune "I'm a Little Teapot."   
The women and young girls also sang traditional hymns and even enjoyed a brief etiquette lesson before partaking in the food and tea.
Guests feasted on homemade finger foods, such as savory cucumber sandwiches, decadent cupcakes, flavorful flan and a surprise dessert called "Fairy Cakes."  
Delightfully crunchy homemade biscotti was also served for ladies to dip into their tea. The Italian delicacy was baked by monks at the Holy Spirit Monastery in Conyers.  
Participants sipped cups of assorted teas of their choosing and were encouraged to share special memories and future dreams with their loved ones.  
While delectable desserts and warm, soothing teas enhanced the party, it was the meaningful conversations that seemed to steal the show at St. George that afternoon.
Tea time treats

By MELANIE RUBERTI
A typical tea party serves a variety of teas paired with small, bite-sized appetizers.
Hostesses usually prepare savory sandwiches, like cucumber and a dill mixture spread on rye bread or a cheesy mini-quiche. Sweet treats are a welcome addition to any tea time menu to balance the salty or spicy sandwiches.
Mini-cupcakes, shortbread cookies and lemon tarts are just some of the goodies that help round out any tea time party.
Here are a few recipes to try for another tea time get together.
Bacon Cream Cheese Pinwheels
It will be hard to resist not scarfing down a crescent roll, bacon and cream cheese all rolled into one.  
Ingredients:
3 ounces cream cheese, softened
2 tablespoons finely chopped onion
1 teaspoon 2 percent milk
1 tube (8 ounces) refrigerated crescent rolls
5 bacon strips, cooked and finely chopped
Recipe:
Preheat oven to 375F
In a small bowl, mix cream cheese, onion and milk until blended.
On a lightly floured surface, unroll crescent dough into one long rectangle; press perforations to seal.
Spread with cream cheese mixture; sprinkle with bacon. Roll up jelly-roll style, starting with a long side; pinch seam to seal. Using a serrated knife, cut roll crosswise into twenty-four (1/2-inch) slices. Place on ungreased baking sheets, cut side down.
Bake 12-15 minutes or until golden brown. Refrigerate leftovers.
(Recipe Courtesy: tasteofhome.com)
Lavender Shortbread Cookies
Ingredients:
1 1/2 cups butter, softened
2/3 cup white sugar
1/4 cup sifted powdered sugar
2 tablespoons finely chopped fresh lavender
1 tablespoon chopped fresh mint leaves
1 teaspoon grated lemon zest
2 1/2 cups all-purpose flour
1/2 cup cornstarch
1/4 teaspoon salt
Recipe:
In a medium bowl, cream together the butter, white sugar and powdered sugar until light and fluffy.
Mix in the lavender, mint and lemon zest. Combine the flour, cornstarch and salt; mix into the batter until well blended.
Divide dough into two balls, wrap in plastic wrap and flatten to about 1 inch thick. Refrigerate until firm, about 1 hour.
Preheat the oven to 325F (165C). On a lightly floured surface, roll the dough out to 1/4 inch thickness. Cut into shapes with cookie cutters. Cookie stamps will work well on these, too. Place on cookie sheets.
Bake for 18 to 20 minutes in the preheated oven, just until cookies begin to brown at the edges. Cool for a few minutes on the baking sheets then transfer to wire racks to cool completely.
(Recipe Courtesy: allrecipes.com)