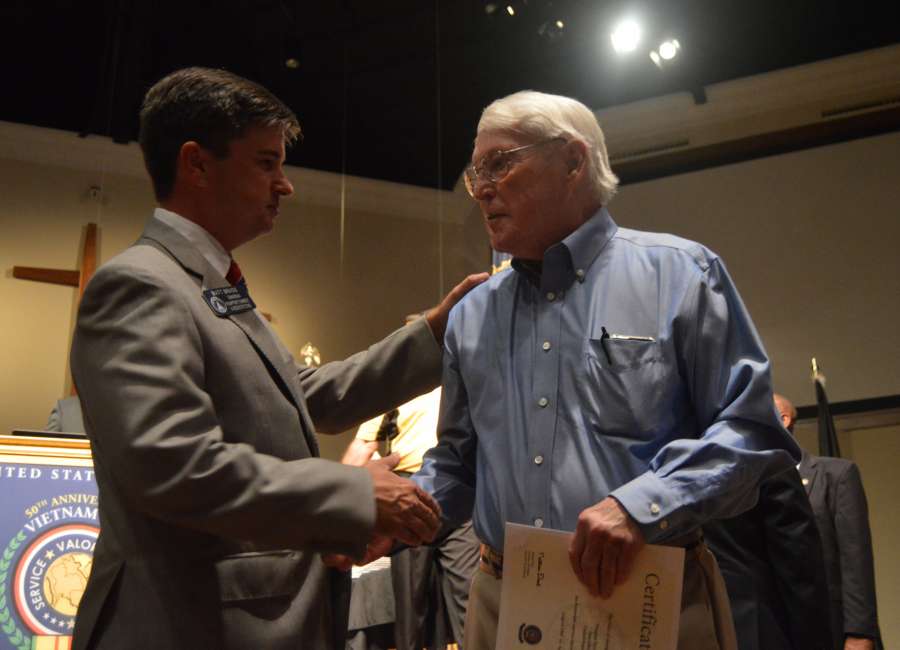 There was no pomp and circumstance when soldiers finally came home 50 years ago from the Vietnam war.
Instead of being treated as heroes, American military service men and women were called derogatory names, spit on or totally ignored.
It was a tumultuous time in the '60s and early '70s around the United States. The military service men and women who served in Vietnam got caught in the crosshairs of people's hatred toward a war many deemed unnecessary and evil.
Those Vietnam veterans were recognized Saturday during a special ceremony.
"Many of you were never acknowledged for your service. You were often blamed for a war that you didn't start," Commissioner Mike Roby with the Georgia Department of Veterans Service told a packed house at Unity Baptist Church. "You should have been commended for your service. Instead of being ridiculed, you should have been celebrated.
"We need to strive to correct our wrongs and seek to do better," Roby continued. "We owe Vietnam vets a debt of gratitude. They are the foundation of our military today. We say it loud and we say it proud today, 'Thank you for your service and welcome home.'"
Roby, along with State Sen. Matt Brass (R-Newnan), plus members of several Veterans of Foreign Wars and American Legion posts praised local Vietnam veterans for their personal sacrifice.
The group honored dozens of local military service men and women during a Certificate of Honor and Lapel Pin Ceremony.
One by one, veterans were called to the front of the church to be recognized for their service and receive their awards.
"I was very blessed and honored," Eddie Boyt said.
Boyt was an ENFN in the United States Navy and served his country from 1974 – 1978.
His wife, Shari, watched as her husband received deserved recognition that she said she felt was long overdue. "It was very touching," she said.
According to Roby, more than 9 million military personnel were on active duty during the Vietnam War era, which stretched from August 1964 to May 1975, although U.S. forces left the country in 1973.
A total of 2.7 million Americans served in Vietnam, and more than 58 thousand U.S. soldiers died during the war, Roby said. The youngest was 15 years old. The oldest was 62 years old.
Almost 1,600 soldiers are still considered missing in action, or MIA, from southeast Asia, Roby added.
"We want to recognize all soldiers who served, especially those in Georgia," he told the crowd.
"Make sure you tell any Vietnam vet you come in contact with, 'Welcome home,'" added Jeff Carroll, State Senior Vice Commander with the VFW Department of Georgia.
Boyt said Saturday's recognition will keep his military service in American history alive for years to come.
"I'm going to frame them and show it to my children and grandchildren," he said. "I'm proud of these awards."
The Certificate of Honor and Lapel Pin Ceremony was hosted by the Coweta County Veterans Club.