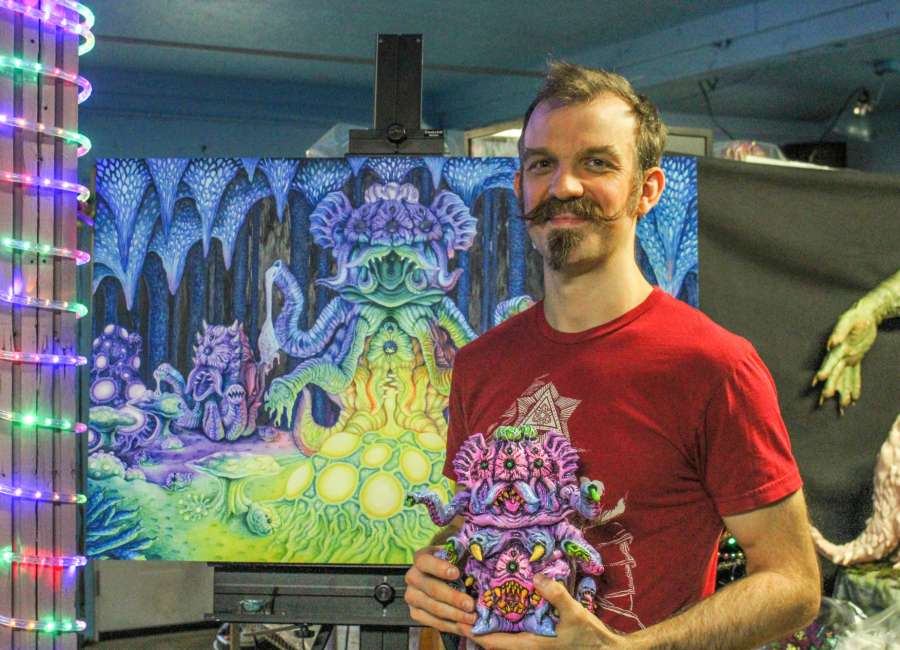 By JEFFREY CULLEN-DEAN - jeffrey@newnan.com
In a studio in Moreland, James Sizemore makes tiny monsters, which will be on display in Atlanta for the inaugural Kaiju Cult.  
The display will be Saturday, Sept. 22, at the Facet Gallery on John Wesley Dobbs Avenue from 7-10 p.m.
"It's gonna be a big night of monster fun,"  Sizemore said.
"Kaiju" is the Japanese word for strange creature, and is a genre of film that features giant monsters, the most famous of which is Godzilla.
Over 30 artist-toymakers from across the world will have their work shown at Kaiju Cult. The show will also feature a series of Sizemore's Hagopuss toys, in which he invited 24 other artists to customize their own style over the base model of the toy.
The work displayed at the gallery will feature one-of-a-kind pieces, paintings and sculptures by the invited artists. A second section of the show will function as a makeshift museum for rare kaiju film posters and vintage sofubi toys. "Sofubi" is Japanese for "soft vinyl," and refers to the thermoplastic polymer used to sculpt these collectible toys.  
After the gallery event, a live show will be presented by Professor Morte and the Silver Scream Spook Show. Sizemore said the performance will feature "people dressed up as kaiju putting on a show." Following the live show will be a screening of the original "Godzilla," from 1954.
Before creating toys full time, Sizemore was a monster-maker for independent films and directed his own, "The Demon's Rook," which was positively received and won an award at Sitges, one of the biggest genre film festivals outside of the United States.
"It's hard to make a living in indie filmmaking, but I wanted to keep making monsters," Sizemore said.
He then started Wonder Goblin, an online toy shop.
"It's an easier way to market my art," Sizemore said.
Sizemore spends about 10 months on each toy. The process begins with him sculpting a model out of clay. Determining how his newest monster will look often takes a few months.
A metal mold is made from the initial clay model in Japan where soft-vinyl versions are manufactured, which takes six months.
Once the soft-vinyl model are received by Sizemore, he spends a few weeks painting them in swaths of pink, green, blue and purple.
The toys release in 20-unit runs. Sizemore said when the toys go up on his website, "They sell pretty fast, sometimes within minutes or hours."
Due to the long process of making a toy, Sizemore said he has projects staggered so he can release a new toy every couple of months.
Sizemore said "I've always been into toys, into the art of it. It's nice and I like being the artist who can do it all themself."