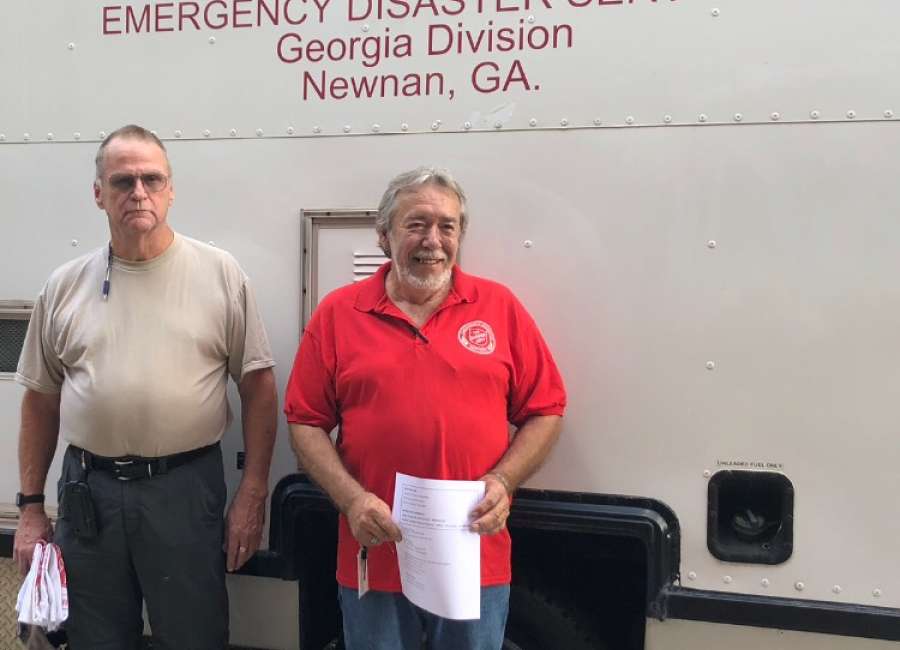 The Salvation Army canteen from Newnan will be part of rescue efforts in the Carolinas as Hurricane Florence attacks the coast.

"First-time disaster volunteer Harry Rogers from Sharpsburg, along with Rodney Peters from Vidalia, have deployed the Newnan canteen to the staging area at Charlotte Motor Speedway in preparation of serving those affected by Hurricane Florence," said Heather Creech, Newnan service center director. 
Creech said Peters and Rogers are both trained disaster volunteers. "Rodney has been serving on the disaster team for 15 years," she said.
The mobilization of the local canteen is part of Salvation Army of Georgia's mobilizations.
Canteens from Atlanta, Dublin and Valdosta – in addition to the one from Newnan – are being sent to locations in the Carolinas.
The Georgia volunteers "will join forces with other Salvation Army units responding from the Carolinas and other parts of the southeastern U.S. to provide mass feeding, hydration and spiritual care to those impacted by Hurricane Florence," according to Donald Felice of the Salvation Army of Georgia.
The Carolinas have been hit hard by hurricanes over the years – Hugo, Floyd, Matthew and Hazel. "Florence is different. It has the potential to be more powerful than Hurricane Hazel, the most powerful storm to hit, the Carolinas in 1954 with devastating winds of 130 mph," Felice said.
"We continue to assess and evaluate the situation," says Lanita Lloyd, emergency disaster
director for The Salvation Army of Georgia. "Once we see exactly how the storm impacts the eastern coast, we will be able to deploy and redeploy our resources as needed to help those in the most severely affected areas."
The Salvation Army of Georgia has a standing fleet of 21 canteens designed for rapid and free-standing response in times of emergency. The remaining Georgia canteens not deployed to the Carolinas are on standby, ready to serve at potential evacuation centers in Georgia and impacted areas along the eastern U.S. coast.
Disaster-trained staff and volunteers also stand ready to serve as needed "on canteens or at designated Georgia evacuee shelters for those impacted," Felice said.