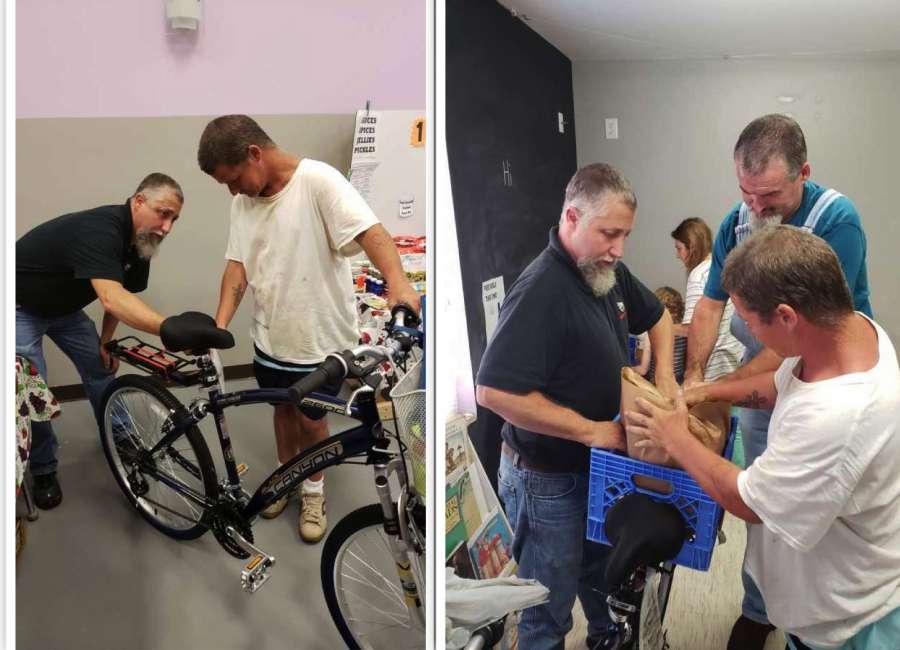 When Coweta County resident Ben Dunon arrived at the Palmetto Community Food Pantry off N.Hwy 29 on Monday, he expected to collect his monthly allotment of groceries.
Instead, Dunon received a whole lot more.
Volunteers surprised the man with a new bicycle, complete with much-needed accessories, such as a basket and a bike lock.
"He was speechless when we showed it to him," said Sharon Wall, organizer with the Palmetto Community Food Pantry. "It's amazing how it all came together so fast."
According to Wall, Dunon biked 2.5 miles to the food pantry each month from his home in Coweta County. He more than doubled his mileage riding his bike to and from his job in East Point at least five days a week.
Two weeks ago, however, Dunon showed up at the pantry and reportedly told Wall someone stole his bike while he was inside a store.
"He walked to the pantry and still had the best attitude," Wall said. "That's when the volunteers and I decided we were going to get him another bike."
Wall said she priced bicycles at Academy Sports in Hiram and told the salesperson why she was buying a new bike.
According to Wall, the store was so moved by the story, they donated Dunon's new bicycle for free – and threw in some new accessories, including a safety cable and a Camelbak backpack.
Wall said she knew the donation was divine intervention.
"When we arrived at Academy, God was already there. There was a beautiful rainbow right over the top of the store. It was amazing," she said.
Wall said she purchased a few extra items for Dunon's new bike such as, a basket, safety vest, flashing red tail lights, headlight and rear bike sports caddy so the Coweta County man could attach a milk crate and carry more groceries.
Dunon immediately put his new bike to good use, according to Wall.
"He got his groceries, climbed up onto the bike and literally rode off into the sunset," she said. "It was so beautiful."
The Palmetto Community Food Pantry assists families in north Coweta County and Palmetto area, Wall said. The organization gives out more than   6,000 pounds of food per month.
Within the past nine months, the Palmetto Community Food Pantry has distributed 36,710 pounds of food to families in the community, Wall added.