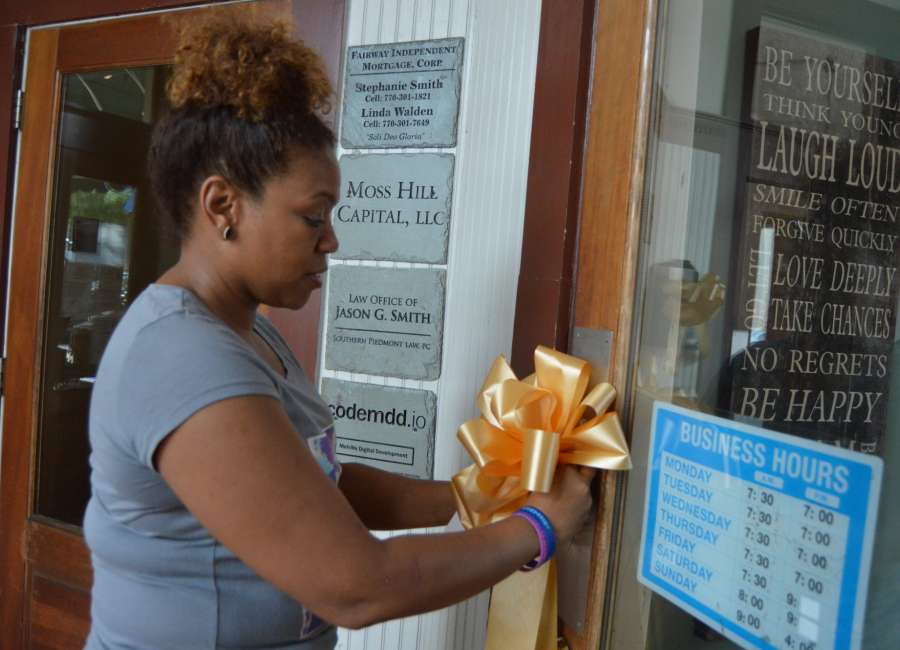 September is a bittersweet month for Deidre Bembry.

As the founder and director of Keris Kares, September is her organization's time to shine and raise money for families battling pediatric cancer.
But the weekly events are also a constant reminder of Bembry's daughter, Keris, who died in 2015 from Diffuse Intrinsic Pontine Glioma, a rare form of brain cancer. She was only 6 years old.
Each September, the group "Goes Gold" in honor of Childhood Cancer Awareness month.
Gold serves as a symbol of hope for kids fighting the deadly disease. The color fills patients and families with anticipation there will one day be a cure for childhood cancer.
Last year, Keris Kares and another local organization, Joey's Toy Box, teamed up for a community campaign called Paint the Town Gold. The bright pigment decorated the windows of dozens of businesses and restaurants from Newnan to Senoia.
This year, members of Keris Kares placed bright gold bows along store fronts around downtown Newnan. Each bow had the name Keris Kares painted on a ribbon in the little girl's favorite colors: purple and pink.
They also placed brightly colored stickers that read "Gold Strong" on storefront windows.
The annual campaign was forced to change its name this year from "Going Gold" to "Gold Strong" because of copyright infringement issues, Bembry explained.
But those were minor changes compared to a new Keris Kares initiative that was unveiled Sept. 1, Bembry said.
After Labor Day, Keris Kares 4 the Arts will begin handing out boxes full of art supplies to elementary schools around Coweta County.  
The "Gold Strong" boxes will contain items such as watercolor and acrylic paints, easels, crayons, art paper, colored pencils, markers, sketch pads, paint brushes and arts and crafts.
"We want art teachers to open that box and it look like Michael's exploded in their classrooms," Bembry said with a laugh. "There will be a lot of specialty items. Things that teachers usually can't afford."
Bembry admitted Keris Kares 4 the Arts is a unique and different mission for the organization. But she said it's something Keris would have wanted.
"I'm excited because the program adds a 'feel good' factor to Keris Kares," Bembry said. "The reality is, we are primarily a pediatric cancer organization and our main goal is to help families with medical costs and finances.
"But the new program brings Keris' essence to the organization," she continued. "If Keris was still here, she would love this. When she would go to the Children's Healthcare of Atlanta for chemotherapy, she'd be there for four hours. But she would sit there and paint, color or create crafts. She would forget she was getting chemo. Art was really our saving grace."
Bembry said Keris Kares 4 the Arts will bring new boxes of art supplies to schools at least three times a year.
Eventually, Bembry hopes to branch out and bring the program to elementary schools in other counties.
"The ultimate goal is to help families with children diagnosed with pediatric cancer. But now we'll have another mission that brings joy and encouragement, and gives kids a place to be creative," Bembry said. "That embodies the true spirit of Keris."
Keris Kares plans on having a Royal Round–Up  fundraiser and a food truck family fun night on Thursday, Sept. 20.
For more information on the event or to donate art supplies, contact Keris Kares at hello@keriskares.org