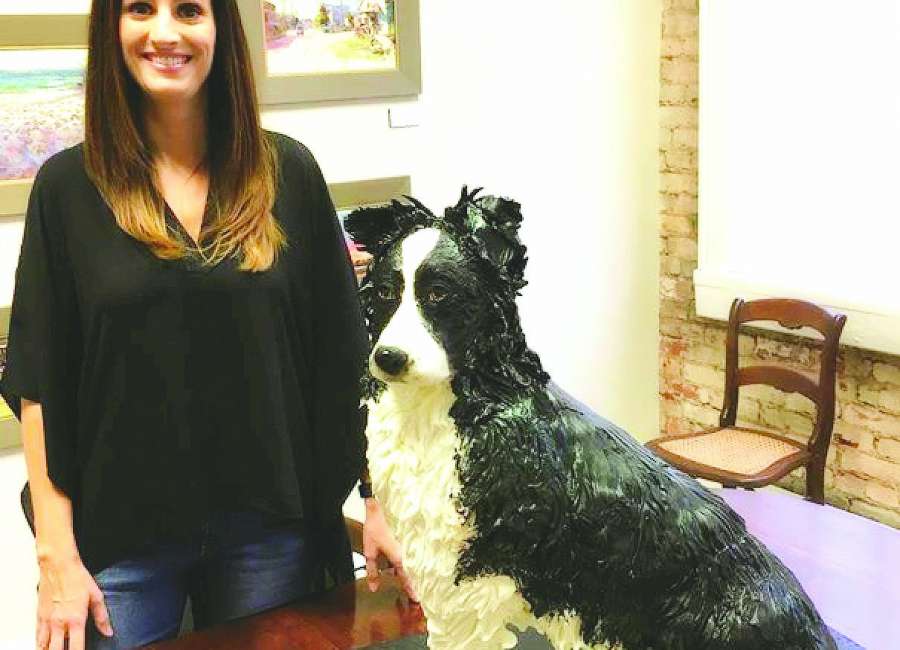 Bonne Bedingfield, owner of Beautifully Baked by Bonne, is now forever linked with legendary cooking, baking and decorating entrepreneur and TV personality Martha Stewart.
Bedingfield is well-known in Coweta County for creating elaborate, yet realistic cake concoctions for local events. Her cakes are also amazing works of art that become awe-inspiring centerpiece for dozens - if not hundreds - of weddings each year.
While some of Bedingfield's wedding cakes are towering and intricately designed, others are simple, more refined desserts.
It was one of those miniature, delicate cakes that allegedly caught Stewart's eye and was featured in an online article called, "32 Pastel Wedding Cakes You Have To See."
"Beautifully Baked by Bonne hand-painted individual cakes for each guest that doubled as dessert and place cards. Whether you stay small or go big, this watercolor style is going to have an impact," wrote Shira Savada.
Savada is a digital editor Shira Savada for Martha Stewart Weddings magazine. The cake was highlighted on the magazine's website www.marthastewartweddings.com/230901/pastel-wedding-cakes-and-confections and on their Facebook page, said Bedingfield.  
She learned about the national recognition after noticing the Beautifully Baked Facebook page was tagged in a post by the Martha Stewart Weddings social media page. The page led to the online article featuring Bedingfield's creation.
Bedingfield said she was shocked.  
"I saw the post early in the morning before I even had any coffee," Bedingfield said. "At first I didn't realize the gravity of being recognized by Martha Stewart Weddings. I thought it was fake. But later that day a friend tagged me in the post. That's when it occurred to me that it was legit."
It's an interesting and surprising twist for Bedingfield, who mentioned Stewart as one of the inspirations behind her elaborate cake concoctions in an earlier interview with The Newnan Times-Herald.
"It's the art of it, the creation," she said at the time. "I specifically remember watching Martha Stewart in a trance while she decorated a cake with gobs of Swiss meringue buttercream. I was drawn in and mesmerized."
While Bedingfield baked and created the now-famous, delicate cake, she said she can't take credit for the idea behind the individualized cakes.
"Candace Frank and Jennifer Gowing with Evermore Weddings and Events were the creators of the styled shoot where the cakes were used … and it was genius," Bedingfield said. "Each individual cake was hand-painted for every guest and had their name on it so the dessert also doubled as a place card. That is so unique. It's intimate and such a special touch."
Bedingfield's cake was originally photographed in a story featuring Evermore Weddings and Events of Atlanta on the website www.100layercake.com.
Bedingfield said she feels humbled her work was highlighted in both articles.
She said the recognition also reignited her passion into creative cake design.
"This added more fuel to my fire," Bedingfield said. "It proves when you're doing something you love and feel called to do, doors will continue to open ... When hard work unexpectedly leads to recognition, big or small, it's thrilling and heartwarming. It makes me want to continue to raise the bar and work harder."
Bedingfield said she is currently creating more ornate and exquisite cakes for the fall wedding season.
She is also working on ideas for a unique, realistic edible treat for the Boyd Gallery's one-year anniversary during Newnan's annual fall Art Walk.  
The gallery is owned by Bedingfield's family, and features work by her brother, David Boyd Jr., as well as her father, R. David Boyd Sr.
Creative cakes, easy designs
Bonne Bedingfield is a pro in the field of creative cake design with her larger-than-life, realistic decadent desserts.

But amateur bakers take note: there are some simple shortcuts that can take your cake decorating skills to the next level.
These recipes may place your cake in the spotlight during the holidays or at your next birthday party.
Stained Glass Cake
Melted shards of  Jolly Ranchers make the perfect "panes" of glass around a cake.  
Ingredients:
1 box of chocolate chip cake mix
1 can of white, vanilla frosting
24 pink and red Jolly Ranchers
pink sanding sugar
cooking spray
Recipe:
Make Chocolate Chip Cake according to recipe.
Trim domed tops of two of the layers.
Place one trimmed layer on a cake stand or serving platter and top with 2/3 cup of vanilla frosting. Repeat two more times, using a domed layer on top.
Frost top and sides with remaining frosting.
Heat oven to 325 degrees and line a baking pan with parchment paper.
Line three Jolly Rancher candies end to end in the left corner of the prepared baking sheet. Repeat three more times in the remaining corners.
Bake until the candy has melted together and makes one long piece, 3 to 5 minutes. Allow candy to cool, 3 to 5 minutes.
Transfer candy sheet to a lightly greased wire rack to cool completely.
Repeat process again.
Gently tap candy sheets on the edge of a baking pan to crack into shards.
Brush the edges of the shards with water and dip into sanding sugar. Attach around sides of cake.
(Recipe Courtesy: countryliving.com)
Chocolate-Mint Present Cake
This is one present you won't mind people biting into.
Ingredients:
1 1/3 cups baking cocoa
2 2/3 cups boiling water
1 1/3 cups butter, softened
3 1/3 cups sugar
6 eggs
1 teaspoon vanilla extract
4 cups all-purpose flour
2 1/2 teaspoons baking soda
2 teaspoons salt
1/2 teaspoon baking powder
1 cup crushed peppermint candies
Frosting:
1 2/3 cups butter, softened
15 cups powdered sugar
1 cup, plus 2 tablespoons milk, divided
2 1/2 teaspoons peppermint extract
Fondant:
1/4 cup shortening
3 3/4 cups powdered sugar
9 tablespoons light corn syrup
4 pieces ribbon candy
Assorted round candies, optional
Recipe:
In a small bowl, combine cocoa and boiling water until smooth; cool completely.
In a large mixing bowl, cream butter and sugar until light and fluffy. Add eggs, one at a time, beating well after each. Beat in vanilla.
Combine the flour, baking soda, salt and baking powder; add to creamed mixture alternately with cocoa mixture. Beat until smooth. Fold in peppermint candies.
Pour mixture into four greased and floured 9" square baking pans.
Bake at 350° for 25-30 minutes.
Cool for 10 minutes before removing from pans to wire racks to cool completely.
Frosting:
Cream butter in a large bowl.
Add powdered sugar, 1 cup milk and extract; beat on low until combined. Beat on medium for 1 minute or until frosting achieves spreading consistency, adding remaining milk if necessary.
Place one cake layer on a serving plate; spread with frosting. Repeat three times. Frost sides of cake.
Fondant:
Cream shortening in a large mixing bowl with a heavy-duty mixer, until light and fluffy.
Beat in powdered sugar until crumbly.
Gradually beat in corn syrup on low speed (mixture will be stiff).
Divide mixture in half; tint one portion red and one portion pink.
For ribbon, on a work surface dusted with powdered sugar, roll out red portion into a 19x4" rectangle; cut in half lengthwise.
Carefully arrange over cake, draping ends down the sides.
Repeat process for pink fondant, but cut into a 19x2" rectangle; Carefully position over red ribbon, draping ends down the sides.
Just before serving, break ribbon candies in half; place over ribbon on top of cake, creating a bow.
Decorate cake with round candies if desired. Then serve.
(Recipe Courtesy: tasteofhome.com)