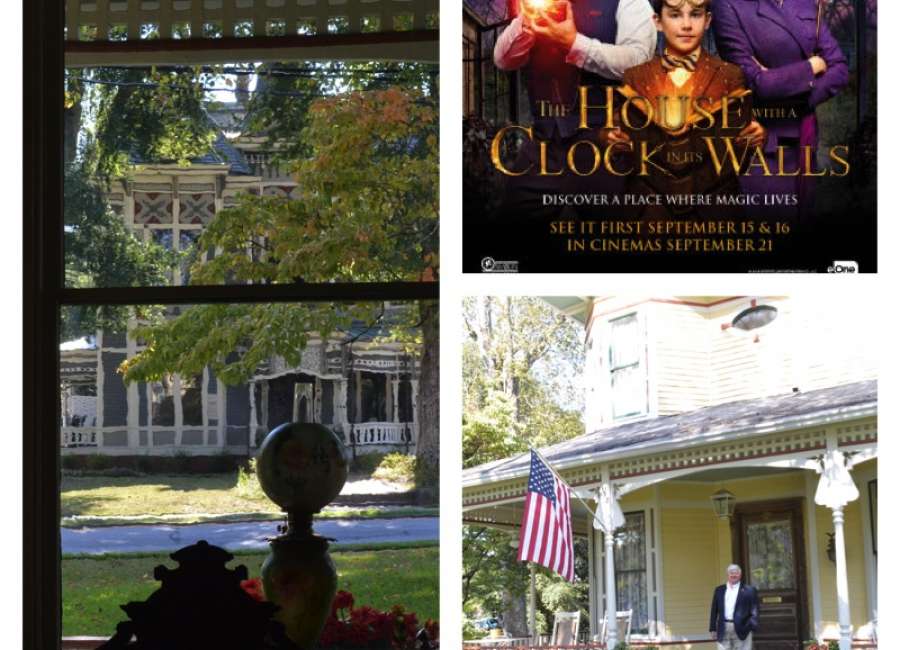 When George and Pam Alexander go to see "The House with the Clock in its Walls," they'll see their home on the big screen – as more than one house.
The Alexander home on Greenville Street was used extensively for filming of the movie, based on the spooky children's book of the same name.
"It was a lot of fun, it really was," said Alexander, who serves on the Newnan City Council and has lived in the house 32 years.
Starring Jack Black and Cate Blanchett, "The House with the Clock in its Walls" opened Friday. It's received mixed, though mostly positive, reviews. Some reviewers on Rotten Tomatoes say it's destined to become a Halloween classic.
The story follows recently orphaned Lewis Barnavelt, who goes to live with his uncle Jonathan (Black), who turns out to be a warlock. His uncle lives in a strange house with a ticking heart. The clock was placed by the home's former resident, the sinister warlock Isaac Izard. Things go awry when Lewis, attempting to impress a popular kid at school, accidentally raises Izard from the dead.
It's directed by Eli Roth, better known for gory movies such as "Hostel" and "Cabin Fever."
Newnan features prominently in the movie. Downtown was transformed into a 1950s version of itself. Young Lewis plays basketball at the Wesley Street gym, and one of Newnan's most recognizable homes, the Second-Empire style Parott-Camp-Soucy House on Greenville Street, is the titular house. Though extensive filming took place outside the house, which got a black paint job for the movie, the interior scenes were filmed in a studio, Alexander said.
The outside and foyer of Alexander's home – directly across the street from the Soucy House – was used at the home for a nosy neighbor.
Other parts of the house got an extensive purple paint job to become the home of Cate Blanchett's character, the witch Mrs. Zimmerman.
Upstairs bedrooms were used for another scene.
And the Alexander's family room was where Roth, the producer and other staff watched things progress.
His home was chosen by chance one day, when location scouts were out looking around the Soucy house.
"They knew they were going to sweep my house in the filming and so they needed to get my permission," he said.
The home's front curtains were being washed, so the scouts were able to see inside the house. They liked it, and came by another time when someone was home.
Alexander said the producers offered to put them up in a hotel during the time the home was used for filming. But they decided to stay put.
"I said, 'If you put me up somewhere, I'm just going to get up early and come over here,'" he said.
Filming usually didn't start until around 5 p.m., and they would film until 4 or 5 in the morning.
"I would stay up and sit in the back, behind the producer and director and watch what they were doing until about 2 or 3 in the morning," he said.
Before the filming, there was a lot of work and a lot of changes. The house got a new exterior paint job – from peach to yellow – and many rooms were repainted inside. All of the Alexanders' furniture in the rooms that were used for filming was packed up and put in storage.
Once filming was over, the producers were ready to put things back exactly like they were – but the Alexanders liked some of the changes.
"I came home one day and it was this beautiful yellow. They said, 'We'll return it back to peach.' And I said – leave it," Alexander said. They left furniture on the front porch, and the Alexanders love it.
They liked the purple stencils used in the dining room, too, but they had to be removed because they weren't meant to be permanent.
There was a lot of attention to detail, he said. The movie is set in the 1950s. An American flag with 48 stars was hung, and boxes were made to cover the thermostats on the wall.
Crews also did a few repairs. "They were so good to me," Alexander said. "They redid my yard and compensated me very well. The good Lord blessed my wife and me. He really did. And it was fun to work with them."
The actors were pleasant, too. "Jack Black was great," Alexander said. "Cate Blanchett and some of the others were very nice. They would come up and talk to us. We'd just kind of sit back in the back and maintain a low profile."
It was a great experience, but you have to be flexible, Alexander said. If he had small children, it would have been impossible.
The experience gave Alexander a first-person view of the impacts of the film industry.
"People say, 'Oh, they just come in and film and cause problems and traffic,'" he said. "I could not believe how much money they spent in our town."
The paint was bought at Sherwin Williams in downtown, and other supplies were bought locally, as well, Alexander said. There were plenty of catered meals, but everyone ate in local restaurants, too.
"There was a lot of money that was spent," he said.
He was surprised to see how many takes there were of each scene. Learning how many different takes and angles there are has changed the way Alexander watches movies and television.
"As I watch… I started realizing – I know what they did there," he said.
If another production crew comes along, will Alexander consider opening his house up again?
"In a heartbeat," he said.