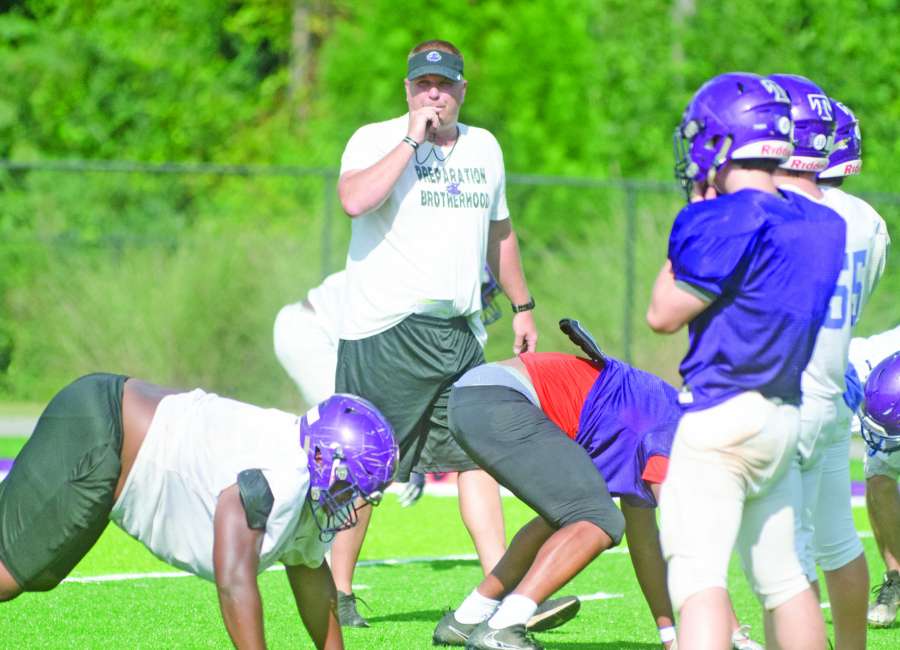 BY DOUG GORMAN
dgorman@newnan.com
When the Trinity Lions take on three-time Class A private school state champion Eagle's Landing Christian tonight in McDonough, head coach Kenny Dallas expects his team to leave it all on the football field win or lose.
He also knows the game will force the 3-1 Lions to grow up.
Trinity is in its first year of playing in the GHSA and started the season on a high note, winning its first three games  before dropping a heartbreaking 13-12 decision to Mount Vernon in the region opener.
"We are excited to go over there and play," Dallas said. "We come off a game Friday night that was frustrating. We are a fairly young program. "This is our first year in GHSA and we are looking to compete with anybody and everybody."
It will be the first time Trinity has had to bounce back after a loss this year, and despite the tough challenge it faces against an Eagle's Landing Christian team that before losing its own one-point heartbreaker to Pace Academy this season rolled off 37 straight wins.
"A loss can define you, destroy you or develop you. That what the attitude has to to be," Dallas said. "We are going to learn a lot about ourselves."
One thing Dallas knows is his team won't be intimidated by the players staring them down across the line of scrimmage.
"The thing I love about this group of kids is they are not afraid to compete. I don't know exactly what it is going to look like Friday night, but we will see."
Dallas, who is just in his second season as Trinity's head coach, has a blueprint for turning the Lions into a championship football team.
The Lions started the season with victories over Northeast Macon, Luella and Tattnall Square before dropping last week's decision to Mount Vernon.
"We have a long way to go in terms of developing in some area, but at the same time, I expect our guys to go down there and to fight hard and compete," Dallas said. "We just have to keep playing and keep developing, We have to learn from both our success and our failures."
Dallas points to the success of the Lions' defense for getting off to a 3-1 start.
"We have a very good defense, and honestly that's the way you build. You play good defense, special teams and you take care of the football," Dallas said."Unfortunately, the other night we left a field goal and an extra point get blocked and we lose by one. That is four points that we left on the field. From a defense guy like me, that is frustrating, but we are out here working on it."
On the offensive side of the football, the Lions have had to deal with a rash of injuries that have sideline offensive linemen and a quarterback and tailback.
"We have had so many guys in and out, but we will get it back before long," Dallas said.
Dallas coached against Eagle's Landing Christian while serving as head coach at Landmark from 2001-2011 and knows you to play hard on every snap.
"All we can do is control ourselves," he said. What we don't want to do is beat ourselves. We don't want to allow silly penalties and missed assignment where you just beat yourselves."
Before coming to Trinity Christian last year, he served on the Eagle's Landing Christian staff for three years as its defensive coordinator.
He developed a close bond with Chargers' head coach Jonathan Gess who has been at the school for 10-years and won four state titles.
"I love him like a brother and I probably respect him as much as I respect anybody. I love all of their assistant coaches. They do things right."
Dallas knows this game won't define the program.
"If we go over there and they beat us, than we get ourselves back in the weight room and we come back and just keep on working," Dallas said.
He looks forward to returning see old friend, but he is all business when it comes to tonight's game.
"I love the men and women over there at Eagle's Landing, they are some of my closest friends, but as I tell the kids on this team all the time, love can be the greatest motivator in life."