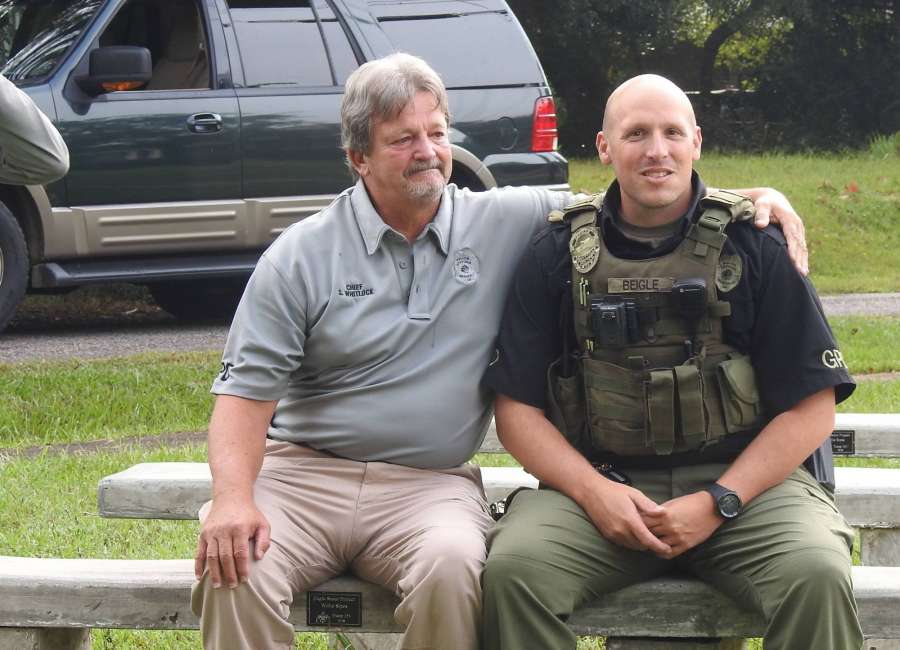 Grantville leaders met in Veterans Park to pray and reflect on the 17th anniversary of 9/11.

The al-Qaida terror attacks on Sept. 11, 2001 killed 2,977 when two hijacked planes crashed into the north and south towers of the World Trade Center in New York City and a third plane crashed into the Pentagon in Arlington, Va.
Tuesday morning, Grantville Police Chief Steve Whitlock, Councilman Willie Kee, Pastor TJ Boyd of Change Church in Grantville, and Officer Charles Beigle with the Grantville Police Department assembled around the American Flag, flown at half-staff in honor of the  victims of the 9/11 attacks.
Marion "Sarge" Cieslik, Grantville resident, attended the event and posted details of the event on the GrantvilleNation Facebook page. Cieslik runs the page with Grantville news.
"These Christians, veterans, first responders held a prayer meeting for those who died on that dreadful day in New York," Cieslik posted in the GrantvilleNation Facebook page.
"With a tear in my eye and a lump in my throat, I listened to them pray. They prayed for those who died, for the living and for a hope that we all have a better future. For the love of our country. These are Grantville's intrepid men, willing to help, regardless of the cost. They are Americans. May God bless you all."