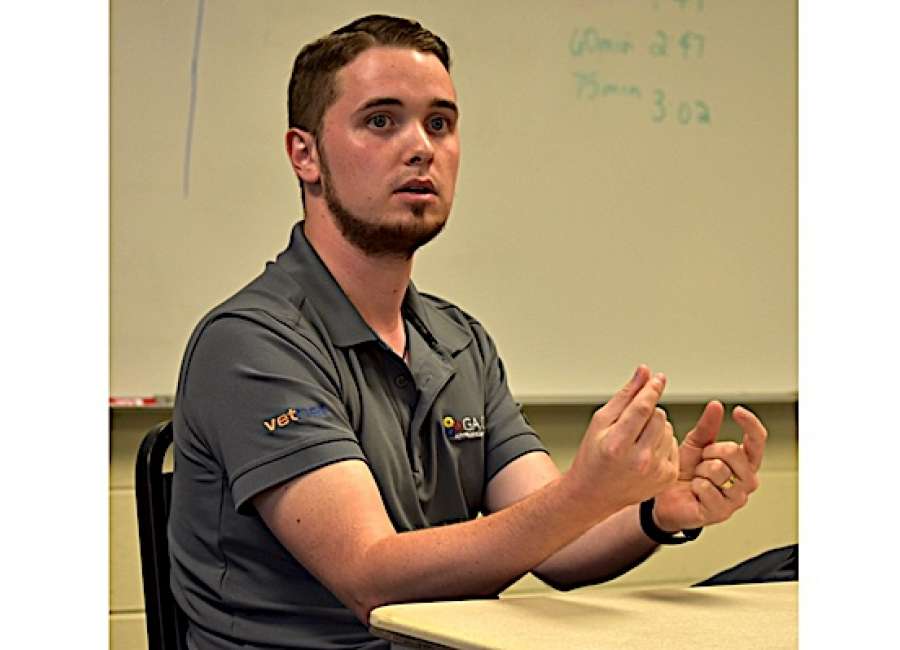 Exams can be stressful for students no matter how well they prepare – especially when it's a completely new type of exam.

The first class of apprentices, now in their third and final year of the Georgia Consortium for Advanced Technical Training's German-style apprenticeship program are down to just a few weeks until their first practical exams, and a recent round of practice tests exposed a few areas that need extra attention.
"Overall, we feel good about where the students are," said Steve Cromer, senior director of advanced manufacturing at West Georgia Technical College. "We do anticipate they will fully pass the midterm coming up."
Piloted in Newnan in 2016, the GA CATT apprenticeship program offers high school sophomores as young as age 15 the opportunity to complete their high school diplomas while at the same time earning credit toward associate degrees in industrial mechanics and participating in paid training with local manufacturers.
Apprentices also have the opportunity to sit for German certification, which is recognized throughout the world.
Cromer and Hendric Jacoby – a training supervisor at Samson AG who was brought in from Germany to assess the students' progress and provide guidance – shared their observations with industry partners during a recent meeting at the Central Educational Center.
Jacoby, who received his career training through Germany's centuries-old apprenticeship program, said he was encouraged by what he saw during his three-week training visit.
"I thought it would be a catastrophe, but they had done a really good job," Jacoby said of the apprentices' education and training program. "It took a lot of the pressure off of me. I was able to build on what they already knew."
Cromer said while the apprentices know their work, the initial practice test indicated a problem with time management.
"They did not complete the projects in time," he said. "Their ability to form the projects was good, but they lacked the ability to plan the project out. There was enough time, but the students didn't plan their process."
During the tests, students are asked to explain that process, which was another area the apprentices will work to improve. Cromer encouraged company mentors to get more involved with the apprentices during their work, asking questions to help them gauge where they are in their learning process and when they need to ask for help.
"It's important to ask them about their approach," Cromer said. "They had a very difficult time answering their questions verbally, and that is important to learn because it helps them develop a road map mentally and helps them build self-confidence."
The apprentices completed a second practice test last week. They will focus on pneumatics during several upcoming tutoring sessions, observe as an instructor takes the exam and then make another run at the practice test before their actual "sharp exam" – the exam that counts.
Meanwhile, observing and discussing successes and improvement areas revealed by the first apprentices will be a learning tool for the other clusters and classes who have joined or will join GA CATT.
"The lessons learned here are going to really help the other three clusters," said Larry Alford of Georgia Tech's Innovation Enterprise Institute.
Mark Whitlock, CEO of the Central Educational Center, agreed.
"We've learned so much together in the past week and a half about how we've been able to develop this and how to better develop it in the future," he said. "I think that's the big reveal. Not how we made mistakes but how we can develop it in the future to provide employers the end product of a great employee."