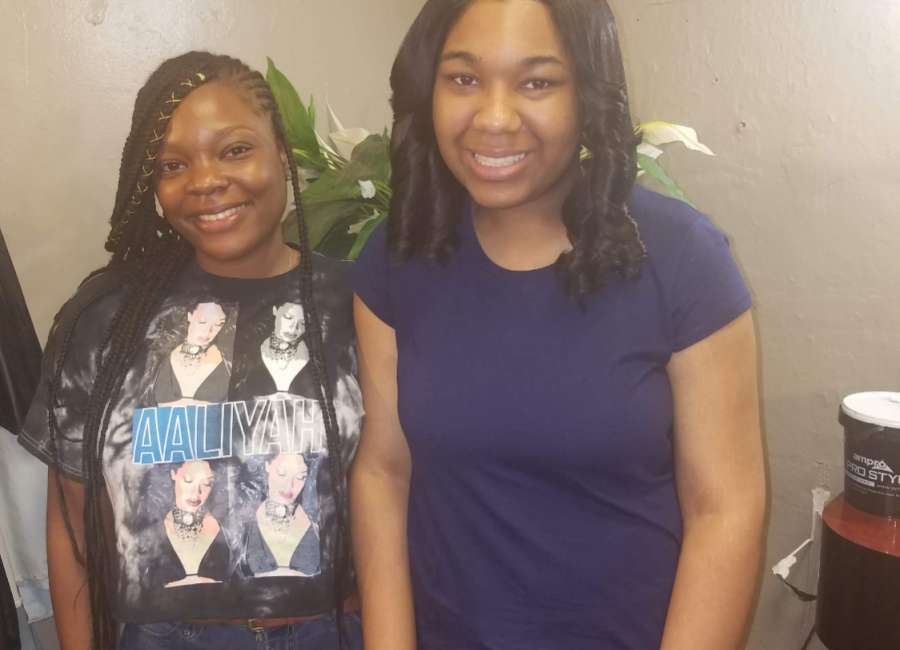 When 15-year-old Makayla Childs posted a Facebook message offering to walk dogs to raise money for an upcoming dance, she had no idea what kind - or how many - responses she would receive.  

Childs, a sophomore at Whitewater High School in Fayetteville, wanted to attend the annual homecoming festivities but was short on cash.
"I didn't want to ask my parents for the money, and  I didn't want them to offer to pay for everything. I needed a dress and shoes. I wanted to get my hair and nails done, too," she explained. "I really wanted to work for the money so I could go the dance."
Childs decided to try to raise the funds by walking dogs in her community.
She said she posted a message on one Facebook group page, but received little response.
That is, until Veronica Rush, also a member of the same Facebook group, spotted Childs' post.
According to Rush, she messaged the teen and asked if she could share the post on another Facebook group page called "Chatty Newnan Women."
The teen agreed.
Rush said within a few hours she received almost 90 responses from people wanting to help Childs.  
"It was amazing," Rush said. "Homecoming is a special time, and I really wanted her to go. I put the ad on the Chatty Newnan Women page thinking someone would give her a job. But instead, everyone wanted to help her out by just giving her the money. I think it was because she was already willing to work for it.
"I did a lot of the organizing and put people in contact with Makayla," she added.
No one, including Rush, had ever met Childs in person.
But with a single keystroke and click of the mouse, Childs suddenly had dozens of "Facebook Fairy Godmothers" willing and able to get the teen ready for the ball.
One of those generous fairy godmothers was Naomi Thompson of Newnan.
She gave Childs $200 to buy a homecoming dress and shoes.
"I love helping people," Thompson said. "I'm very blessed in this crazy life of mine, and I love blessing others. It felt great, and I'm glad I could help give her a special night.
Childs' other Facebook Fairy Godmothers included Desiree LaRussa of Sharpsburg, and Katrina Head, owner of the "All About You Hair Salon" in downtown Newnan.
Head opened up her shop at 6 a.m. the morning of the homecoming dance and styled the teen's hair for the big event.
"I'm about all about giving back to the community, and this was a great opportunity," Head explained. "It's a rewarding feeling to do something for someone you've never met before."  
LaRussa agreed.
"After Veronica shared Makayla's post, a lot of women started responding back. It became a community effort," she said. "That's why I love living in the Coweta County community. It's so tight-knit. You see a lot of people in need and people help out … Any time someone is in need, I always try to give back."
LaRussa paid for Childs to have her hair done and gave her some extra spending money.
Renea Lynn is the creator and administrator of the "Chatty Newnan Women" Facebook page.
Lynn said she was impressed by Childs' determination to work for her homecoming items.
However, she was not surprised by the generous nature of those who answered the teen's post –  and went above and beyond to help the young lady out.
"We have some of the greatest, most outstanding women of our community in the Chatty Newnan Women group," Lynn said. "I've seen them do some pretty impressive things when it comes to helping out others. When I see them all come together for something good like this, it is very heartwarming to me."
Dozens of people who wished to remain anonymous also helped the teen get ready for the ball.
Childs was shocked, surprised and grateful by the outpouring of support, but admitted she was skeptical at first.
"Honestly, I thought I was getting tricked," Childs said. "I didn't think they would go through with it. But they offered to pay for everything and sent me money for the homecoming tickets, to get my hair and nails done, a new dress and shoes. It was awesome and such a blessing."
The 15-year-old girl bought a black and white, floral tea-length gown, with matching strappy black-heeled sandals. Soft, flowing curls graced the top of her shoulders.
But it was the smile on her face during homecoming photos taken on Sept. 15 that truly said it all.
"I think this was truly a miracle," Childs said. "I just want to say, 'Thank you,' to everyone who helped me. I was able to go to the homecoming dance. Before that, I couldn't even purchase a ticket."
The "Facebook Fairy Godmothers" proved wishes can come true and were excited when they saw Childs' homecoming photos.
"It makes you feel good," Rush said. "She's going to have special memories from that night for the rest of her life."