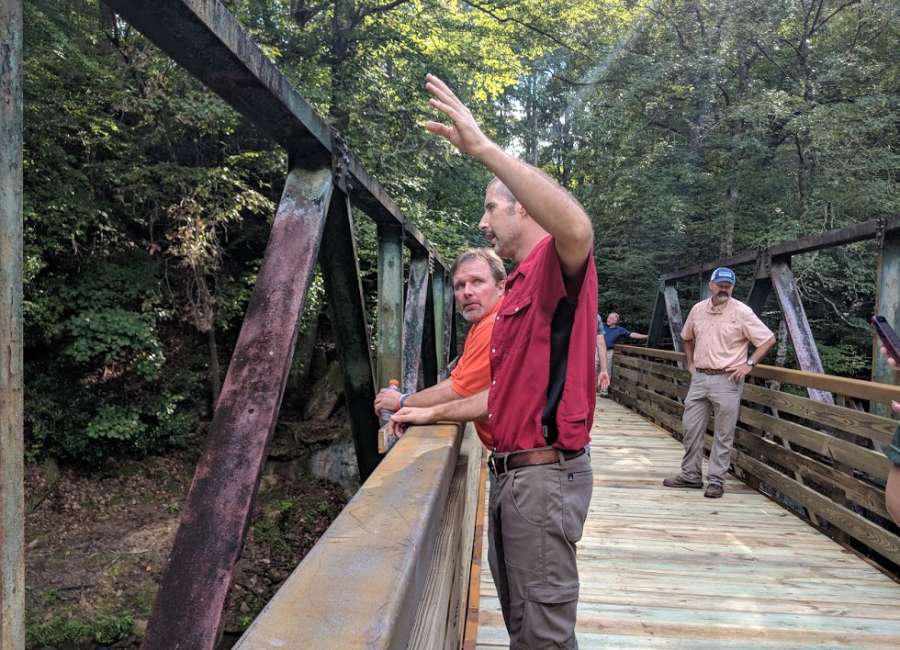 As Brown's Mill Battlefield park prepares to unveil new running and walking trails this fall, many outdoor enthusiasts are hoping to explore more local opportunities.
Local leaders recently visited nearby Chattahoochee Hills to hear the success story behind Cochran Mill Park and the economic possibilities trail development could bring to Coweta.
SORBA (Southern Off-Road Bicycle Association), a chapter of International Mountain Bicycling Association, hosted the presentation. The group was formed in 1989 to promote mountain biking and members periodically volunteer to build and maintain biking trails on public properties.
Last spring, SORBA signed a memorandum of understanding with Newnan to begin planning trails on city-owned property, then report back to the city to seek permission to proceed with construction.
Brett Davidson, representing SORBA, highlighted Ride20 – the group's new initiative to ultimately provide a shared-use trail system to every metro-Atlanta area that is no further than 20 minutes from the next.
Presently, many Cowetans venture to Cochran Mill to use over 20 miles of trails for mountain biking, horseback riding, hiking and running.
In 2016, the park was named the winner of the Coalition for Recreational Trails Annual Achievement Award for outstanding use of Recreational Trails Program (RTP) funds in the Maintenance and Rehabilitation category.
Diana Wilson – the Chattahoochee Hills Parks Commission member who facilitated the grant process – discussed the history of Cochran Mill, which until 2010, fell under the jurisdiction of Fulton County until Chattahoochee Hills purchased it.
At that time, the park had roughly four to five miles of trails, primarily for horseback riding, and Fulton wasn't interested in any immediate improvements, Wilson said.
However, things began to change when Pete Edmondson, SORBA vice president of south metro Atlanta, determined an additional 15 miles of trails could be built on 250 acres previously considered to be inaccessible.
With the assistance of volunteers, the RTP grant, and trail specialist Walt Bready, Cochran Mill was soon transformed into a destination for hikers, equestrians, mountain bikers and trail runners on the south side of metro Atlanta that now sees over 15,000 visitors annually.
Chris Doane with Bike Coweta said the economic impact of mountain biking is undeniable. Cochran Mill sees over $60,000 in annual revenue just from parking fees.
"If you look in the Cochran Mill parking lot, over half of the cars are from Coweta," Doane said. "Our local middle and high school mountain bike teams also use Cochran to train for weekend races."
A 2016 tourism study revealed more than $200,000 of local economic impact for a single race weekend in Auburn, Ala. Coldwater Mountain in Anniston, Ala., reports an annual local economic impact of $4-6 million, according to a 2014 study from Jacksonville State University.
With the help of the RTP grant, money was used to secure the heavy equipment needed for the construction of the trails at Cochran Mill. However, the labor was completed exclusively through volunteers who also help maintain the trails year round.
Bready touched on the process of creating sustainable trails and dispelled myths regarding mountain biking – "It's no more damaging than hiking or horseback riding, as compression helps with soil displacement."
In an audience composed of Commissioner Tim Lassetter, whose district includes the Brown's Mill Battlefield, County Administrator Michael Fouts, and Coweta Water and Sewerage Authority CEO Jay Boren, Brady discussed the need for conducting assessment studies.
The study determines if there are any biological, botanical, cultural, archeological or historical factors that must be considered - all of significant importance to Carolyn Turner, who heads up Brown's Mill.
"It was interesting to see how they would preserve or maintain the history of an area like Brown's Mill," she said. "With it being a battlefield and having areas specifically tied to the battle, it was great to see so many people from our county present and see their support."