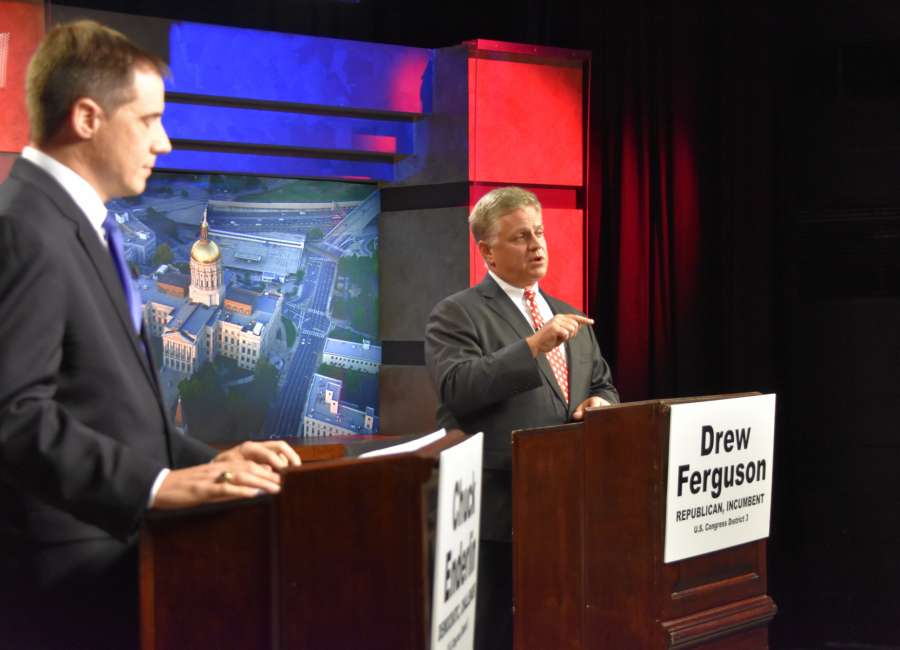 U.S. Rep. Drew Ferguson and his challenger, Chuck Enderlin, both see a need for change, but they have divergent visions and different views on how change be achieved.

The two shared their views, asked for votes and answered questions at a forum on Monday at Central Educational Center. Broadcast students taped the forum.
"High school kids getting to work on this – I think that's a great thing," said Michael Britt, who teaches the class.
"If you really want to get after deficit spending, we've got to have an honest discussion about mandated spending," Ferguson said. He said the mandate expenses of the government are gobbling an ever-larger percentage of the U.S. budget.
Enderlin pointed to the current federal budget and the debt it is creating. "The only way to rein in that deficit spending it to elect people who don't believe in it," he said.
Ferguson, a Republican, is the incumbent. He grew up in West Point, Ga., and had a dental practice there until he entered Congress.
Enderlin is a military veteran who lives in Newnan.
Ferguson said his goal is "to help make America the most competitive place in the world to do business." He said he wants to ensure young people "can take advantage of the 21st-century economy."
Government actions have already "limited the reasons a company would leave the United States to locate overseas," Ferguson said. "We have more jobs being created than we have people looking for jobs right now."
Enderlin said some economic numbers are illusory. While unemployment rates have dropped, many people are working more hours for less money.
"Real wages are not keeping up, but are actually falling," Enderlin said. He said high school students find it hard to get a job that will support them.
"Fundamentally, our economy is strong. We're building momentum every single month," Ferguson said.
To have continued growth requires the right regulatory environment and proper tax policy, Ferguson said. "We created fairness, and we've created an environment where this is the country to make investments," he said.
Ferguson pointed to an economic deal made with Mexico and pending agreements with Canada and South Korea.
Enderlin said the strength of America's economy is "because of the labor force we have." He said that while American workers are highly skilled, many are not sufficiently paid.
He said people are working longer hours, and in many homes both parents are working – leaving little time to care for children and to be involved in the community.
"We need to raise our minimum wage to a livable wage," Enderlin said.
"The purchasing power of the average American is going down each and every year," Enderlin said. He said mortgage debt is at an all-time high and said student loan debt has doubled in recent years.
"The answer is not more tax cuts for the rich," Enderlin said. He said the wealthy should be asked "to give up that third luxury vehicle and to give up that extra vacation – to pay their fair share."
Enderlin said Americans who make less than $75,000 will pay increasingly higher taxes through "stealth tax increases" in the recent tax revamp. Ferguson said funding issues must be addressed for Social Security to survive.
Enderlin said there is no excuse for doing away with Social Security, Medicare and Medicaid in efforts to balance the budget. Ferguson countered that the current tax plan has added to the workforce, thereby shoring up those programs.
"We have to make the members of the donor class pay their fair share," Enderlin said.
Health care was another issue at the forum.
"The Affordable Care Act is anything but affordable," Ferguson said. He pointed to increases in premiums, saying they particularly hit middle income families and small businesses.
Enderlin said Americans should have the option to purchase Medicare as their insurance. People need insurance they can afford and can take across state lines.
Ferguson opposed that concept. "You're going to dilute it by giving it to everybody else," he said.
"The vertical integration of the health care system is not the right thing to do," Ferguson said. "Putting more dollars into a government-run system is not the answer."
Enderlin countered that "government-run" does not mean poorly run. He talked about his family's experience using Tricare, a government insurance for people in the military and their dependents.
Enderlin said the opioid crisis comes from the need for better medical care and a need to view addiction as a medical issues and not a crime.
Ferguson said 83 pieces of legislation have been passed aimed at addressing the opioid crisis.
"Addiction is a terrible, terrible thing, and it touches way too many families. We must act with compassion, and we must act in a very, very quick way," Ferguson said. "It is destroying the fabric of our community."
Ferguson said a major source of opioids is coming across the southern U.S. border.
Enderlin countered that people are getting opioids from doctors and pharmacies in their own communities. "We cannot blame other countries for the problems we face," he said.
Ferguson maintained doctors will find a way to prescribe opioids if they choose to, hewing to his statements about opioids coming from Mexico.
"The amount of fentanyl that comes across that southern border is enough to kill 300 million Americans every year," Ferguson said. "We have to be realistic to say it is coming from other places around the world."
Ferguson and Enderlin were asked about the proper federal role in setting educational standards.
"The more you see the federal government involved in education… you begin to see failure," Ferguson said. "We have to allow flexibility, and we have to realize that not every kid needs to go to college."
"Local communities do have control of their schools," Enderlin said. "What we can do is lay that foundation and give the resources they need to succeed."
Enderlin said there should be national standards for education and that a high school diploma "counts the same – it is worth the same everywhere we go."
Immigration is "the most divisive issue in our country," Ferguson said. "We're having a very visceral debate.
"If we can secure our southern border and we can eliminate the fear of deportation for the DACA kids," the problem will be solved, Ferguson said. Deferred Action for Childhood Arrivals is a program aimed at helping youngsters who came to the United States illegally.
Enderlin was critical of current practices that are kicking some immigrants out of the country, even those who have served in the U.S. armed forces. "That's not compassionate. That's not humane. That's not right."
Ferguson said immigrants must come "the right way, the legal way." He said terrorists, gang members and drug traffickers are entering the country illegally.
"We can defend our borders, and we can retain our humanity," Enderlin said. "The majority of people coming to this country are coming because they want to build a better life for themselves and a better life for their children."
Enderlin also talked about care for military veterans. He said appropriate care for veterans should be provided "rather than just auctioning it off to the lowest bidder."
"We are working every day to reform the VA," Ferguson said.
"We need proven servant leadership representing us in Congress," Enderlin said. "We don't find that unity by refusing to hold public meetings. … Only one of us is actually seeking that unity that we need."
Ferguson asked the audience to think back a few years and to remember the fear that came with the economic downturn. He pointed to economic growth.
"We're going to keep working to make sure our country is the best place to do business," Ferguson said.