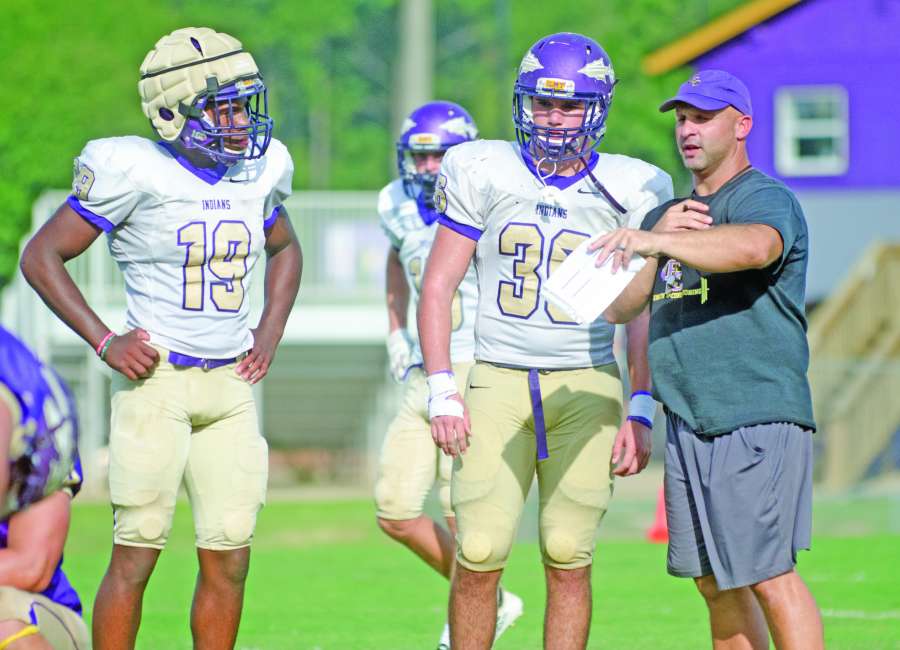 BY Chris Goltermann
Cowetascore
You'd have to go all the way back to 2002 to find an East Coweta football team that started its season at 0-2.
Do the Indians a favor, though. Take your doubts somewhere else. That way players and coaches can continue to follow through on a plan that's already in progress.
A victory is just about the only thing missing from East Coweta's checklist two games into the 2018 season. The effort after against two losses to Kell and Carrollton by a combined seven points hasn't been a concern for head coach John Small.
The Indians situation isn't unlike their new turf field, which finally was sewn into place this week in what has equally been a product of patience.
The team would like nothing better than to be carrying an upset victory over Lowndes from this week with them into the upcoming Sep. 7 home opener when East Coweta will finally get a chance to put that new field to use.
So far a challenging non-region schedule by design has been everything the Indians expected outside of coming up empty handed in two close finishes.
"We are right on track," Small said. "We haven't done anything different."
There was little about last week's bye that created a need for massive changes, even heading into Friday's trip to Lowndes, which suffered its first loss of the season last week at Parkview 39-27 in a matchup of ranked teams in Class 7A.
Despite being shut out in the second half last week against Parkview, the Vikings still picked up a reported 297 yards rushing and three touchdowns on 25 carries from Kentucky commit Travis Tisdale.
Quarterback Andrew Koenemann also threw for 175 yards and two scores.
After two games, though, East Coweta should be used to lining up against athletic talent. In two losses at neutral sites, the Indians haven't exactly flinched, taking multiple leads against Kell in a two-point loss and then not panicking against Carrollton while trailing by four scores before halftime.
In three previous games against Lowndes, which dropped from fifth to No. 8 in this week's Georgia Sports Writers Association state poll, East Coweta has been outscored 112-24.
Which is where continuing to believe in the process remains the glue to East Coweta's potential success in 2018. A year after missing the state playoffs for the first time in 21 years, the Indians know they'll have to stay the course through five difficult non-region games with hopes of having those experiences pay off in October and November during the 2-7A schedule.
"They know the narrative to this whole thing. We've preached it to them. We want to win, they want to win. It's understanding the process," Small said. "They know the deal. There's no environment that's going to shock us. They've handled the environments that we've been in beautifully."
The hope for East Coweta is that the hard work starts to reap some tangible results, ones that make the process that much easier to digest.
"When you do these types of things, you want to have some results," Small said. "You say 'what are we good at' and work on those things instead of beating our heads against the wall. But our senior leadership, they have been right on the money. They come out and work every day."
Facing two talented lineups so far from a group of Region 7-5A schools that includes defending champion Rome, has already given the Indians staff a chance to adjust after taking a deep look at their own strengths and weaknesses in what Small admitted has been "playoff-like atmospheres."
When you play really good teams, you find out what you're good at and what you're not good at. You don't find a false sense of security," he said. "You say what are we good at and work on those things instead of beating our heads against the wall."
Time of possession has been a statistic that hopes to balance out after two games. Carrollton had the ball for over 30 minutes including the majority of the first half, with that number ahead of Kell's 28:30 in the opener.
A linebacking corps that includes Taylor McCawley, Devin Holmes, Chris Pitt, Christian Hatzo and Alex Derico, who was limited last week, have all recorded at least 10 tackles so far while joining defensive back Jalen Whisby in that category.
Small isn't expecting Lowndes, now in its 16th season under head coach Randy McPherson, to back down, having won three state titles between 2004-07.
The Vikings staff also includes defensive coordinator Byron Slack, who roomed with Small at West Georgia in the mid 1990s when the two both played tight end for the Braves.
"They're physical, they have tradition, they played hard," Small said of Lowndes. "But it's like I told our coaches, we're not changing our philosophy, our belief system. You've got to be calm."