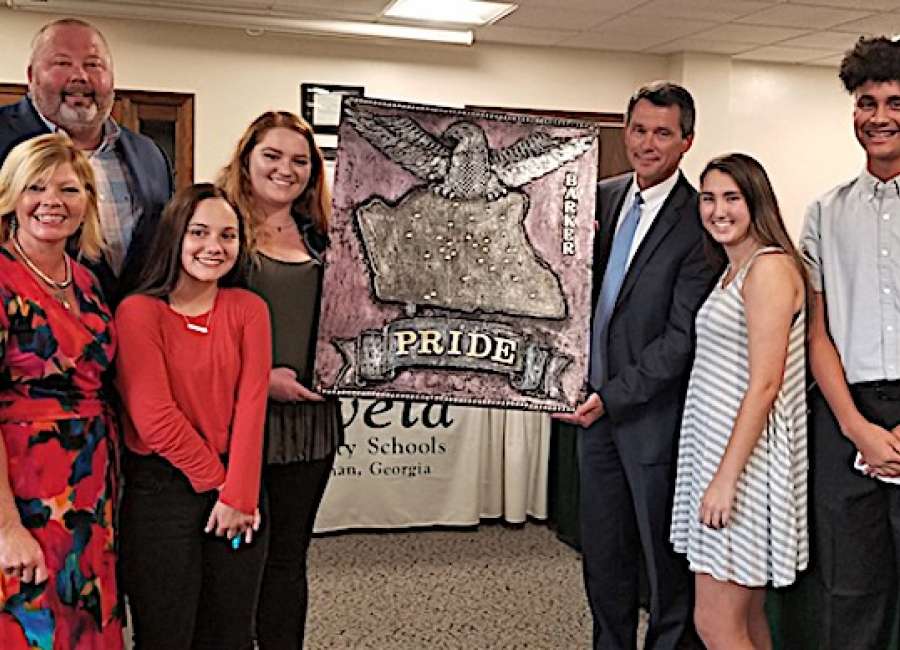 Students from East Coweta High School unveiled artwork honoring Coweta County Superintendent of Schools Steve Barker Tuesday.

The original artwork marks Barker's term as Georgia Superintendent of the Year and was unveiled at the Coweta County Board of Education's regular monthly meeting.
Art teacher Georgie McMillan and several of her advanced sculpture students presented Barker with their piece, a foil relief artwork with Barker's name and "PRIDE" featured on it. Students created the artwork through a process of building up textures and cut shapes, then layering the frame with metal foil, ink and paint, and gold leaf to highlight all of the schools in Coweta County and other spots.
Students Molly Mata, Hallie Miller, Grace Hall, Zane Feltman and McMillan joined East Coweta Principal Steve Allen in presenting the artwork to Barker.
"I'm extremely moved by this presentation," Barker said, thanking the students and McMillan.
"The day-to-day work in our schools, where our students are thriving, is the core of what we do," he said. "To have these students and their teacher present me with their own work is the most meaningful recognition I could receive."
McMillan said she and her student discussed the idea when Barker was named Superintendent of the Year last December by the Georgia School Superintendent's Association (GSSA).
"We decided that the Eagle was a perfect symbol for freedom, courage and leadership," McMillan said. "I felt that it was important to include 'PRIDE' in it because of the great pride Dr. Barker shows as the leader of Coweta schools."
McMillan said that East Coweta uses "PRIDE" to promote student behavior leadership:
P: being prepared
R: being respectful
I: being involved
D: being determined
E: being encouraging
Barker was named Georgia's 2018 Superintendent of the Year by the Georgia School Superintendent's Association (GSSA) in December, 2017.
"I definitely know this man's heart," said Allen, who said he has known and worked with Barker since 1997. "He is a man of faith. I know I and other administrators can reach out to him at any time. I know he is 100 percent committed to doing the right things for students and staff.
"Dr. Barker genuinely cares about kids, parents, our employees, and our county," he added. "He is passionate about what he does. He understands these students are our greatest asset, and he knows that if our schools fail, then our whole community would suffer … I would put him up against any superintendent in the country."