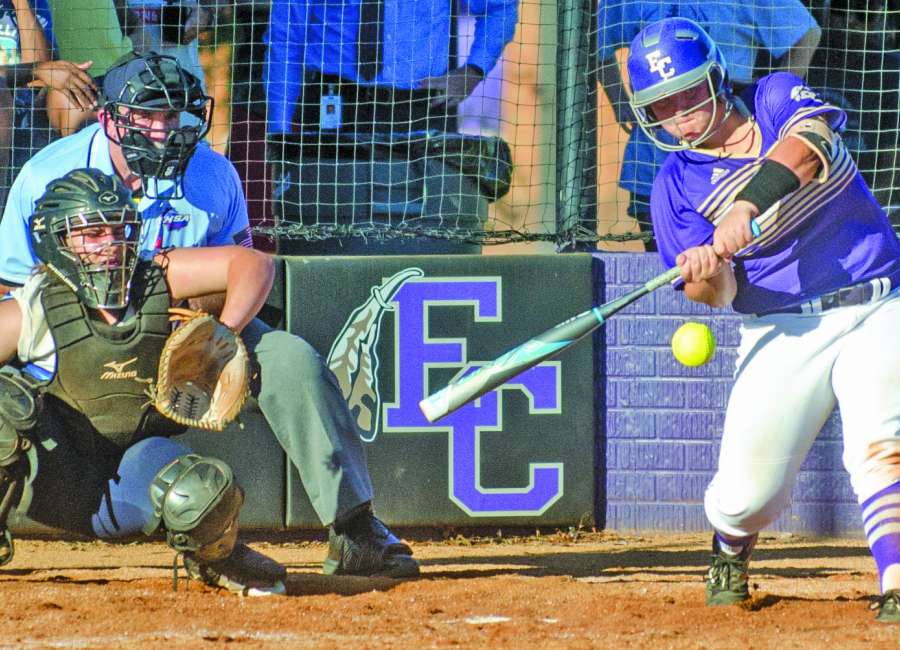 BY DOUG GORMAN
After ending its 52-game winning streak on Saturday with losses to Jones County and Loganville, East Coweta head coach Franklin DeLoach's message to his team was to to put it out of their minds and get ready for the rest of the season.
They must have been listening as the team notched a 14-0 victory over  visiting rival Newnan in a Region 2 7A contest Monday that was called after the top of the fourth by the mercy rule.
The long winning streak started last year when it rolled off 36 straight wins en route to the Class 7A title.
Until Saturday's two losses, East Coweta started the 2018 season with a 16-0 record.
With Monday's victory, East Coweta improved to 17-2 overall and 3-0 in region play. Newnan dropped to 9-4 and 2-1.
"I think it is important for this team to find its own identity, Deloach said. "This 2018 team is a different identity team than the 2017 team. This team needs to stand on its own two feet."
It was East Coweta and Newnan's fourth attempt to play the region matchup after the contest was postponed three times last week.
East Coweta scored early and often in the contest played under a blistering mid-September sun.
The Lady Indians loaded the bases in the first inning and pushed three runs across the plate to get the scoring started.
East Coweta added five runs in second and six runs in the third.
Senior pitcher Kelley Lynch was nearly unhittable for the Lady Indians, giving up one hit and striking out 10.
Lynch retired the first eight Newnan batters in a row by strikeout.
Lynch, who also has plenty of firepower with her bat, was walked three times by Newnan, including twice intentionally.
Newnan put together its only rally of the game in the top of the third when Kaylen Madrey reached on the team's only hit and Hailey Bloom walked.
The Lady Indians broke the game open in the bottom of the second sending nine batters to the plate.
Ansley Gunter had the big blow for East Coweta in the second, belting a grand slam as part of the Lady Indians' six-run explosion.
In addition to Gunter's four RBIs, Ashleigh Griffin also drove in four runs with her two hits.
Kenadie Cooper finished the game with two RBIs and Ansley Duffey and Olivia Cook one each.
"We thank the good Lord for the winning streak, but now it's time to move on and I am so proud of the way we responded tonight. The energy level from everybody is the dugout was outstanding," DeLoach said.
Lady Indians 14, Lady Cougars 0:
N—000 0—012
EC—356 X—14 10 1
W—Kelley Lynch
HR—Ansley Gunter (Grand Slam)
2B—Olivia Cook, Ashleigh Griffin