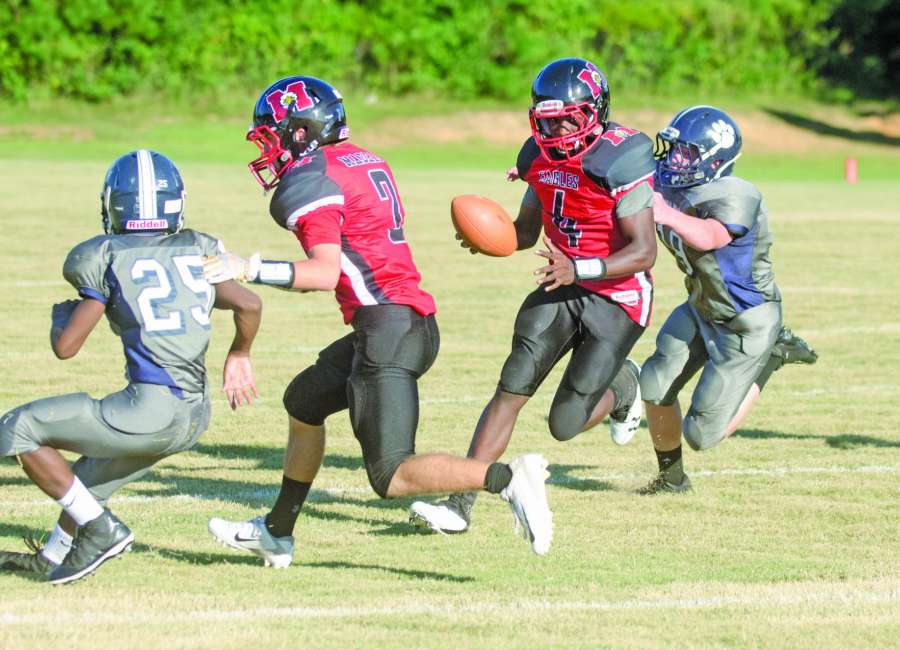 BY CHRIS GOLTERMANN
CowetaScore
A month into the Coweta County Middle School Athletic League football season, East Coweta has proven itself as the team to beat.
But while the Indians continued to stay undefeated on Tuesday on the road at Arnall, defending champion Madras dusted itself off from and took care of business in a rematch of last year's CCMSAL championship game at home against Evans.
It was deja vu for the Eagles, as 2017 starting quarterback James Paige ran for two scores and threw for another in a 27-8 victory over the Cougars.
The first meeting since a thrilling 26-20 finale last fall saw Madras begin to take control through four unanswered scores, one in each quarter, to build a 27-0 lead.
Madras' victory also allowed the team to pull even with Evans behind East Coweta and Smokey Road in the standings, each at 2-2.
East Coweta, meanwhile, clinched the No. 1 seed and a first-round bye in next month's CCMSAL playoffs by defeating Arnall 62-14 on the road while improving to 4-0 overall.
Smokey Road also maintained its hold of second place at 3-1, but while needing overtime to hold off Lee 20-18 at home. The Wildcats travel to Evans (2-2) next week, while Madras (2-2) heads to Arnall (1-3) with the No. 2, 3 and 4 playoff seeds still in play.
Madras helped itself in Tuesday's win, giving the Eagles a head-to-head tiebreaker over Evans, despite the Cougars' best efforts late.
While Cougars quarterback Aundre Carter had some of the success from last year's hard-fought effort, the eighth-grader was limited outside of seven completions with Pierre Colton, the last four of which came in succession on a 90-yard drive for the Cougars' only score with 42 seconds remaining.
Colton finished with 111 yards receiving on seven receptions.
Otherwise, Madras' special teams pinned Evans back deep in its own territory for much of the victory, and the Eagles' defense limited their opponents to three first downs through three-plus quarters of play.
Both teams had touchdowns called back on penalties over consecutive drives in the opening eight minutes. But only Madras was able to overcome their infraction while taking a 6-0 lead late in the first half.
After getting backed up on a holding call following Paige's initial 4-yard jaunt untouched, the Madras eighth-grader found receiver James Dubose cutting to the middle in front of the goal line and using the momentum to push himself over the plain for the go-ahead score.
Clayton Cowart's long run on first down from Madras' 43-yard line helped jumpstart the scoring drive, with Paige also adding a 15-yard strike to Landon Claire for another first down.
After taking a 6-0 lead, the Eagles then had Evans pinned inside its own 10 when Carter found running room down the sidelines for a long touchdown only to have it called back on a penalty.
Madras forced a punt to midfield that set up a six-play, 54-yard drive that used two first-down receptions to quickly penetrate the Cougars 10.
Paige continued to spread the ball around while first connecting with Dayton Milam on a 26-yard catch and run. One snap later, the Eagles quarterback hit Dubose in the right flat on a 12-yard pickup that set Madras up at the Evans 10-yard line after Paige caught the Cougars' defense with a hard count to draw them offsides.
He carried it twice from there, the latter from 2-yards out to advance Madras' lead to 13-0 after the first of three consecutive PATs from Nick Troemel to the finish.
Madras held Evans on downs to open the second half with defender Dean Wisenbaker holding on for a tackle after Carter connected in the flat with his No. 1 receiver, Colton, to limit a pickup on 3rd and 15.
From their own 45, the Eagles needed four plays to get back to the end zone, starting with a 21-yard run from Cowart on first down and then another nine yards on a flip from Paige in the backfield.
David Busby and Eduardo Sanchez helped lead the push and production on Madras' offensive line with Carson Coghlin.
Cowart finished with 80 yards rushing and a touchdown over his final eight attempts in the win.
Paige's third completion to Dubose, a seven-yard pickup, gave Madras a first down at the Evans 15. From there, Paige again broke away off the right side after a key outside block from Dubose to make it 20-0 after Troemel's PAT with 2:43 left in the third.
Evans kept Madras out of the end zone to start the fourth on Camarion Gates' interception on a throw from Paige to the Cougars' 1-yard line.
It turned out to be as helpful as a short punt, with Evans unable to move the ball beyond its own 5.
A short punt gave Madras the ball back at the Cougar 27 and after runs from Cowart and Paige, Cowart carried it in from 10-yards out for a 27-0 Eagles lead with 2:36 left in the game.
Eagles 27, Cougars 8
Evans 0 0 0 8 — 8
Madras 6 7 7 7 — 27
1st Quarter
M — James Dubose 14-yard pass from James Paige (kick failed), 1:08
2nd Quarter
M - James Paige 2-yard run (Nick Troemel kick), 4:40
3rd Quarter
M - James Paige 15-yard run (Nick Troemel kick), 2:43
4th Quarter
M — Clayton Cowart 5-yard run (Nick Troemel kick), 2:36
E — Pierce Colton 49-yard pass from Aundre Carter (Colton pass from Carter), 0:42
CCMSAL Standings
y-East Coweta 4-0
Smokey Road 3-1
Madras 2-2
Evans 2-2
Arnall 1-3
Lee 0-4
y-Clinched regular season title, No. 1 seed
Tuesday's Scores
Madras 27, Evans 8
Smokey Road 20, Lee 18, OT
East Coweta 62, Arnall 13
Tuesday, Sep. 25
Lee at East Coweta
Madras at Arnall
Smokey Road at Evans
END REGULAR SEASON