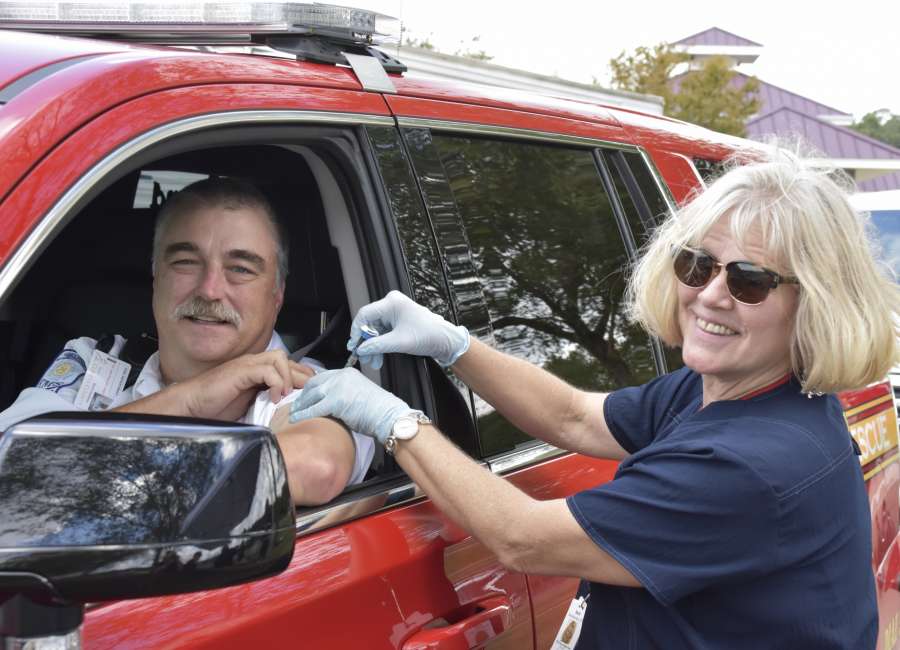 September is designated National Preparedness Month, and members of the Coweta County Health Department practiced administering shots at their drive-thru flu clinic Wednesday.

The drill – held between 9 a.m. and 3 p.m. at the Coweta County Fairgrounds – was exclusively for Coweta County first responders and allowed the department to test the readiness and expediency of the process.
"It's a great way to determine how an open-point system would work if we needed to set one up," said Hayla Folden of District 4 Health Services.
Police, firefighters and other first responders arrived at the fairgrounds and were administered vaccines without having to exit their vehicles, according to Folden.
The vaccine was free, and the nearly 200 participants also had the right to refuse the vaccine, but all were required to participate in the drill. Nurses and the staff were tested on how long it would take to set up an off-site area to administer the dose.
"Like any other drill, this gives us the opportunity to practice, and it actually builds muscle memory," Folden said. "If you don't practice, you can't be expected to know what to do."
The vaccine was made possible by a grant from the Coweta County Hospital Authority.
At the site, trailers contained everything needed to set up traffic lanes, along with administrative tools such as pens, clipboards and signs.
Throughout the day, there was a steady influx of participants. Most participants were on duty, so they attended as their schedule permitted. County employees attending a health fair at the fairground exhibit hall also were able to get flu shots.
A full report will focus on what went right and where improvements are needed during the drill.
A final determination will be made regarding any additional needs and equipment, and the findings will be turned over to the Georgia Department of Public Health, which helps with funding for equipment for improvements.
"We want to build on this success so that we can expand our capabilities," Folden said. "We hope to make it even better in the event of a true pandemic event."