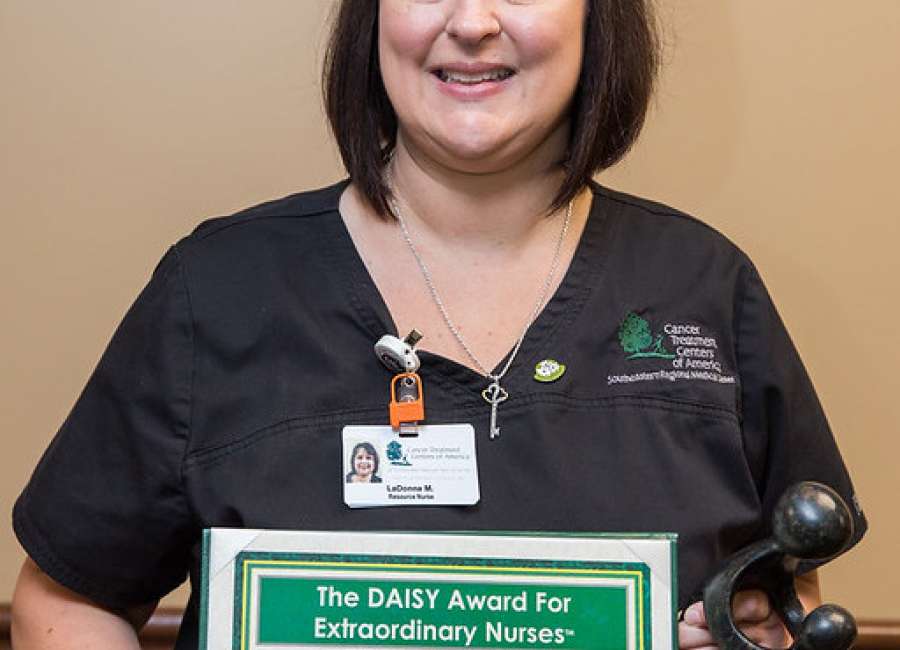 No two days are the same for Nurse LaDonna Mansfield.
She cares for patients at least five days a week at the Cancer Treatment Centers of America where hard work, daily challenges and surprises all go hand in hand.
But Mansfield was caught off guard a few weeks ago during a staff meeting.
"My manager asked me to come in early for a meeting," she said. "When I arrived, fellow coworkers were also gathered and (my manager) surprised myself and two other coworkers with DAISY Awards … I had no idea I had been nominated. I was so surprised and honored."
DAISY, which stands for Diseases Attacking the Immune System, is a national award that recognizes extraordinary nurses who go above and beyond to provide care to patients and show compassion to a patient's family, according to www.daisyfoundation.org
Nurses are given a certificate and a decorative trophy, called "The Healer's Touch."
Winners of the DAISY Award can be nominated by their colleagues or patients.
"Winning the DAISY Award was emotional for me," Mansfield said. "I felt so honored to be nominated and selected by my fellow coworkers. It is great to work with such amazing people, who build each other up daily and are always so supportive."  
Mansfield's worked at CTCA in Newnan for almost five years.
She said she loves being a nurse and caring for others.  
"I believe our greatest gift is showing others love and kindness during their time of need," Mansfield explained. "I strive to give each patient 100 percent – and sometimes struggle with wanting to do more. I am my biggest critic but I always want to do everything I can for my patients and their families.
"Winning the DAISY Award is a friendly reminder for me to always stay focused and to continue to care for each patient with the love and compassion they deserve," she added.
Mansfield was joined by fellow CTCA nurse Fallon Wortham during the special ceremony.
Wortham also received a DAISY award. She was nominated by the family of a patient she cared for at CTCA.