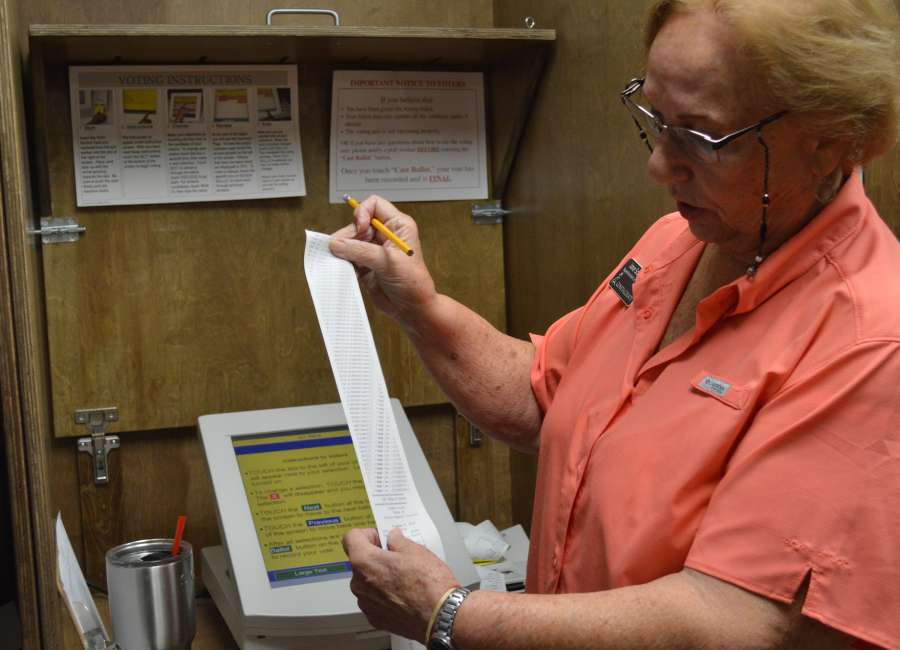 Georgia's elections will take place this November as usual, with electronic voting machines, following a ruling by a federal judge in a case over the state's voting systems.
Plaintiffs in the case – several Georgia residents and the Colorado-based Coalition for Good Governance – had filed a motion asking a judge to order a switch to paper ballots for the Nov. 6 general election.
Monday night, U.S. District Judge Amy Totenburg denied that motion, though she found a "concrete risk" that Georgia's electronic voting systems are vulnerable to tampering.
The state has been studying a move to a voting system with a voter-verified paper trail for several years, and Coweta Elections Superintendent Jane Scoggins said she expects that the state will move to a new system in the next few years.
Shortly after Totenburg issued her ruling, the state appealed her decision to move forward with the case.
Scoggins said she feels that the electronic voting machines, known as "DRE" for direct-recording electronic, are secure.
"The security of our equipment, our election materials, our voter records has always been top priority here," she said Wednesday.
Though the plaintiffs in the suit allege the machines are vulnerable to hacking, the machines are never connected to the internet – and they can't be. They have no modems, Scoggins said.
The voting machines use memory cards – one card per machine. The Express Poll machines, which include voter information to check that voters are correctly registered and are at the right precinct and program the ballots, also use memory cards.
Though the voting machines don't produce a paper trail that tells how any particular individual voted, they do print out a list of how many votes were cast. During election day, the paper voter certificates – which every voter fills out when first arriving at the polling place, the marked voter list that is created when a ballot is loaded onto a card – and the printouts from every machine at a precinct are all checked against each other to make sure they match.
"Sometimes they may miscount and they have to go back and recount," Scoggins said.
That's why sometimes it can take a while for poll workers from a particular precinct to arrive at the county building on election night. Poll workers cannot leave the polling place or pack up the machines until everything matches and everything is correct.
Poll workers are trained before every election.
"Even if they have worked 20 years they still have to go to training," Scoggins said.
To count the votes, the memory cards are uploaded to a server at the county building – which is never connected to the internet. Reports are printed from a printer that is never used for anything else, Scoggins said. To upload election results to the internet, a jump drive is used to pull information off the server.
This week, Scoggins and her staff began the extensive process of "logic and accuracy" testing on the voting machines. They started with the machines that will be used for in-person early voting at the Coweta Voter Registration Office. Next up will be the testing of the Express Poll systems.
Then, testing will begin on the machines that will be used for early voting at the Central Community Center and, lastly, testing of all the machines that will be used on election day.
During the logic and accuracy testing, a ballot is created in every ballot style that is used at a particular precinct. Then, poll workers start voting. The first person on the ballot gets one vote. Then they go through again and vote two ballots with the second person, then three ballots for the third person. Before any test voting begins, a paper tape is run to make sure everything is zero. After the test voting is complete, another tape is run to make sure all the numbers add up. Then the votes are cleared and the machine is put in "pre-election" mode.
Once a machine has been tested, it is locked up and sealed. A numbered seal is put in place and not opened until voting begins.
The machines are kept in a secure, climate-controlled location at all times, according to Scoggins. They are behind locked doors and anyone who comes in or out of the room where the machines are stored must sign in and out – even Scoggins and the secretary of state.
When Secretary of State Brian Kemp visited Coweta's elections office several years ago, he had to sign in just like everybody else. Scoggins said a few people teased her about making the state's top election official sign in.
"If everybody signs in like you're supposed to, then you don't have to worry about any questions," Scoggins said.
If the judge had ruled that the Nov. 6 election had to use paper ballots, "we would have done it and we wouldn't have questioned it," Scoggins said.
The county has four ballot scanners, which are used for mail-in paper ballots.
"Luckily, our ballot printer is in Georgia. We would have just had to order more ballots and we would have just used the machines we have," Scoggins said.
But it would have taken a long time. The scanners only take one ballot at a time, which has to be hand fed. Back when all voting was done on paper ballots, there were big scanners that could read a stack of ballots.
"I am relieved," Scoggins said about the judge's ruling. "The voting machines are a little bit more upfront work because we have to do a lot of testing. But to me, they're more secure. To me, it's easier for the voter.
"I think some of the new voting equipment out there is good. I've seen a lot of it. I've testing a lot of it. And we know it's coming," she added. "I just didn't want to have to go with purely paper ballots at this point."