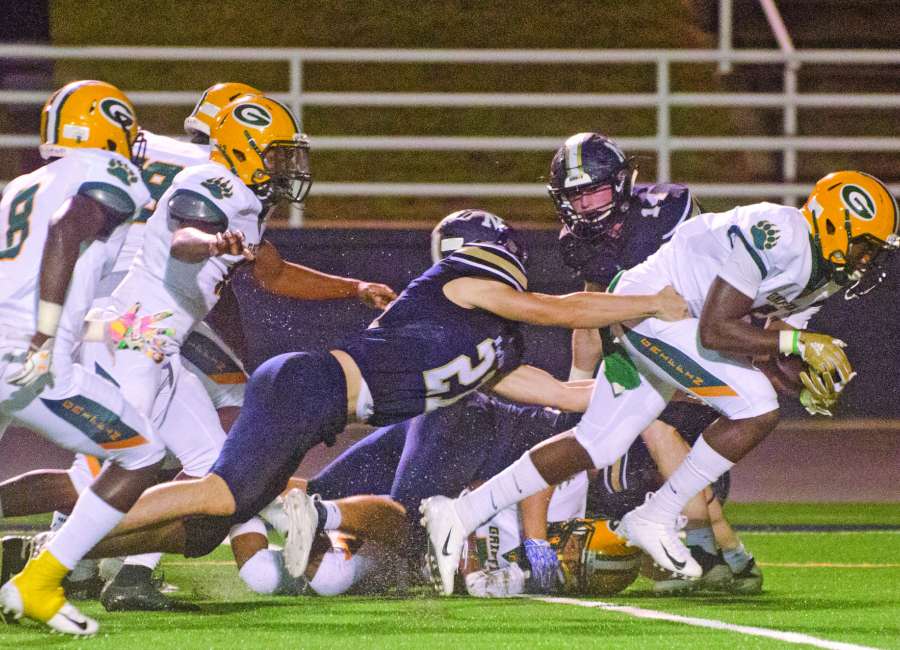 BY CHRIS GOLTERMANN
Cowwetascore
Newnan's two consecutive football wins were as much a success in all three phases — offense, defense and special teams.
But as the clock finally ran out on Friday's 26-17 loss against Griffin at Drake Stadium, the Cougars had allowed their opponents to capitalize just enough in each one for time to run out on its successful streak in non-region play just moments before midnight.
Newnan fell behind 19-0 at halftime, with the Bears aided by a pair of turnovers that led directly to touchdowns.
Then after storming back with 17 unanswered points of their own in the second half, the Cougars gave Griffin just enough room to slip away.
The Bears found a way to overcome 19 penalties and a second-half surge from the Cougars in a victory that remained in doubt until Alijah King's 65-yard touchdown run with 1:46 left in the game.
Facing 3rd and 13 one snap earlier from its own 33-yard line, Griffin needed a key 15-yard completion among sophomores from quarterback Shun Foster to receiver Jamoi Mayes on a leaping grab to the sidelines just to keep the clock moving.
Newnan had Griffin pinned in its own half of the 50 up until that moment while reeling off three scoring drives. Another touchdown was called back on a penalty in a contest where neither team could avoid mistakes.
In a kickoff that was delayed more than an hour by weather, both teams slipped up enough to set up two quick scores by their opponent.
Griffin used a 94-yard fumble return from just outside its own goal line to set up a quick three-play drive that pushed  19-0 lead with 1:38 left in the first half.
Prior to that, a breakdown in special teams led to a blocked Newnan punt inside the Cougars' 20-yard line that was returned on the third snap of the second quarter, putting Griffin up by 13 points.
A torrential downpour in pregame warmups that sent teams back to the locker room for over an hour seemed to have an effect on both lineups with three straight punts on consecutive possessions to open the game.
But with field position teetering in its favor, Griffin broke through first on Alijah King's 3-yard run off a direct snap in the Wildcat.
It capped a seven-play, 50-yard drive where King had five carries to go with a short halfback pass.
Both the Bears and Cougars found most of their success through the air.
Foster was 12 for 19 passing, but with the majority of completions on quick screens for short pickups.
Newnan sophomore quarterback Michael Maginnis, meanwhile, heated up after being limited to 2-for-9 passing with a pair of drops in the first half.
Maginnis started the third quarter 2-for-3 by hitting Woody Waters on a well-timed throw and catch with a Griffin defender draped on the senior receiver in the end zone.
Waters caught seven passes in the second half for 121 yards, with McGinnis also connecting with Kyle McDonald and Elijah Williams on first-down throws while passing for over 200 yards.  
A two-play drive that ended with the throw to Waters came after the Bears lost a fumble inside its own 10-yard line.
Griffin continued to find itself backed up on its half of the field for the entirety of the second half prior to King's final touchdown.
After stopping Newnan short with a goal-line stand, Griffin coughed up another fumble that allowed the host Cougars to pull within 19-14 with 1:42 left in the third quarter.
The Cougars tacked on Rad Wyrick's 39-yard field goal to close within 19-17 with 10:07 still left to play.
From there, Newnan had a consecutive possessions end on downs at Griffin's 32 and 46 yard-line.
The first included a touchdown run by Cougars senior Tyriq Hussie that was called back on a holding penalty, one of 24 penalties between teams in a game that ended at 11:43 p.m.
Bears 26, Cougars 17
Griffin 6 13 0 7 — 26
Newnan 0 0 14 3 — 17
1st Quarter
G — Alijah King 4-yard run (kick failed), 3:46
2nd Quarter
G —  Micah White fumble recovery (Morgan Robertson kick), 3:46
G — King 1-yard run (pass failed), 1:38
3rd Quarter
N — Woody Waters 15-yard pass from Michael Maginnis (Rad Wyrick kick), 6:20
N — Malik Hussie 4-yard fumble recovery, 1:42 (Wyrick kick)
4th Quarter
N — Rad Wyrick 39-yard field goal, 10:07
G — King 65-yard run, 1:46