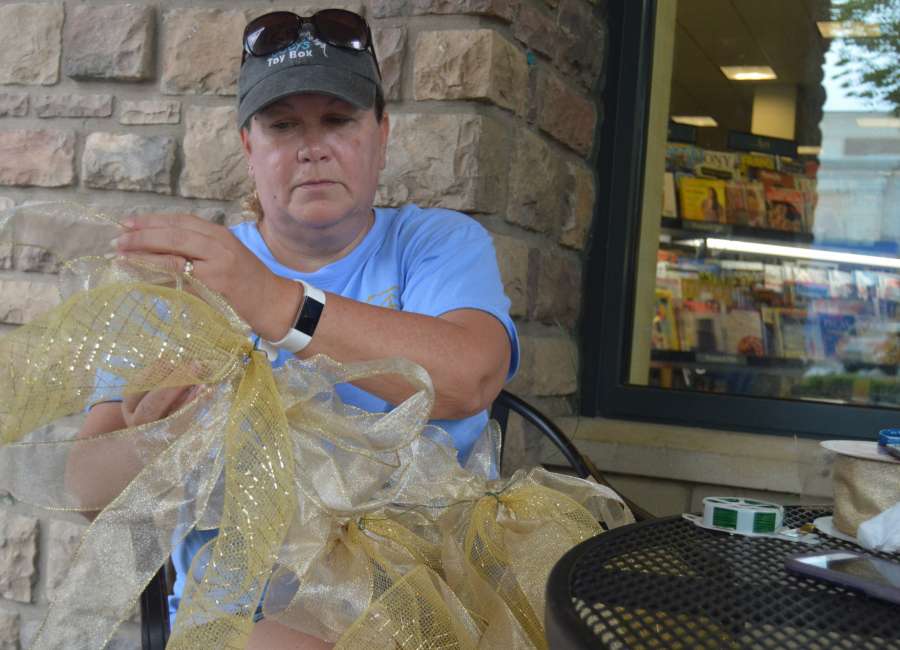 Gold ribbons decorate lamp posts and gently sway in the breeze around the Ashley Park shopping district and a small community in Peachtree City.
Some Coweta and Fayette County businesses also now have brightly painted gold-colored windows that attract the attention of customers and lookie-loos alike.
A majority of the handiwork was created by Kim Doolittle of Newnan.
"We're calling it, 'Coloring Coweta Gold,'" Doolittle said as she sat in front of Barnes and Nobles for hours last week creating bows. "But we're also decorating some businesses in Peachtree City, so over there we call it 'Coloring the Community Gold.'"
Doolittle and friend Joyce Smith's gold creations generated interest from shop owners and strangers walking by the duo.
The curiosity didn't bother them. It was another way to remind the community that September is Childhood Cancer Awareness month, Doolittle said.
"We're trying to make the gold ribbon as recognizable as the pink ribbon for breast cancer awareness," she explained. "I'd like people to ask more about childhood cancer. People are afraid to ask about it. But the more you talk about it, the more awareness we can bring to the community."
The Newnan women used precise movements in assembling the bows.
According to Doolittle, the color symbolizes that children's lives are more precious than gold.
She is also careful to create four loops on each ribbon to create the bow. The loops represent a national statistic – only 4 percent of federal funding is allocated towards pediatric research and treatments, Doolittle said.
The carefully made bows and painted artwork also bring Doolittle mixed memories of her son, Joey.
The little boy was only 3 months old when he was diagnosed with rhabdomyosarcoma, a cancer of the soft tissue, Doolittle said.
He went through treatments and was cancer-free for almost four years. However, Joey relapsed and lived three more years before passing away on July 4, 2008 – Independence Day. He was only 9 years old.
But Joey had a mission he wanted accomplished before he died, Doolittle said.
He wanted to make sure that children fighting cancer – and their families – would be taken care of and treated like royalty while going through treatments.
Joey and Kim created a nonprofit organization and called it "Joey's Toy Box."
Initially, Joey's Toy Box delivered new toys and electronics every six weeks to children in four Atlanta-area hospitals, Doolittle said. The organization granted "Second Wishes" to critically ill children – which includes sending families on trips or treating the children to shopping sprees.
They also spread Christmas cheer and "adopted" families during the holidays, buying gifts for every child in a family – and the parents too, Doolittle said.
While those gracious acts of kindness continue, Joey's Toy Box has expanded into much more since the organization began, she added.
"Now we take a lot of arts and crafts, paints and canvases to children at Children's Healthcare of Atlanta. Joey's Toy Box has bought beds for children who outgrew their bed at home because of receiving radiation to their pituitary gland," Doolittle said. "We also sent a family to Great Wolf Lodge. Anything the families need or the child life specialists request from us, we'll bring it to them.    
"We've brought up laundry soap …  and have recently received requests for essential oils and diffusers that help children suffering from nausea after chemo treatments," she added. "The child life specialists held a class to see which oils work and which ones don't."
Doolittle and volunteers plan on making bracelets and molding Play-Doh infused with the oils for the children to play with while receiving treatments at CHOA.  
Doolittle said there have been some great strides in pediatric cancer awareness this year.
In June, President Trump signed the Childhood Cancer Survivorship, Treatment, Access and Research bill, also known as the "Star Act" into law. Among other things, the law will expand childhood cancer research, track childhood cancer incidences and enhance the quality of life for childhood cancer survivors, according to www.stepupforchildhoodcancer.com.
For the first time in decades, the law will allow at least one pediatric oncologist to sit on the National Cancer Advisory Board.
"It's baby steps, but it's a step in the right direction," Doolittle said.
Small steps that will hopefully lead to bigger, golden strides that find a cure for all pediatric cancers.
Doolittle and Joey's Toy Box will wrap up Childhood Cancer Awareness month will their 11th annual Joey's Ride on Saturday, Sept. 29, in Peachtree City.
The event will start and end at the restaurant called Big Daddy's Oyster Bar located at 101 Crossings E., near the intersection of Highway 54 and N. Peachtree Parkway.
Registration for Joey's Ride will begin at 10 a.m.; the ride will start at noon. The cost is $25 per motorcycle rider. The price includes a T-shirt.
For more information, visit the Joey's Toy Box Facebook page.