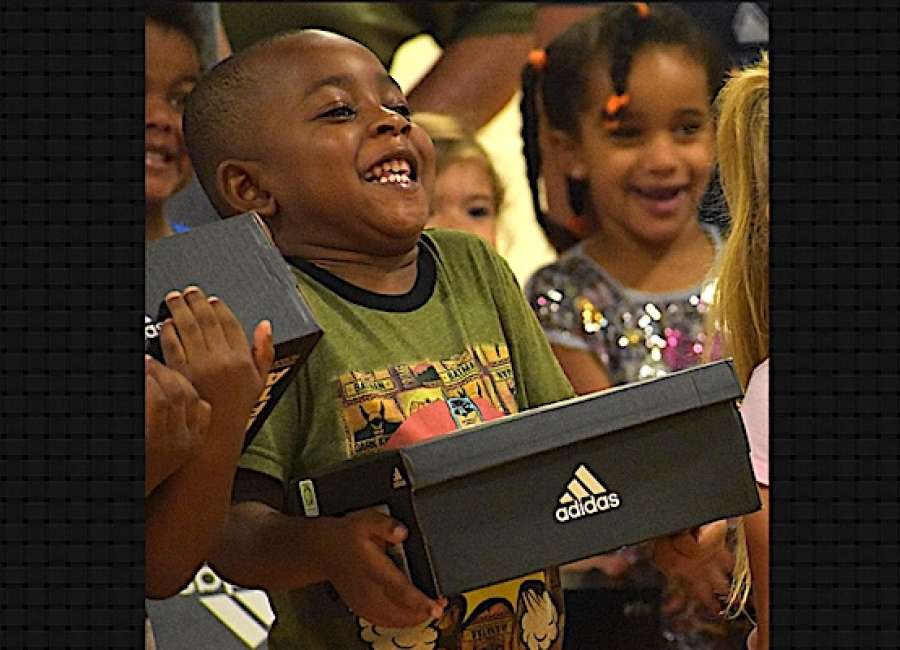 Thanks to a local church, every student at Ruth Hill Elementary School received a free, brand-new pair of Adidas sneakers Wednesday.

For the second year, Foundation Christian Church sponsored Shoe Day, providing each of the approximately 400 students at Ruth Hill with a pair of shoes.
"The goal was to eliminate the single biggest back-to-school expense for every family at Ruth Hill Elementary School," said Clint Nolder, lead pastor at Foundation. "That's our way to say, 'Hey, we're here with you.' We know how sometimes a bit of help can propel you forward and give you some momentum for the school year."
Foundation Church, which sponsors a golf tournament each year to help fund its shoe project, sent a team in to measure the students' feet. Church members then translated the measurements into shoe sizes and worked with a distributor to secure a pair of shoes for each child.
Katie Morman's son, Levi, is a first-grader at Ruth Hill.
"I love Shoe Day," said Morman, who said the event takes a huge financial burden off families' shoulders. "Shoes are very expensive, and getting new shoes is amazing."
Levi, 6, called his new shoes "very cool."
"They're better than my old ones," he said.
High-impact service is built into the DNA of Foundation Church, according to Nolder. Ruth Hill Elementary was the perfect fit for the church, he said.
"We knew that we wanted to have a large impact in our community," said Nolder, whose wife is a teacher. "We looked around and saw a place where we could jump in and add to what was already happening. We found that the administration and the teachers at Ruth Hill are just remarkable – some of the greatest educators I've ever come in contact with."
Church members have been involved with everything from the school's summer bookmobile project and mentoring students to providing snacks for monthly faculty meetings, according to Principal Aaron Corley.
"Foundation Church has been a blessing to our Ruth Hill family," Corley said. "They have been there for individual faculty members and families during times of need and crisis and celebrated with us through our accomplishments. We are truly fortunate to have such a strong and ongoing partnership with such a group of caring, hard-working and dedicated people who truly exemplify the meaning of service and sacrifice for others."
Nolder said he's grateful to the school for allowing Foundation Church to be a part of what's happening at Ruth Hill.
"We just want to come be a part of some students' lives and just see if there are needs we can meet," he said. "Just simple small acts of kindness that hopefully will communicate that Jesus loves them."