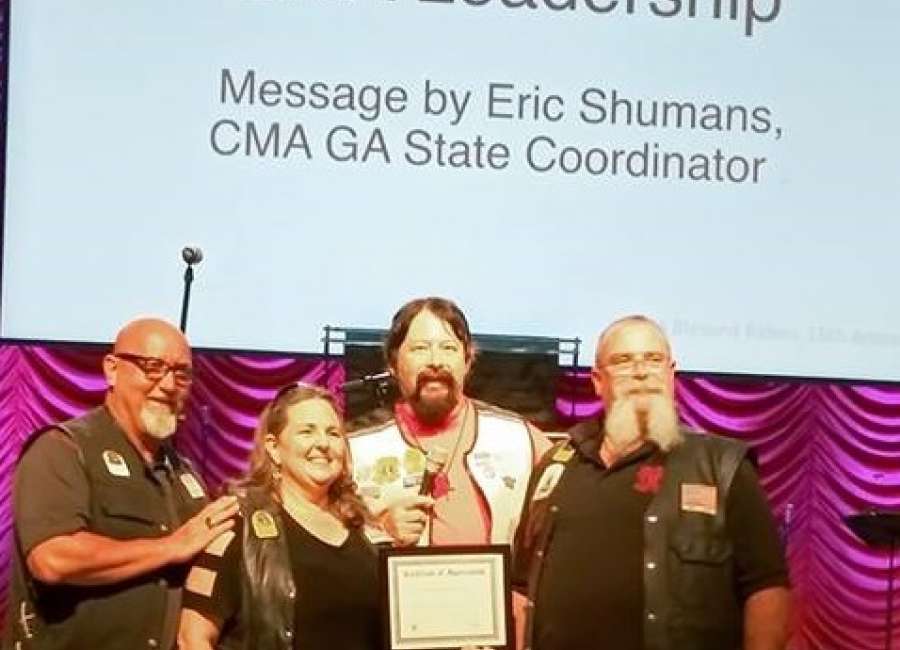 The Blessed Riders have been riding for years, and now they are celebrating a milestone.

"CMA chapter in Newnan has been serving the motorcycling community for 15 years," said Sam Connor, current president of the Blessed Riders. The Blessed Riders are chapter 828 of the Christian Motorcyclists Association. They celebrated their 15th anniversary on Sept. 28.
Bonnie and George Sambuccetti from Crossroads Church and T.J. Hornsby and Lindsie Piper from Foundation Christian Church were the band for the event. The welcome was given by Jerod McPherson, CMA's national vice president for evangelistic outreach.
The Leadership Award was presented to Annette and Riley Guttirrez, who both have served as officers for the chapter for more than 12 years.
Several members of the Blessed Riders have been with the group from its beginnings 15 years ago. Receiving the Longevity Award were Sam Connor, Linda Gleaves, Ron Gleaves, Annette Guttirrez, Riley Guttirrez, Jim Smith, Ralph Snyder, Mike Terrell and Barry Walker.
  
Recognized for being active in the organization for 14 years were Kathy Connor, Mike Gibby, Sharon Gibby, Wayne Lewis, Tommy Thompson and Beverly Walker. 
"The 15th anniversary celebration was held at Sonrise Church in Newnan. We presented Matt Riggs from Sonrise a plaque, thanking them for supporting us for 15 years," Connor said.
The basic purpose of a CMA chapter is to support the national CMA effort of "sharing and showing the love of Jesus Christ to motorcyclists," and supporting this ministry through regular financial support.
The organization has a three-fold purpose:
•Provide and encourage members to be active in testimony and Christian witnessing to all motorcyclists.
•Provide a Christian fellowship ride group.
•Provide an evangelistic association for motorcycling.
In addition to Connor, current Blessed Riders are Ron Gramm, vice president; Lisa Gramm, secretary; Judy Sabella, treasurer; Bob Sabella, road captain; Laurie Brasher, chaplain; Becky Clemens, RFS lead; and Laurie Brash, newsletter editor. Sam Connor also serves as webmaster.