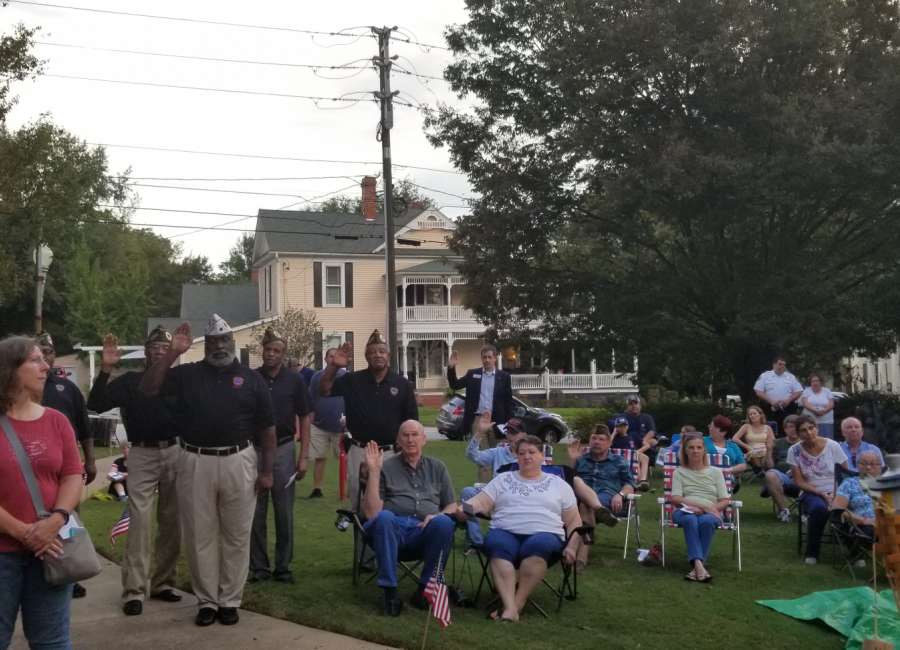 Dozens of Cowetans attended a 9/11 candlelight vigil hosted by the Boy Scouts of America at Newnan's Veterans Memorial Plaza in downtown Newnan.
The event took place Tuesday evening on the 17th anniversary of the al-Qaeda terror attacks on Sept. 11, 2001. The attacks killed 2,977 people when four hijacked planes separately crashed into the north and south towers of the World Trade Center in New York City,  the Pentagon in Arlington, Va., and an empty field near Shanksville, Pa.
The ceremony at the Jackson Street park, which was organized by Verna Funk along with the Boy Scouts, focused on the importance of never forgetting 9/11 and always remembering patriotism and our freedoms symbolized by the American flag. Veterans of Foreign Wars Post 2667 sponsored the event.
The memorial began with members of Northgate High School's ROTC Air Force color guard and the Knights of Columbus marching to the stage while Newnan residents Michael Scott and Patrick Knight played the bagpipes. The march was followed by the pledge of allegiance sung by the Allegro Band Chorus.
An opening prayer was given by Tim Camp. Funk then greeted the crowd.
"We try not to only remember, but to educate the many that forget why we are at war," Funk said. "That during this day of death, emerged heroes. Many heroes in many forms."
Tim Smith of American Legion Post 57 invited all veterans and active military members to stand and recite the Oath of Enlistment.
"I, Tim Smith, do solemnly swear (or affirm) that I will support and defend the Constitution of the United States against all enemies, foreign and domestic; that I will bear true faith and allegiance to the same; and that I will obey the orders of the president of the United States and the orders of the officers appointed over me, according to regulations and the Uniform Code of Military Justice. So help me God."
Kevin Lee sang Newnan native Alan Jackson's "Where Were You When the World Stopped Turning" and "God Bless America."
Coweta County Fire Chief Pat Wilson recognized the victims of 9/11.
"To the families who lost a husband, a wife, a sister, a brother, a child; we remember," he said. "To the children who lost a parent, the children born without knowing their father; we remember."
Ray Wyrick read a timeline of events on 9/11 to the crowd as people lit candles around the park.
According to Wyrick, 2,823 people lost their lives inside the World Trade Center, 265 people died aboard the four airliners and 125 lost their lives in the Pentagon. People from 83 different countries died that day, and the youngest was only two years old, Wyrick added.
The ceremony ended with Scott and Knight playing "Taps" on the bagpipes.