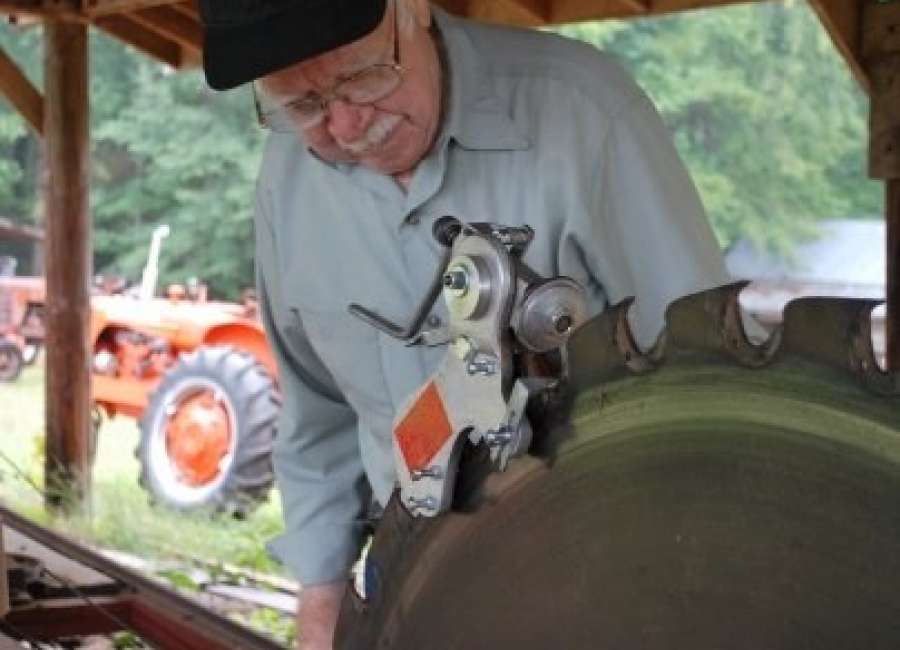 Coweta County resident Zane Bristol will be operating the sawmill at Inman Farm Heritage Days in Fayette County this weekend.

Inman Farm Heritage Days, an annual September celebration of a mostly bygone rural
Georgia lifestyle, is returning for the 22nd year. The three-day festival, kicking off Friday, continues through Sunday.
The festive event will take place on Minter's Farm, approximately five miles south of
Fayetteville on Hills Bridge Road just off Highway 92 South.
Admission is free, although visitors are encouraged to purchase souvenir programs, which are sold for $3 with the proceeds used to support the show.
The organizers are able to present the show with no admission fee thanks to the ongoing efforts of dozens of volunteers, donations from individuals and organizations and by sales of souvenir T-shirts, hats and programs.  
"We've got some great friends who work really hard preparing for the show and putting it on," said Inman Farm Heritage Days Organizer Stephanie Minter Adamek, whose parents Rick and Joanne Minter founded the show.
"Many of our volunteers not only give their time, but also spend their own money on the various improvement projects we undertake each year," Adamek said.
The community-wide effort to host Inman Farm Heritage Days reminds her of the barn-raisings of days gone by. "What we see here each September is a sign that the old-
time practice of neighbors working alongside neighbors for a common cause is not only alive and well, but being passed on to my generation as well as to those younger
than me," she said.
Besides the antique tractors, engines, cars and trucks that have become a large part of Inman Farm Heritage Days, there will be working exhibits including a broom
shop, printing press, planer, syrup-making, a cider press, pea threshing, weaving, grist milling, moonshining and Bristol's sawmill.
       
The show also features a number of food vendors, crafts and activities for children.
Alcoholic beverages are not permitted. Handicapped parking is available as well as wagon shuttles from parking lots. Parking is free.
Another highlight of the weekend is the worship service at 9 a.m. on Sunday morning.
Inman United Methodist Church holds the service in a wooded area on the site where brush arbor services were held nearly 200 years ago.