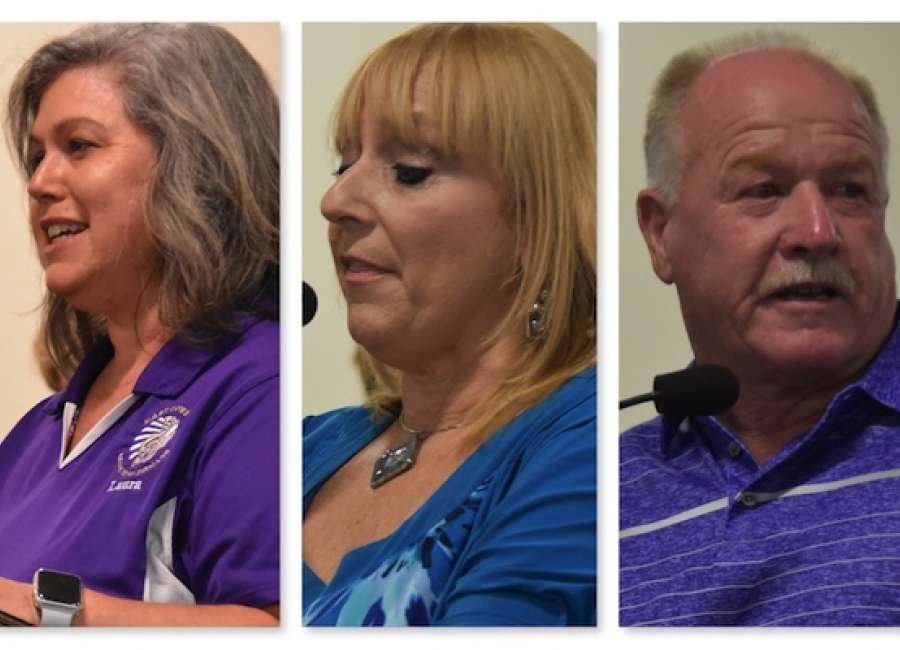 An overflow crowd – some standing against walls and lining hallways – packed the Coweta County Board of Education's Tuesday meeting.

Many wore white T-shirts reading "We Love Our School Board," an apparent show of support for board members and school system personnel who have been threatened with a lawsuit by local resident Henry "Hank" Ashmore. 
Ashmore alleges bid rigging and RICO-related crimes during the bid process for a more than $5 million improvement project that includes the installation of synthetic turf at the county's three public high school stadiums.
Five speakers took their turns at the podium Tuesday for public comments, including an East Coweta High School band mom, a Lee Middle School teacher and the Coweta County Recreation Department director, who said they stand behind the board.
Laura Dalton, a substitute teacher and East Coweta High School Band Booster, talked about how much artificial turf is going to benefit all of the students who use the school's Shoemake Stadium – including members of the Marching Indians band.
"As a band program, we work hard to maintain the EC tradition of excellence," said Dalton, mother of a sophomore band member. "Our band students work to make our school and our community proud. As you know, most of these practices happen in the parking lot. We don't complain, or at least we try not to. We just do what needs to be done to be excellent."
Dalton said one of the toughest challenges for band students, especially rookies, is the transition from the parking lot to the football field. This year, the first time new students performed on anything besides asphalt was at Mercedes Benz Stadium, where East Coweta opened its football season.
"They had no idea what to expect, what it would feel like or that the hash marks would be different. They had no concept of the true size of a football field in relation to marching band – the sheer size affects your spatial perception," Dalton said, adding that the rookies, along with the rest of the band, did "a fine job."
In the past, band members have held off practicing on the Shoemake Stadium grass until after the first home game so it would look nice for the visiting team, and had limited use of the field after that to cut down wear and tear to the field. That won't be a problem with artificial turf, Dalton said.
"We are looking forward to being able to practice on an actual field before the first game," she said. "Artificial turf will certainly give us the opportunity to do just that. We look forward to being able to hone our marching skills and perfect our steps, and in turn, continue to build and maintain a reputation of excellence."
Dalton said she believes the turf and other improvements to Shoemake Stadium will benefit many organizations, and that the band will be particularly grateful.
"Our organization would like to thank you for your integrity and your diligence through the entire process of the installation of the artificial turf," Dalton said to the board members and Superintendent Steve Barker. "Thank you for the wise choices you've made. We believe in our school system, our school board and you, Dr. Barker. Thank you for investing in our children and our future."
Adriana Cantwell, who teaches eighth grade at Lee Middle School, said she may know more about culpability than the average person – she was an attorney in Miami before becoming a teacher 20 years ago.
As Florida's 2008 Reading Teacher of the Year, Cantwell said she traveled the state conducting workshops and listening to teachers worry and complain about their local school boards. That's not the case with Coweta County, Cantwell said, praising the transparency of local school officials and board members in conducting business.
"All the financial details and records are easy to locate and to examine by anyone who cares to do so," she said. "That is so important to skeptical people like myself that have the experience of coming from the big city where all financial dealings are not so easily tracked. Transparency is not the modus operandi of a crooked school board."
Cantwell also commended Barker, Assistant Superintendent Marc Guy and school board members for their support of Coweta County students, teachers and employees.
"We are so fortunate to have such an active school board whose members are recognizable not only to the teachers but to the students," she said. "I had six members come into my classroom and speak to my students just last year, on their own time. My students were so impressed that such – as they called them – 'very important people' would take an interest in them and actually ask them what they were doing and why they were doing it. They gave my students a purpose, and they felt proud and wanted to continue to excel.
"I want to openly give you my personal vote of confidence in the decisions you make for Coweta County schools and my sincere gratitude for your support and dedication," Cantwell added. "I am proud to be in this wonderful school system where integrity, grit and conviction flow right from the very top."
Coweta County Recreation Department Director Carl McKnight, a life-long Senoia resident and a product of Coweta County schools, said he pays his school taxes just like everybody else. He's seen superintendents come and go from 1967 on, he said.
"Two gentlemen right here in this room right now in this room represent Coweta County in the best way you could ever have it, and that's (former Superintendent) Bobby Welch and Steve Barker," McKnight said.
Two other speakers, Beverly Jennings and Ben Parsons, voiced complaints directed to individual board members. 
Jennings asked Linda Menk about her "dubious" attendance at board meetings and her motivation for serving on the board after an online post by the District 4 representative suggested she supports Ashmore and his lawsuit.
Parsons, who briefly was a 2016 candidate for the at-large seat held by Frank Farmer, called Farmer's behavior toward a resident who attended the board's Aug. 21 millage rate hearing "unethical."
(More on this story in Sunday's edition of The Newnan Times-Herald.)