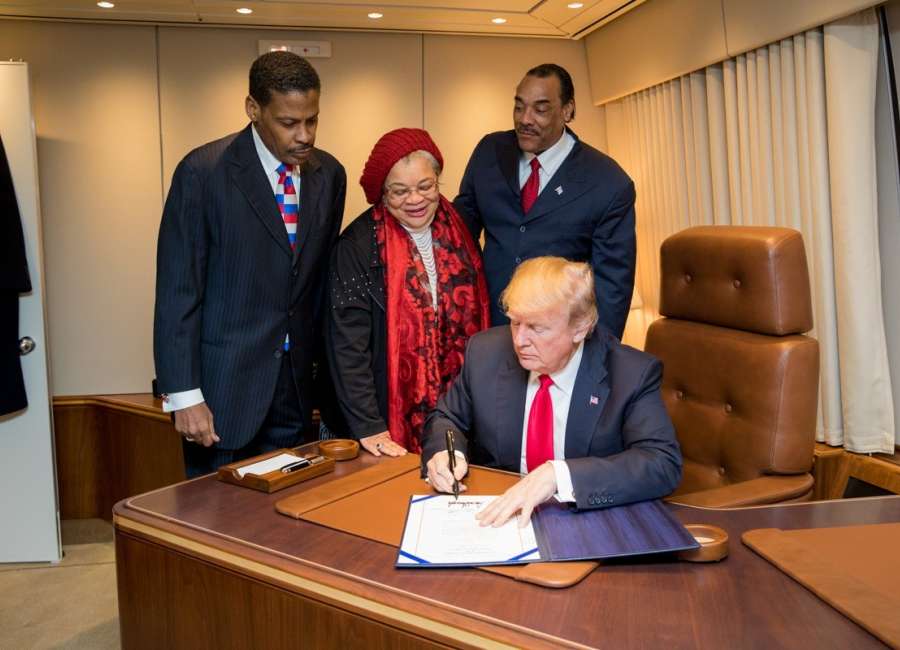 Dr. Alveda King, who listened to her father preach from a Newnan pulpit when she was a girl, is one of the evangelicals most closely associated with Donald Trump's White House.

Alveda King has made a name for herself by, in part, often taking political stances that are at odds with her generally liberal family. She is on the staff of Priests for Life.
In the first month of the Trump presidency, she was one of those in the presidential entourage when Trump toured the National Museum of African American History and Culture in Washington, D.C.
Earlier this year, she and a cousin were with Trump when he signed the Martin Luther King Jr. National Historical Park Act aboard Air Force One in Atlanta.
Last month, Pres. Trump called Alveda King by name during a dinner in celebration of evangelical leadership. The dinner was held Aug. 27 in the State Dining Room at the White House.
"These are very special friends of mine, evangelical pastors and leaders from all across the nation," Trump said. "America is a nation of believers. And tonight we're joined by faith leaders from across the country who believe in the dignity of life, the glory of God and the power of prayer."
King was among those to whom the president offered "a special thanks." The others included Franklin Graham, who preached for a crusade at East Coweta High School's Shoemake Stadium several years ago, along with Jerry Falwell, Darrell Scott and Ralph Reed.
Trump said the attendees included "so many great, great leaders – incredible leaders." He added, "I know you, I watch you, I see you. Yours are the words we want to hear."
Secretary of Housing and Urban Development Ben Carson also was present and was mentioned by the president. Carson spoke at Peachtree City Seventh-Day Adventist Church in May 2010.
"We're here this evening to celebrate America's heritage of faith, family, and freedom," Trump said. "Every day, we're standing for religious believers, because we know that faith and family, not government and bureaucracy, are the center of American life – and we know that freedom is a gift from our Creator."
Alveda King is the daughter of Dr. Alfred Daniel Williams King, who became pastor of Mt. Vernon First Baptist Church in Newnan in 1959 when he was a recent graduate of Morehouse College. He pastored there for a couple of years, then moved on to other pastorates before his death in 1969.
His brother, Dr. Martin Luther King Jr., and their father, Martin Luther King Sr., both took part in services at Mt. Vernon during A.D. King's pastorate there.