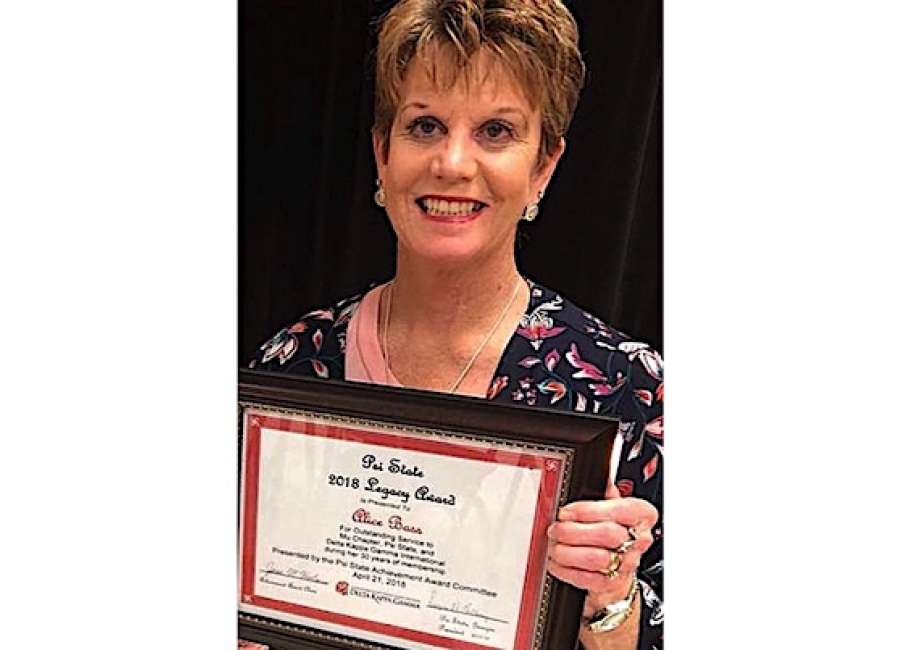 Alice Bass, a retired Coweta County elementary school teacher, was awarded the 2018 Legacy Award at the recent Delta Kappa Gamma Society state conference.

The Legacy Award is presented each year to a member who has been a distinguished, faithful worker on the state and chapter levels of DKG for 25 or more years.
Bass was hired to teach in Coweta after graduating from college in Indiana. She spent 34 years educating Coweta children, primarily as a kindergarten teacher but also as an early intervention specialist, preparing students to succeed on grade level. 
Early in her career, Bass was identified as an outstanding educator, and was selected for membership in DKG – a professional organization which promotes professional and personal growth of women educators and excellence in education. The Mu Chapter of DKG is composed of key women educators from Coweta and surrounding areas.
During her years with DKG, Bass has served as president of the Mu Chapter and filled many other leadership roles on the local level as well. Bass currently is chair of the state membership committee, and she has served as Georgia recording secretary and district director in addition to her committee work.
At Mu Chapter's April meeting, Bass was congratulated for receiving this state recognition, and she was awarded a pin for 30 years of membership in the chapter. 
Mu Chapter provides scholarships to members who are working on advanced degrees. The chapter serves the community by granting funds to female education majors in their last two years of undergraduate study; supporting local literacy efforts; meeting educational and physical needs of children, and mentoring early career educators.