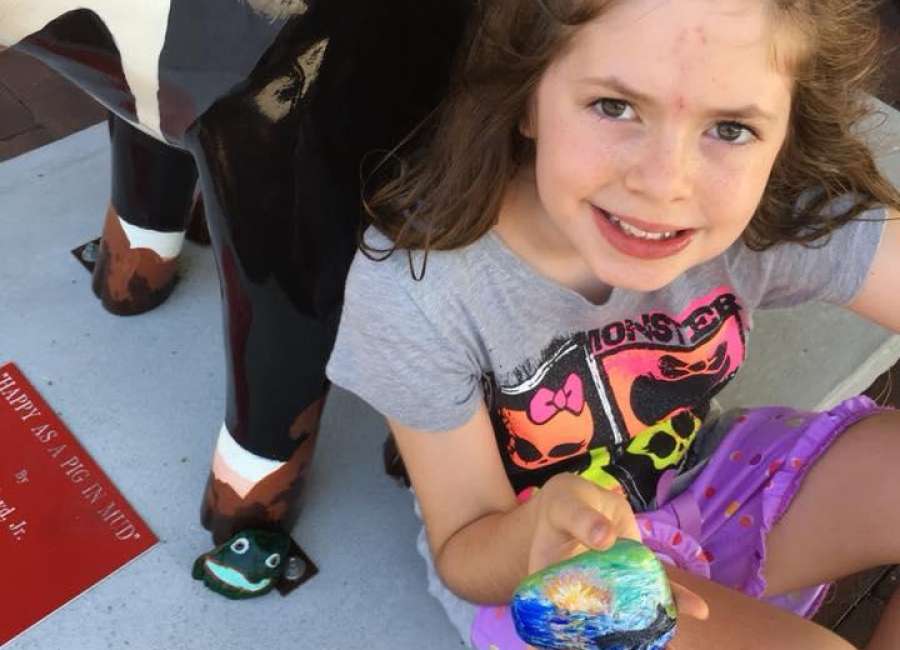 Though Easter has come and gone, some children will once again bask in the delight of searching and finding precious items this Saturday at Veterans Memorial Plaza.
But children won't be collecting Easter eggs. Instead, they'll be gathering painted rocks of all shapes, sizes and colors.
Members of the Newnan Rocks Facebook page have created an easier version of the hide-n-seek game for children aged 10 years old and younger, according to Ansley Byrd.
She and a few others are organizing Saturday's event.
The citywide scavenger hunt for painted rocks began two years ago  – and continues to take over downtown Newnan and beyond.
The initiative was started by Peggy Giles Aldredge, a local artist.  
The idea is once a rock is painted, the artist also hides it somewhere in downtown Newnan, such as on a window sill, in the grass, or by a tree.
The rock can be left for someone else to discover or hidden in a different location.
People can upload photos of their painted and/or found treasures to the Newnan Rocks Facebook page.
"It's fun to see the rocks pop up on the Facebook page, find out where they were found and who discovered them," Byrd said.
The scavenger hunt has become so popular, even adults are enjoying the fun.
"People are putting the rocks everywhere," Byrd said. "I've found them in Walmart and in Kroger. Wherever people go, they take the rocks with them and leave them, like at doctors' offices."
"My daughter Bree Knight, 9, found two painted rocks at the feet of two painted hogs across from the Redneck Gourmet," Carrie Sikes Knight said. "She rehid one of the rocks immediately at another painted hog and later rehid the other painted rock near Newnan City Hall.
"We have a one rock maximum rule, which means we never keep more than one rock at a time. The rest we rehide for others to find," Knight added.
But as more people have played along, the harder it has become for young children to find any rocks at all, said Byrd.
"We've had a lot of kids who try to find rocks, but come up empty-handed. They can't find any," she explained. "I've seen Facebook posts where adults find 15-20 rocks and then in the next post, I see a child who has only found one.  
"The adult and older kids also hide the rocks in super hard places, like up in trees or inside stores, and the little kids can't find them," Byrd added.
However, finding the painted gems shouldn't be a problem for children this weekend.
On Saturday, Byrd and several volunteers will bring boxes full of painted rocks to hide in and around Veterans Memorial Plaza in the city park at 30 Temple Avenue.
At noon, the race will be on to see which child can find the most rocks, Byrd said.
She urged parents to bring large baskets, boxes or heavy-duty bags with them.
Byrd and a few volunteers are dedicating their time to paint as many rocks as possible for Saturday's scavenger hunt. But more painters are welcome, as long as they bring their creations to Veterans Memorial Park by 11 a.m. on Saturday.
Some painted rocks will also be hidden around downtown Newnan.
The children's scavenger hunt is free and open to the public.
For more information, visit the Newnan Rocks Facebook page.