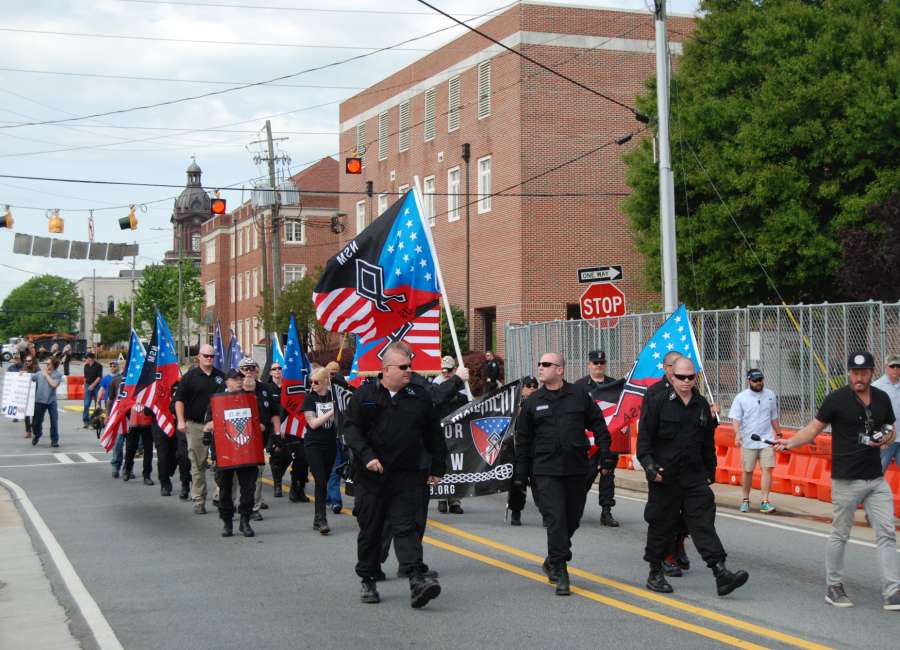 A white supremacist rally is set for Sunday in Washington, D.C., but it is not clear if the National Socialist Movement will be participating.

The NSM, a white supremacy group with headquarters in Detroit, came to Newnan for a rally in April. The group also was among those participating in a rally in Charlottesville, Va. that turned deadly a year ago.
Sunday's Unite the Right rally in LaFayette Park near the White House is organized by Jason Kessler, who invited the NSM to the Charlottesville event.
Kessler, a Charlottesville resident and University of Virginia graduate, sued Charlottesville after city officials denied him a permit for an anniversary event, according to the Associated Press. Kessler recently abandoned his lawsuit, but told the AP he is pressing ahead with plans for the Aug. 12 rally in Washington, D.C.
During an interview this summer, Kessler said he was still "coming to terms" with what happened at last year's Unite the Right rally in Charlottesville and said he apologized to the family of Heather Heyer, who was killed when a motorist drove his car into a group of counter-protesters.
In a deposition, however, Kessler stated he had no regrets or remorse about his role in the Charlottesville rally and takes no responsibility for the violence, according to the AP.
LaFayette Square, located just north of the White House, is a public park that was part of the original plan for the capital city. It was named for Marquis de Lafayette, a French military leader who helped the patriot cause in the American Revolution, in 1824.
Sunday's rally is not mentioned on the National Socialist Movement's web page. Kessler listed the NSM in court papers as among the groups he formally or informally invited to the Charlottesville event.
Members of the National Socialist Movement were in Newnan for less than two hours on April 21. They held a rally at Greenville Street Park in conjunction with an annual gathering in Haralson County.
Members of the neo-nazi organization wearing all black military-style uniforms and carrying banners, flags and shields, were led down LaGrange Street and into the park by NSM Commander Jeff Schoep.
Schoep firmly stated NSM is not a hate group, despite some members yelling "white power" and saluting the commander.
"We love all people and our country," he said from the stage. "Hate burns you up inside and harms your body."
Schoep also addressed the Charlottesville, Virginia incident and said his group, "acted in self defense … we are not the ones creating the violence. … We stand together. We will not back down. We will not be silenced."