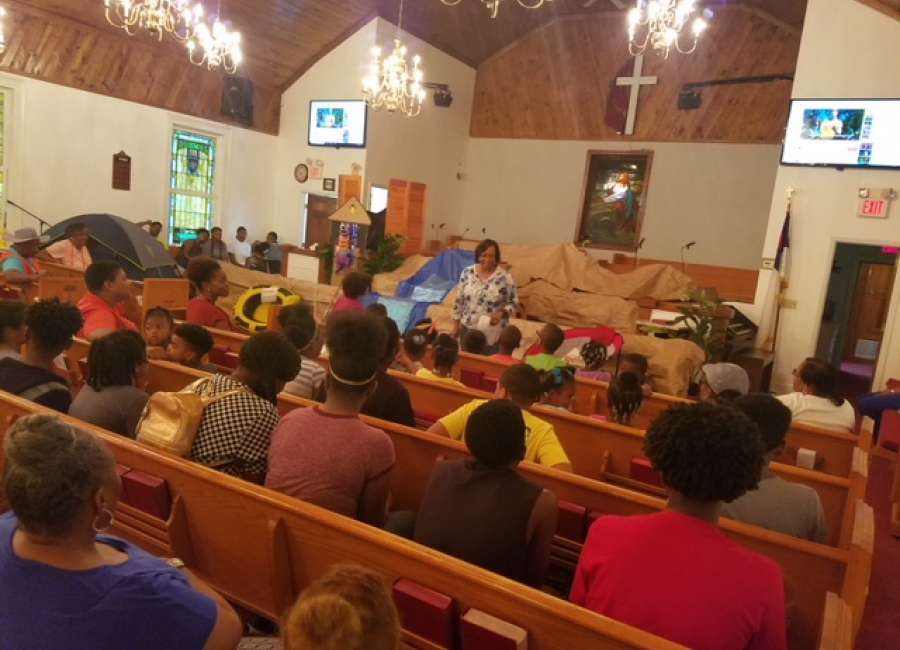 School is back in session, and many Coweta pupils are hitting the books after spending some time with the Bible.

Churches throughout the area held Vacation Bible School during the summer break. VBS sessions included elaborate themes, peppy songs, snacks and recreation. Many churches also incorporated a service project into the summer Bible time.
One of the most popular themes for VBS in the area this year was "Game On." Ramah First Baptist Church in Palmetto was one of the congregations using that theme. The morning VBS at Ramah was June 4-7 for children who had finished first through sixth grade.
Rolling River Rampage cast students in the role of rafters. Resurrection Lutheran Church invited rafters ages 4-12 to enjoy a simulated white water rafting adventure.
According to promotional materials from the church, the goal was for rafters to "discover that life with God is an adventure full of wonder and surprise, and that they can trust God to be with them through anything."
Each child at Resurrection received a Rolling River Rampage vest – a pretend life vest – wear to Bible School each day and to keep as a souvenir of the experience.
This year, Newnan Presbyterian Church and First United Methodist Church of Newnan joined to hold Vacation Bible School. Mornings from June 18-21, opening and closing assemblies were held at the First Methodist parish house.
Classes for younger children were held at Newnan Presbyterian, while older children enjoyed classes at the Methodist church.
Newnan Chapel United Methodist Church also used the Rolling River Rampage theme.
"The young people participated in activities and made crafts each day that focused on adventure, acceptance, rest, peace and joy on the river with Jesus," Julia Morrison-Morgan, who handles communications for the church said. "The week culminated with each class presenting a skit before the group."
Cathy Stephens was the VBS director at Newnan Chapel with Wendell Morgan serving as the Rolling River guide.
Katie Faison, associate pastor to children, women and senior adults, was director of the VBS at Central Baptist Church. As a service project, the Bible School participants packed 40,176 meals for the church's Rise Against Hunger project.
Teachers and volunteers were David Abt, Ava Al-Ostta, Sarah Kate Anderson, Abbie Arrington, Evelyn Claire Bedingfield, Anna Frances Blackburn, Jovanca Blackburn, Lynn Blackburn, Reeves Blackburn, Randy Boswell, Kirby Bowen, Susan Boyd, Laura Brady, Jeanette Brightwell, Melonie Brightwell, Nan Burnette, Jewel Burson, Luci Canales, Amber Castellow, Teresa Clements, Jane Clifford, Lee Collins, Lilly Collins, Susan Conlan, Nancy Cothran, Steve Cothran, Ruthie Cuellar, Judy Daymont, Jane Duenckel, Brenda Dunn, Gabbie Dunn, Irby Dunn, Ken Eggleston, Sharon Eggleston, John Faison, Hugh Farmer IV, Micah Frances, Sara Freeman, Peyton Gann, Genna Gentry, Olivia Gentry, Banks Glover, Debbie Glover, David Gregory, Jessica Griffith, Sunday Griffith, Aimee Hadden, Michael Hadden, Lilly Hammond, Missy Hammond, Lili Haynes, Caroline Headley, Clay Hudson, Robin Huff, Melissa Jackson, Sara James, Katie Keith, Abbey Knight, Reece Kunse, Jennifer Lisborg, German Lopez, Maddie Lovett, Diana Macotto, Steve Mapel, Matt Markham, Bill McGarity, Karen McGarity, Jennifer Mendez, Gavin Miles, Mark Mitchell, Blaire Morgan, Macie Morgan, Maddy Murdock, Cole Murphy, Taylor Kate Murphy, Lee Nall, Susan Nall, Debbie Pitts, Amelia Rivers, Righton Rivers, Ben Robuck, Gayle Rutherford, Christofer Sanchez, Julie Sapp, Matt Sapp, Cliff Seyler, Karen Seyler, Henry Smith, Laura Smith, Ashleigh Smitherman, Becca Springfield, Seth Steindder, Sophie Grace Stemberger, Lilith Tate, Josh Tate, Nancy Teller, Merry Todd, Jenny Trammell, Julia Van Drew, Eileen Walls, Ava Kate Welch, Jenny Welch and Barbara Wiley.
Working in the nursery for Central's VBS were Hope Corbett, Caroline Donahue, Maddie Langer and Madison Parker.