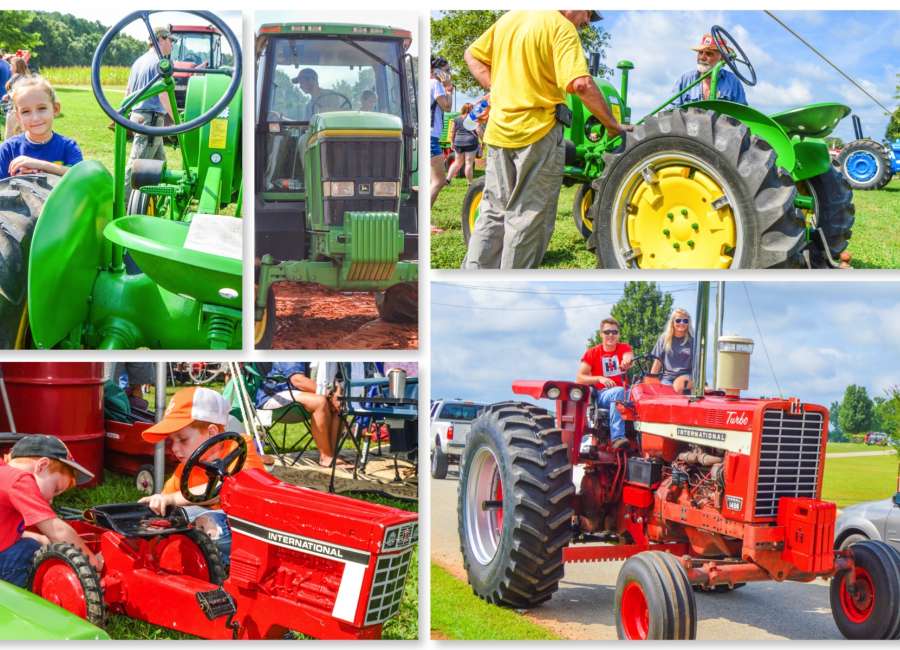 The streets of Turin became center stage for antique tractors big and small during the 24th annual Turin Antique Farm Power Show and Tractor Pull.

Hundreds of people lined the streets early Saturday morning to pay homage to the farm equipment as the vehicles paraded through town. Folks also honored Martha Arnold, who was this year's grand marshal.
CLICK HERE FOR A GALLERY OF IMAGES FROM THIS EVENT!
She led the antique tractors to a small fairground in Turin. The field and dirt track hosted the power show, vendors and tractor pull.
Senoia resident Leeanna Howard said she's attended the event since she was a teen and now brings her husband and six children every year.
"It's a family-friendly event. The kids can learn about the history of the community, farming and tractors," she said.
This year, her oldest sons, Robby, 6, and Henry, 4, will participate in the children's tractor pedaling pull. The event is for children ages 3 – 10 years old.
The two boys have their own mini-tractors that were refurbished by their father, Kyle Howard.
"They're real tractors built in the 1970s and 1980s," Kyle said. "I just put a fresh coat of paint on them. The kids ride them every day."
Children weren't the only ones excited about the show. Crowds lined the track to watch adults push their equipment to limits during the tractor pull event.
Some people preferred to showcase their antique tractors in a field next to the track.
Owen Davis brought two of his five tractors to the show including a 1943 Allis Chalmers vehicle.
"This is a pre-war tractor," he said. "There were very few made and sold then because everything went into the war effort."
Davis said he upgraded some parts on the tractor, but the vehicle still has its original finish.
Davis, his son, granddaughter and extended family attended the Turin event. These type of shows are a popular tradition for the Davises.
"It runs in the family," Granddaughter Brianna Davis said.
"If there's a tractor show, I'm there," Owen said. "I like to take my tractors so people can see them and play on them. I'm collector and it's a hobby – and not as expensive as playing golf.
"I also use my tractors to do volunteer work, like harvesting and planting pumpkins for organizations," he added.
The 24th annual Turin Antique Farm Power Show and Tractor Pull gave people like Davis a chance to swap stories and advice with other farmers.
The event was sponsored by the Turin Antique Tractor Association.