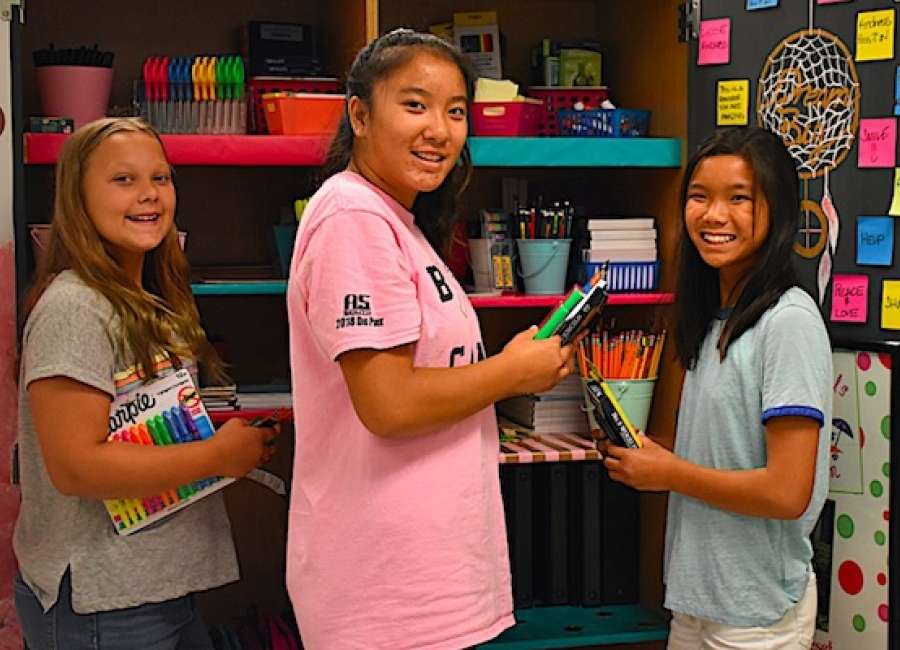 Local students in need of school supplies don't need to look far.

In many cases, they can "shop" for the things they need at their own schools, where supplies are available year-round.
The Abby's Angels Foundation has established Abby's Closets in most Coweta County schools, along with some in Heard, Carroll and Fayette counties. Unlike school supply giveaways and drives that cover basics at the beginning of school, Abby's Closets are replenished monthly to provide access to school necessities throughout the school year.
And it's not just pencils and paper. Organizational supplies, sticky tabs, flash drives and earbuds line the shelves of most Abby's Closets.
"It's a good mix of basics and fun stuff," said Monique Haskins, an Abby's Angels Foundation board member.
Haskins also is a personal friend of the Bacho family, which established the foundation in memory of their daughter Abby after the 8-year-old's death in 2012. While Abby's Angels counts teen driver safety and scholarships among its broader focus, Abby's Closets provide a more personal connection to individual schools and students.
Abby often played school, pretending to be the teacher. Family members say she enjoyed learning and might have followed her dream of becoming a teacher. And there definitely was one activity she looked forward to at the end of each summer.
"Abby loved shopping for school supplies," Haskins said.
A space is designated at schools for Abby's Closets with room for required supplies for each grade as well as fun extras. In three Coweta schools – Ruth Hill Elementary School and Newnan and East Coweta high schools – the space is shared with a Communities in Schools site coordinator.
Abby's Closet may be a space just big enough for a supply closet in some schools, In others, there's room for a chair or two and maybe and table and a lamp. In all of them, a poster decorated in her favorite colors features a photograph of a smiling Abby and a message reminding others to do the same.
"For some people, it's just a fun and safe place," Haskins said. "You look at that poster of Abby and see her smile and all the bright colors, and how could you not smile?"
It's a no-questions-asked operation, Haskins said.
"For some people, it's just a fun and safe place," she said. "Most of the closets have a little journal where they can keep track of people who come in to get supplies, but they don't need names.
And sometimes it comes back around, like when recipients of items in Abby's Closets decide to write thank you notes in those journals.
"One woman was recently divorced and didn't have a job, and she said it meant so much to be able to give her son the things he needed for school."
It creates a sense of belonging for students to not be at a disadvantage in school, family members say, and the purpose of Abby's Closets is to encourage a love of learning by providing school supplies and a safe space without ever making those students feel outcast or needy.
Families who don't have the resources to provide necessary school supplies at the start of a school year aren't likely to be able to provide them on an ongoing basis, which is why Abby's Closets are replenished monthly and their contents are available year-round. But school supplies are not all the program provides.
"The needs are year-round for many reasons," said Natalie Bacho, Abby's mother. "One of the best things about Abby's Closets is that they are places where students can go to feel supported and not feel so alone. No matter what's going on, they have a place where they can go."
And it doesn't just help the students. At one school, Bacho popped in to replenish Abby's Closet and found a teacher sitting alone, eating her lunch.
"She said, 'Sometimes I just like to have lunch with Abby,'" Bacho said. "For us personally, that's a gift. Teachers and principals who didn't even know her say they feel like they did, like she was one of theirs because of the closet. People feel like they know Abby."
Bacho said she wants to make students and parents aware of the resources available through Abby's Closets, even if the program hasn't yet been established in their schools.
"If there isn't a closet at their school, they can contact us and we'll get them the supplies they need," Bacho said.
Abby's Closets donors range from regular to one-time, from medical supply companies to book clubs. Donors can use Amazon Smile or the donate button at www.abbysangelsfoundation.org, or they can directly donate by participating in Abby's Angels fundraising events.
"But the main thing is just making sure people know about this resource," Bacho said.