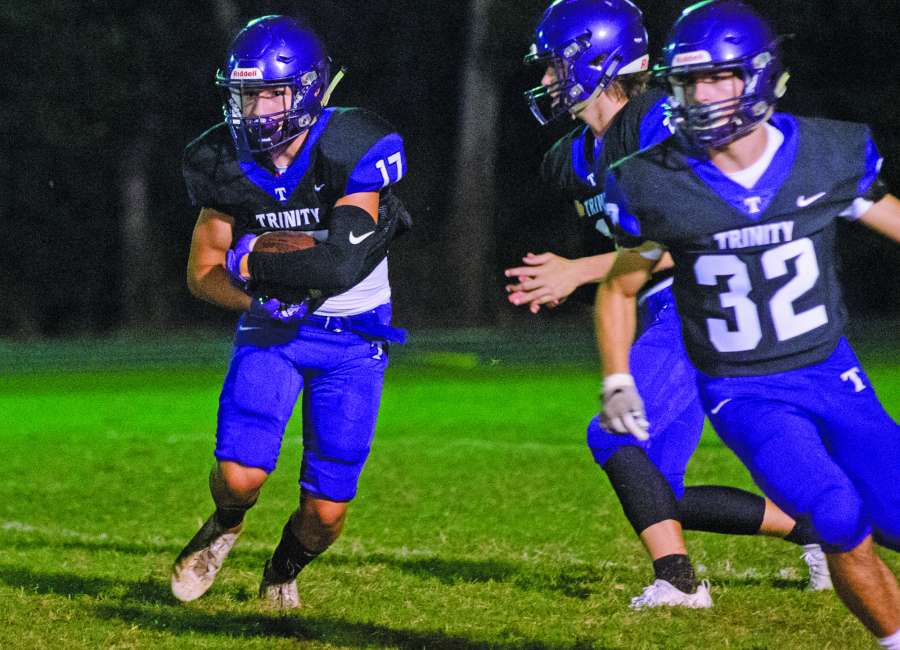 BY CHRIS GOLTERMANN
Preseason football games are centered on the "Who," rather than the "How." 
While football coaches will try to answer the latter for the rest of the 2018 season when it comes to the best method toward achieving victories, scrimmages are all about finding out which players are best suited to achieve that goal every Friday night. 
point, especially when it came to zeroes under opponents' names. 
Trinity Christian dominated North Clayton 30-0 in a scrimmage played at East Coweta Middle. 
Equally, Heritage School had its way with Central Christian in the first-ever meeting between county programs. At home, the Hawks outscored the Crusaders, making their first appearance in 11-man football, 56-0.
Both of the county's programs in GHSA Class 7A opened on the road. 
For Trinity head coach Kenny Dallas, it was most essential aspect of a 30-0 victory over North Clayton in a scrimmage that was moved to East Coweta Middle to close out a preseason where the Lions found themselves displaced on campus due to summer construction including a new artificial turf field. 
Without a practice field, Trinity has bounced from five sites and two gymnasiums to maintain its workout schedule. While succeeding in a potential logistical nightmare, it's prevented the Lions staff from obtaining practice film among a roster that includes a freshman class that already is creating a buzz for the future. 
"Everything for me is about film. I've done this long enough to know it's never as good as you think it is and it's never as bad as you think it is," Dallas said. "Just to have film and evaluate our kids, cause what we're looking for is kids who play with fanatical effort from snap to the echo of the whistle. I'm going to go on there and see which kids play hard, cause that builds trust. It's a super simple thing. But unless you have film, you can't see that kind of stuff."
The Lions padded a 9-0 lead by way of three Ethan Aldridge field goals between 30-40 yards with three touchdowns in the final 20-plus minutes to put the scrimmage game out of reach.
Aldridge had a fourth attempt that cleared the bar ruled no good, but his first effort would have been plenty to clinch a victory had the game counted. The Eagles, coming off a state-playoff season in Class 5A, were held on their end of the field throughout the second half. 
Offensively, Trinity needed two quarters to equally get in gear with much of the slow going attributed to an offensive line that was missing four starters   including talented senior center Stephen Powell due to injuries.
The end result, though, may have shuffled the depth charts or at least solidified backups.
"I think [the scrimmage] also allowed us to evaluate some other kids," Dallas said. "It's also nice to see our young ones get in there."
Ed Berry, coming off multiple knee injuries, got a hand for an effort that included a 30-plus yard touchdown run to cap off consecutive scoring drives late in the third quarter. Senior transfer Carson Walter, also coming off a season-ending injury last fall, also scored in his Trinity debut. 
The Lions tacked on a late touchdown among an offense made up mostly of freshmen and sophomores. David Dallas already looked comfortable behind center while connecting in the end zone on a 30-yard touchdown pass to junior Tanner Price.
The scrimmage was just one of two hosted locally with four new turf fields along with rubberized tracks all in different stages of construction around the county.
Heritage's well manicured grass got quite the workout from the Hawks