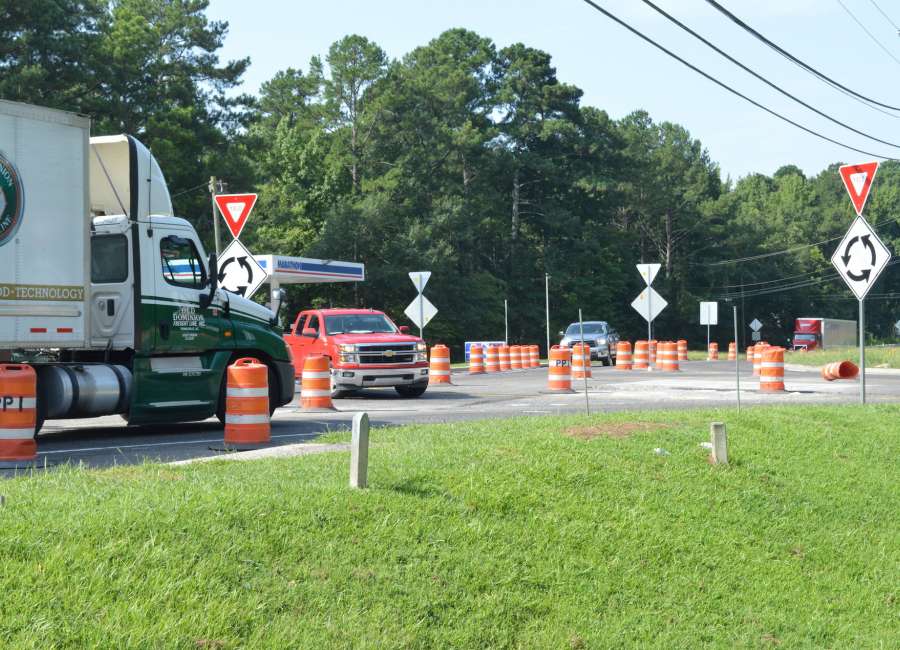 New roundabouts on U.S. Highway 29 were operational Wednesday morning, though plenty of work remains before the roundabout project is complete.

The miniature roundabouts, at Hwy. 29 and Hal Jones Road and Hwy. 29 and Greentop Road, are currently only marked with paint and barrels, and the pavement is rough from milling. Eventually, the roundabouts will be marked with curbing and will have center islands, designed to be "fully mountable" by tractor trailers and other long vehicles that will need to swing up on them to get through the roundabout.
The design of the roundabout at Hal Jones is such that northbound traffic on U.S. 29 only has to make a slight turn to get through the roundabout, while southbound traffic must navigate more of a curve.
Late Wednesday morning, traffic was generally flowing well, though some motorists seemed confused and some larger vehicles appeared to be having a bit of trouble navigating the intersection.
The miniature roundabouts are a temporary improvement for the two intersections. Plans for standard-sized roundabouts were announced in July 2016. Coweta County Commissioner Bob Blackburn asked county staff to ask the Georgia Department of Transportation if mini roundabouts could be installed in the interim, and that request was granted.
The project was supposed to begin in late April, but contract delays and heavy rains pushed back the start date. A new start date of Aug. 6 was announced a few weeks ago.
Final completion of the project is expected by Nov. 1, GDOT spokeswoman Kimberly Larson.