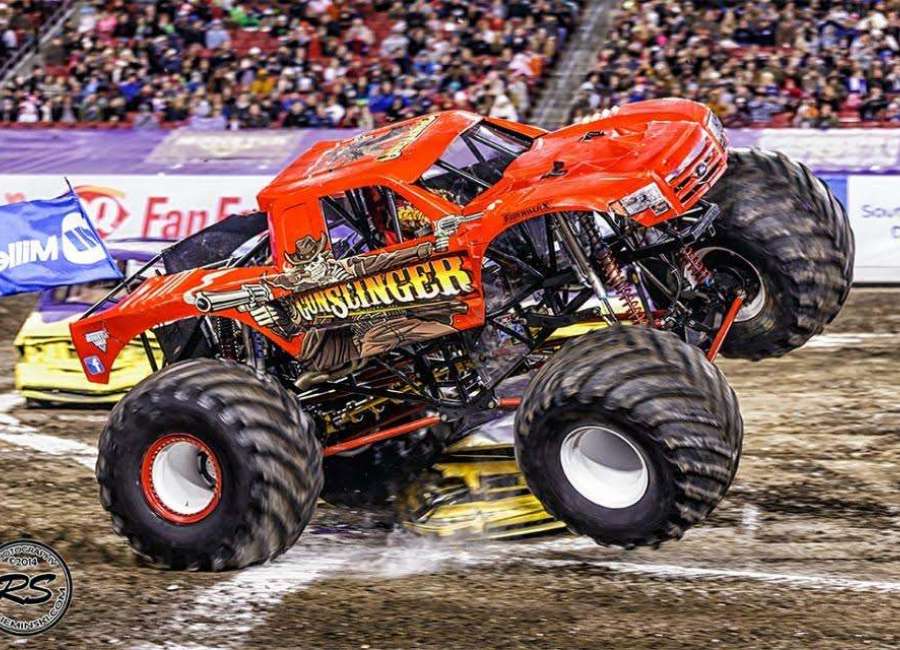 The world-famous Gunslinger Monster Truck will be back this year to defend his Freestyle title from last season.
Senoia Raceway hosts its annual Monster Mania and Tournament of Destruction Saturday, including a fun Kids Power Wheels 'Demo Derby' and the always entertaining adult version to go with monster truck action.
One of the most anticipated events of the season is coming the Senoia Raceway on Saturday, as the track hosts its annual Monster Mania and Tournament of Destruction.

"We have fans call us about this show in March," said track promoter Mayes Massey. 'We wreck almost everything in the place and the fans love to see all that crashing stuff. The kids love the Monster Trucks.'
Freestyle is the competition is wide open for the driver of the Monster Truck,' said Massey. 'He will perform high speed doughnuts, crush cars, jump over walls and destroy everything. It is driven by fan applause, so usually the guy who does the craziest act is going to win.'
War Wizard is also returning. The Tennessee based Monster Truck team has always been a favorite of fans across the country due to his wild body designs. War Wizard has also been the truck to beat in the Wheelie Contest for the past couple of seasons.
"He has always been able to get his truck up on the rear wheels and ride it," Massey said.
Storm Damage, Hurricane Force and Fullbore will also be competing and performing in the Monster Truck show this weekend.
Massey expects a dozen or more of the kids to participate in the Kids Power Wheels Demo Derby on Saturday. Kids of all ages are invited to bring their plastic, battery powered vehicles along with any kind of protective headwear and have some bashing their Power Wheels into one another.
Each participant will receive a winner's medal.
"The Kids Power Wheels Demo is one of the coolest events we have added to our annual show," said Massey. "It is not very high speed, so the kids kind of just bump into each other, but the smiles, giggles and laughter is a highlight of the evening."
A couple of the Senoia Raceway weekly racing divisions will also get some track time on Saturday. The Crate Late Models and Late Model Sportsman divisions will be on the event schedule competing in qualifying and a feature race.
Grandstand tickets can be purchased at the gate for $20. Kids ages 5-12 are $10 while ages 4-under are free. A reserved seating area along the top row of the grandstand is available for $30. Parking is free.
Info: senoiaraceway.com