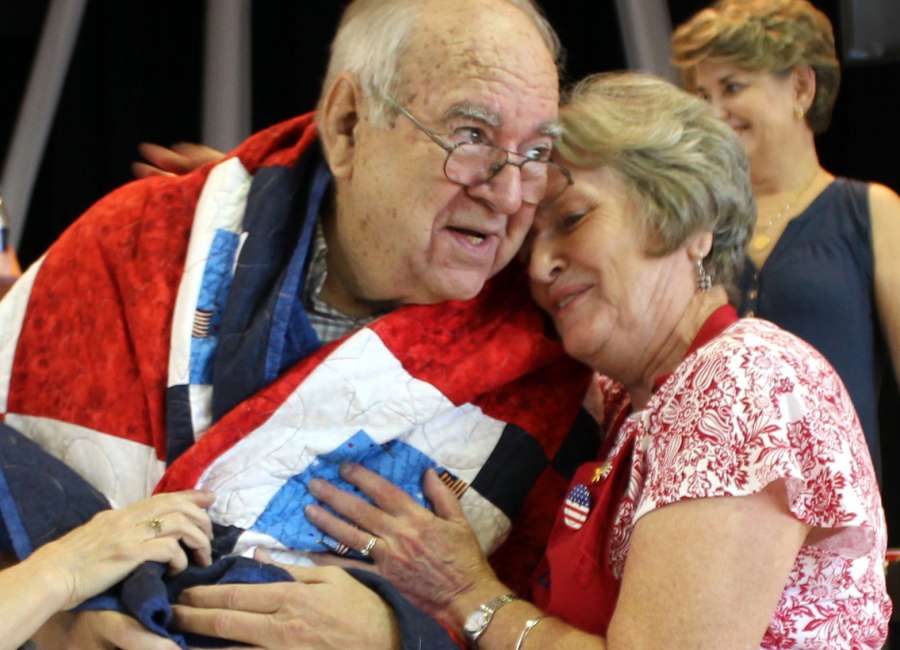 First in a series

Coweta County Quilts of Valor presented quilts to 27 area veterans at First United Methodist Church in downtown Newnan in Aug. 11.
The quilts were presented at the Quilts of Valor Benefit Fish Fry held at the church's parish hall. More than 400 people attended the event, making this year's fish fry the largest yet, according to QOV member Kathy Wilson.
Coweta's QOV group has awarded 400 quilts since August 2014. Each quilt is made by a local quilter and presented to a veteran.
"The National Quilts of Valor Foundation has awarded 194,078 Quilts to U.S. veterans across the country and around the world where they may be currently serving," Wilson said.
"This event far outreaches just a fundraiser," Wilson added. "It celebrates not only veterans but community. The quilts are much more than fabric and thread. They represent the love and respect for our veterans that many of them did not receive when they returned home from their deployments."
There were veterans from World War II and subsequent wars recognized during the fish fry. Presentation ceremonies were held at 4:30, 5:30 and 6:30.
Most veterans knew they would be getting a quilt at the event, but several were surprised.
"The fellowship of the community, compassion and love, could be felt in that room," Wilson said. "It warms my heart to look across the room to see all those veterans, family and friends of veterans, and supporters of veterans."
For information or to request a Quilt of Valor for a veteran email 404-790-4831. Donations to help with the project may be sent to QOVF, P.O. Box 114, Moreland, GA 30259.
Among those who received a Quilt of Valor at the Aug. 11 fish fry were:
Harry Bexley served with the 888th Engineer Squadron, 470th Air Force Group, Army Air Forces.
He enlisted Jan. 14, 1943 and served until Oct. 30, 1945. He was awarded the American Service Medal and the Euro/African/Mid-Eastern Service Medal with four Bronze Stars. 
Bexley's campaigns and battles were Normandy, northern France, central Europe and the Rhineland. He was aboard the Queen Mary and was interviewed by the Atlanta History Center as part of their project to capture stores of our veterans.
Bexley lived in Coweta County for many years, and Bexley Road is named for his family. His Quilt of Valor was pieced by Deborah Sweeney and quilted by Debbie Fowler.
Previous to joining the Navy, 2nd Class Petty Officer Lloyd Forshee was a member of the National Guard in New York for 18 months. He joined the Navy in January 1955 and did basic training in Maryland. From there, he attended machinists school in Milwaukee, and then served in Norfolk, Va. and on the Battleship USS IOWA, BB61, where he eventually became the lead petty officer of a six-man crew and a large machine job shop.
Forshee spent many nights and days at times making various parts to ensure the ship kept moving. Two and a half years later he moved to a second ship and finished his time on a guided missile cruiser, the USS Canberra. At the time of his discharge, he had obtained the rank of 2nd class petty officer (E5). Forshee received a Good Conduct Medal when discharged. 
During his four years, Forshee visited 38 countries. He traveled across the equator, became a "Shellback," rode the mighty waves of the North Atlantic and became a "Bluenose."
After all he accomplished and observed in his years of service, he said he believes
it prepared him well for what was ahead in his life and he is truly grateful to God and
his country. Forshee's Quilt of Valor was pieced by Brenda Hall, Teresa Bates and Jason
Phillips and quilted by Debbie Fowler.
Buck Sergeant Donald Shelnutt served in the Army from 1968-1970 with the
101st Airborne, 2nd Battalion, 506th Infantry in Vietnam. His Quilt of Valor was pieced by Pam Duncan and quilted by Margaret Watson.
After following his father around the world during 22 years of service in the Air
Force, Staff Sgt. Charles Danbury went on to serve his county, also in the U. S. Air Force for 20 years as enlisted man and an officer.
He served seven years as a staff sergeant in personnel/administrative and as an instructor. He was commissioned to Navigator School and was on the F4 Phantom for eight years. He also taught at the Air Crew Life Support Officer School and gave continuous training on ejection/water survival.
He finished his career as recruiting star in the operations office. Danbury's sister, Connie Lucas, served in Iceland during 1984 alongside him. He also has a son who served six years in the Air Force, with three years in action. His QOV was pieced by Patty Hall and quilted by Margaret Watson.
Connie Lucas was on active duty in the Air Force from 1981-1985 and then went into the Air Force Reserve from 1985-2008. She served in Operation Desert Shield and Operation Iraqi/Enduring Freedom. Her positions were administration, operations superintendent and current operations.
In 1984, she had the honor of serving beside her brother, Charles William Danbury, in Iceland. Her Quilt of Valor was pieced by Colleen Foley and quilted by Debbie
Fowler.
Franklin Holley served in the Army from April 1958–August 1979. After two years in Italy, he was sent to Ft. Benning. He later served in New York City. Later he was sent to Paris and took his family with him. He then was stationed at Middle Tennessee State University in the ROTC program.
Holley spent one year in Vietnam and then was assigned stateside again to North Carolina.
His last deployment was Stuttgart, Germany.
During his career, Holley served as a combat engineer trains, postal clerk in Italy, administration, and in his last 10 years in military intelligence. He had earned the rank of first sergeant upon discharge. He was awarded a Bronze Star for his service in combat in Vietnam, Meritorious Service Medal, Service Commendation Medal and Army Commendation Medal.
Once he retired, he continued his service in the Defense Department as a personnel security investigator from 1979–2006. Holley is the father-in-law of Charles Danbury.
His QOV was pieced by Linda Brown and quilted by Jean Raines.
Corporal Yolanda Payton served the Army from 2000-2005. Serving at Ft.
Jackson as a rear detachment non-commissioned officer in charge for the S1 – the
equivalent to human resources in civilian businesses – she was promoted to specialist after less than a year. She served as drill corporal for the summer surge at Ft. Jackson, processing over 500 soldiers a week.
She also served at Ft. Stewart. Payton received Army accommodation medals, ARCOM's and MSM. She was medically retired as Army specialist in 2005.
Payton's husband, Freddie Payton, is currently serving at Ft. Lewis, Wash. They have three children. Payton's Quilt of Valor was pieced by Barbara Abbott and quilted by
Debbie Fowler.
Corporal Clay Hildebrand joined the Marine Corps in 1991 and went through summer camp at Parris Island, S.C. He was as an infantry radioman with the 2nd Battalion, 8th Marines and 3rd Battalion, 6th Marines.
He was stationed in Camp LeJeune, Ft. Knox, Camp Schwab and the Northern Training Area (NTA) of Okinawa, Camp Mujuk in Pohang South Korea, MCAS in Yuma and on board the USS Harlan County and USS Ashland traveling to and working on the island of Viegas, Puerto Rico.
Hildebrand was awarded the National Defense Service Medal, Sea Service Deployment Ribbon, Good Conduct Medal, Rifle Expert with M16A2 and Pistol Sharpshooter with the Beretta M9.
He completed four years as a corporal (E-4) in 1995. He served at Mountain Warfare Training Center in Bridgeport, Calif.
He has since moved from the Marine Corps infantry units to the middle school classroom. Now Dr. Hildebrand, he is a sixth grade math teacher. His quilt was pieced by Brenda Hall and quilted by Penny Willingham.
Sgt. Robert Edmondson served in the U. S. Air Force from Feb. 1966–Aug. 1970 as an aircraft electrician on C130 Aircraft. After basic training and tech school he served in Kansas, Arizona, and Tuy-Hoa Vietnam. His quilt was pieced by Caroline Hodges and quilted by Margaret Watkins
David Dobbs served in the U. S. Army from 1967-1969. He was drafted in 1967 and went to basic training at Ft. Benning. He was sent to Pleiku, Vietnam in February 1968 with the 1st Air Cav as aviation support. Upon his return in 1969, he was stationed at Ft. Benning, where he completed his service. His quilt was pieced by Colleen Foley and quilted by Penny Willingham.
Marvin B. Johnson Jr. served in the Air Force as a pilot on B-29's. He spent a year and a half in Japan and the Pacific. After he fulfilled his required duties, he served in the Reserves at Dobbins AFB – flying 123's, hauling troops from base to base for 9-10 years. For another year and a half, Johnson was at Cape Canaveral, flying crews in missile projects to check out the frequencies used to be sure all was clear. He received the Outstanding Officer award in the Air Force in 1960 as a 1st Lieutenant.
Later he had several inventions – a couple were a hearth guard to prevent injuries
to children should they fall on the sharp edge of a fireplace hearth and another a
baby gate. His quilt was pieced by Marina Lewis and quilted by Penny Willingham.
LTC James Leathers joined the US Army in 1966. Upon completion of Fixed Wing Flight school, he began the first of two tours in Vietnam. From October 1967 to October 1968, he flew critical missions to support combat operations.
His selfless efforts resulted in his being awarded the Bronze Star. After a short tour at Ft. Benning,, he returned to flight school to become a qualified as a helicopter pilot. He became dual qualified in both fixed wing and rotary aircraft, which speaks to his dedication and abilities as an aviator.
Upon becoming qualified as a helicopter pilot, Leathers began his second tour in Vietnam supporting combat operations from December 1971 to December 1972. During this tour, he supported many perilous direct combat missions. Following this tour his efforts were
again recognized by being awarded his second Bronze Star for combat operations.
Following his second Vietnam tour, he had several staff tours including serving as
a basic training company commander at Ft. Jackson, the Readiness Region in Minneapolis and at the Combat Aviation Battalion in Hanau, Germany. He then served at the Army Training and Doctrine Command at Ft. Monroe, Va. He also served at Ft Leavenworth, Kansas where he was recognized with being awarded the Meritorious Service Medal.
His final assignment was at Ft. McPherson. There he served as the leader of the Aviation Section of the FORSCOM headquarters where he was responsible for fielding new helicopters throughout the Army. Upon his retirement, Leathers was awarded the Legion of Merit medal. 
Following his retirement, Leathers continued to support the Army and the Department of Defense as a contractor providing support to the Joint Interoperability Division. His quilt was pieced by Mary Jean Kimble and quilted by Jean Raines
Robert Cole joined the Army in 1966 and entered basic training at Ft. Benning. He spent three tours in Vietnam serving as a mechanic and heavy equipment operator for combat engineers. He received the Military Merit Medal for service above and beyond the call of duty. He was honorably discharged in 1969. His quilt was pieced by Susan Wixom and quilted by Debbie Fowler.
Justin Mitchell served in the Army from Feb. 22, 2011–February 2015 as a military police in South Korea and Guantanamo Bay, Cuba He is now employed as a law enforcement officer with the Newnan Police Department. His quilt was pieced by Theresa Bush and quilted by Margaret Watson.
Major James Dollar served in the U.S. Army from 1950–1972. He was drafted in 1950 just as the Korean War started. He spent 22 years in the Army and Reserves as an intelligence officer, retiring in 1972. His quilt was pieced by Theresa Bush and quilted by Penny Willingham.