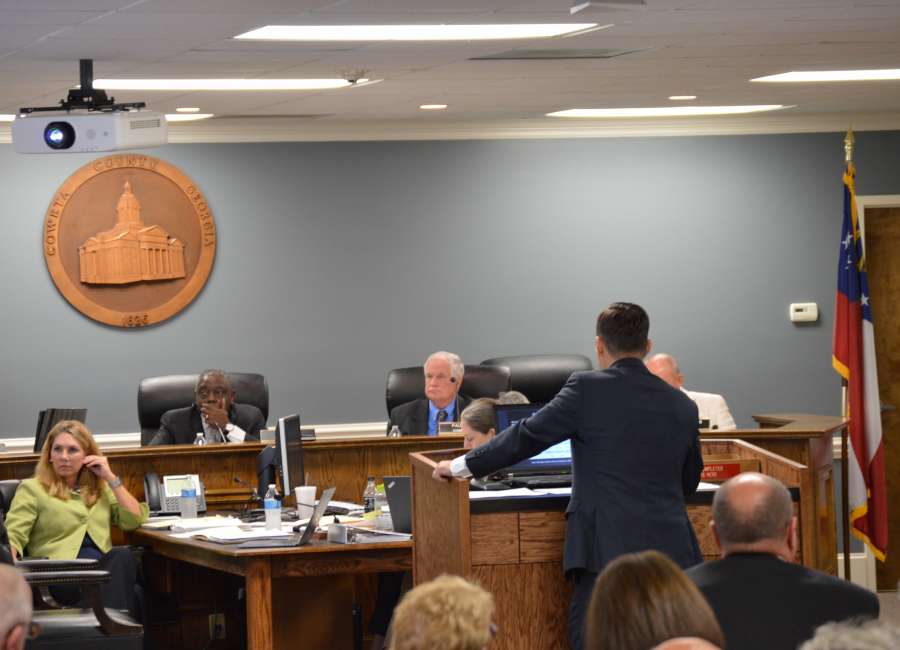 A large crowd turned out Tuesday night for the first of three public hearings on Coweta County's proposed millage rate.
Several residents spoke in opposition to the millage rate, though debate was cut off rather abruptly. After calling the names of everyone who had submitted a public comment form, Chairman Al Smith called for a recess and declared the public hearing concluded. There were a total of nine speakers at the public hearing.
Typically, the chairman asks if there is anyone else who wishes to comment before there is a vote to close the public hearing.
After returning from recess, the commissioners began regular session without an official vote to close the public hearing, until being notified by a person in the audience that the public hearing was still open. One additional audience member spoke on the millage rate during the pubic comment portion of the meeting, which is typically reserved for comment on items that are on the agenda but not part of a public hearing.
The county is proposing to adopt the same millage rate as last year, 6.63 mills for the unincorporated areas of the county and 7.63 mills for residents in the cities and towns.
However, because of rising property values, keeping the same rate is technically a tax increase, and three public hearings are required before any property tax increase can be approved.
Under state law, taxing authorities, such as the county, must calculate a "rollback rate" each year. The rollback millage rate is the rate that would bring in the same amount of money as last year's rate, on existing properties. New growth isn't included in that calculation. Anything over the rollback rate is considered a tax increase.
For a $200,000 property with a homestead exemption, the difference between the proposed rate and the rollback rate would be approximately $13 for a house in Coweta's towns and cities and $12.32 for property in the unincorporated areas, according to County Administrator Michael Fouts.
Only Cowetans who saw their property values rise this year will see increased taxes under the proposed rate. If the commissioners vote to go with the rollback rate, instead, Cowetans who didn't see their property values go up will pay less in taxes.
There were two speakers who stepped forward when Smith asked if anyone wanted to speak in favor of the proposed rate.
Alejandro Glomba said that he feels the county is responsible with its spending. He said he's conservative, but thinks it's fair to give when the county is growing in order to give residents the safety, security and services they demand.
"It's better to be a foundation than to be a drain," he said.
Coweta Sheriff Mike Yeager thanked county staff for their hard work in putting together a budget, and said that every department is currently "well under budget."
"I think that it shows that we work with what we've got," he said. "I just want people in the county to know that we are good stewards and we try to do what is right and we don't live above our means."
Donald Smith asked about increasing a senior citizen tax exemption for county property taxes.
Smith said he had come before the board previously to talk about a senior exemption. "I was told it had to be voted on and the board would create something to be voted on," he said.
Smith said he is opposed to the millage rate. "I'm against this increase because we're not doing anything more for our senior citizens," he said.
David Fowler expressed concerns that homes in subdivisions are seeing higher values for tax purposes, while those outside subdivisions aren't.
He studied homes along Major Road, and found significant property value increases in a few subdivisions, smaller ones in others – and no increase for homes outside of a subdivision.
"I'm paying a higher rate based on revaluation than my neighbor who lives in a home that is not in a subdivision – and that's not right," Fowler said.
David York said his taxes have gone up each of the past three years, in part because of rising property values. He's retired and on a fixed income and doesn't have the ability to increase his income, York said.
He questioned whether the county is being a good steward of taxpayer dollars. He mentioned the Central Community Center, which he said is rarely open. Community centers are primarily places for residents to rent or reserve for events.
York also mentioned the roundabout at Greison Trail, the roundabout at the Newnan Centre and the recent closure of Lower Fayetteville Road for culvert work as other examples of the county not being a good steward of taxpayer dollars. All of those items, however, are city of Newnan projects.
Commissioner Paul Poole told York that the county has no control over the city's projects, which seemed to come as a surprise to York.
Patricia Fishburn thanked county staff for the presentation on the millage rate and budget priorities. "There are a lot of things I did not know," she said. But, she said she is opposed to her taxes going up more.
A countywide revaluation is in the works, and Loreli Scott said Coweta property owners might see double-digit increases in property values.
"Please, please, Coweta County, don't get greedy," she said.
Linda Menk, who serves on the Coweta Board of Education, asked that any millage rate increases be delayed until the revaluation is complete, around 2020 or 2021.
"There is absolutely no reason whatsoever why you cannot roll back this rate," Menk said.
"It seems like every year we alternate between a tax increase, a reassessment," said Jack Hilton. And in the off years, Cowetans are asked to vote for renewal of the Special Purpose Local Option Sales Tax.
"Let's try to be a little bit conservative," he said. Coweta is growing, and the tax base is increasing.
"You're going to have a lot more money coming in. Why do you have to overburden people right now?" Hilton asked.
Brant Frost V spoke during the public comment period. In 2015, the county decided to go with the rollback millage, and it's time to do it again, he said.
"Folks feel taxed enough already," he said.
The other two public hearings on the tax rate will be held Aug. 21. One will be at 7:30 a.m. and the other will be at 6 p.m., as part of the regularly scheduled commission meeting. The commissioners are scheduled to set the millage rate at the Aug. 21 meeting.