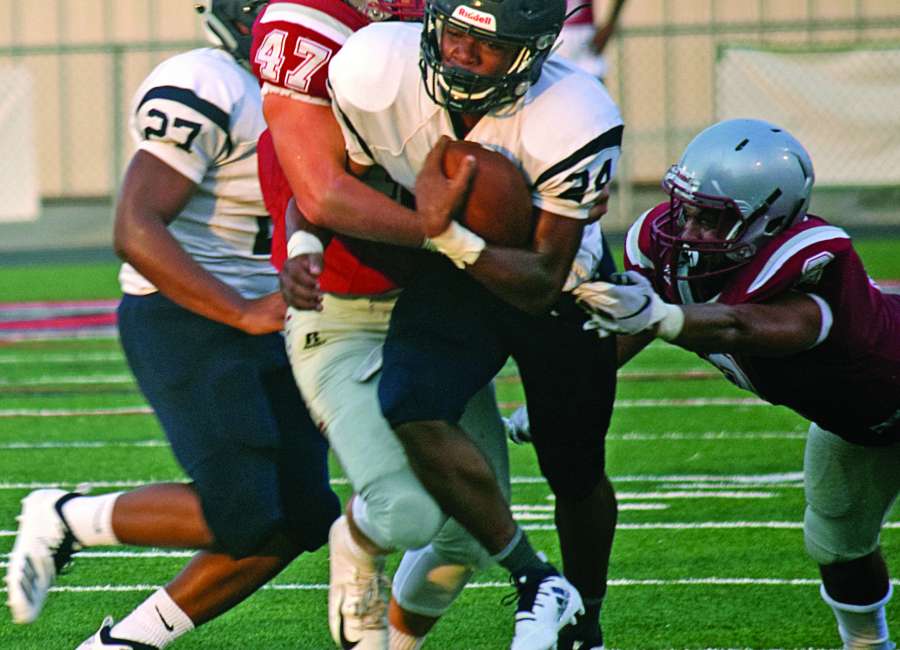 BY DOUG GORMAN and CHRIS GOLTERMANN
Heading into Friday night's scrimmage at Whitewater, second-year Newnan head coach Chip Walker wasn't really concerned about the final score.
Technically, Whitewater prevailed 24-21 after the Wildcats recovered a fourth-quarter fumble in the Newnan end zone against the Cougars freshmen.
But for the most part, Walker was pleased with the way the varsity unit performed in its dress rehearsal for next Friday night's home opener against New Manchester.
Everybody who dressed for Friday's scrimmage got to see some action.
"I thought it went really well," Walker said. "It was 21-10 at the half and we basically pulled the starters."
All three of the county's public school programs dominated scrimmage opponents in preseason action. 
Northgate's blanked Grady 19-0 through three quarters of varsity play, with the final period featuring JV teams.
span class="Apple-converted-space"> 
At Griffin, East Coweta exploded for 27 points in the first quarter en route to a 41-13 victory. Gerald Green twice rambled into the end zone untouched and junior Jamari Alford had a pair of interceptions. 
Both Class 7A schools in the county kick off respective seasons on consecutive days. Newnan hosts Chapel Hill on Friday. Just over 12 hours later on Saturday, East Coweta gets its 2018 season underway as part of the Corky Kell Classic in a 9 a.m. game against Kell at Mercedes Benz Stadium.
"It was fun to see them having fun playing. That's the key. It needs to be fun because practice isn't always the most fun and neither are our offseason workouts," East Coweta head coach John Small said. "The kids have a lot to look forward this week, playing at [Mercedes Benz].  But at the end of the day, it's still a football game."
At Whitewater, Newnan mixed in both a strong running game with a solid passing attack.
Sophomores Bryant Moss and Aubrey Carter shared the bulk of the load at running back for the Cougars. Quarterbacks Michael Maginnis, a right-handed sophomore, and Logan Hudson, a southpaw entering his senior year, each split time at the position.
After the Newnan defense held Whitewater on the first series, the Cougars offense showed it could move the football, marching 50 yards for the score capped off by Moss' touchdown.
The Cougars spread the ball throughout the offense with Maginnis throwing the ball to a collection of wide receivers.
On the Cougars' second series of the night, senior Kyle McDonald made two catches, including one on third down to keep Newnan in possession of the football.
Newnan added two more scores, one on the ground when Carter broke off a long run and Maginnis connected on a touchdown pass to Kyler James.
Despite giving up an 80-yard touchdown for one of the Wildcats' scores, the Cougars defense came up with some big plays throughout the night.
Newnan forced the Wildcats to punt on their first two series of the game.
Late in the first half several Newnan defenders were in on the sack of the Whitewater quarterback.
"There a definitely some things we need to work on, but overall, it was a good night," Walker said.
Newnan comes into the home opener against Chapel Hill next week hoping to improve on last year's 4-7 record and first-round loss to Tift County.
Chapel Hill enters the season opener after going 6-5 last year and also dropping a first-round playoff game to Ridgeland to end its season.
Northgate-Grady
First-year head coach Mike McDonald came away pleased with the way the Vikings performed on the road Friday night in a scrimmage against Grady.
"It was just good to have the chance to scrimmage against somebody else," Northgate head coach Mike McDonald said. "Our kids were looking forward to that."
The varsity played the first three quarters and built a 19-0 lead before turning the game over to the junior varsity and a running clock for the final 12 minutes.
Quarterback Isaac Corbitt is stepping in as the starter for Northgate, replacing three-year starter Kyle McLaren who graduated last year.
On the other side of the ball, Northgate kept Grady off balance.
"We flew around pretty good on defense and forced some turnovers and that was good to see," said McDonald.
Running back Cameron Cruver had some big runs for the Vikings and scored a touchdown. Tanner Hughes also scored a touchdown.
Three kickers — Kade Loggins, Dalton McGowen and Harim Echalar — connected on field goals including a 47-yarder by Echalar.
span class="Apple-converted-space"> 
East Coweta-Griffin 
While there was some definite carryover from the success of its spring scrimmage, East Coweta showed areas of improvement that were a focus of summer workouts.  
"I thought we flew around," Small said. "I thought we tackled better in space which is something we really addressed in the offseason. I thought our kids did a lot better in space. Griffin's got a lot of athletes so that was good to see against them."
 Green, a senior who has verbally committed to Georgia Southern after rushing for over 1,100 yards last year, broke free on a pair of occasions early for scores. 
"It was good for the kids to play somebody else instead of themselves. You're working on a lot of different things," Small said. "I just wanted to see our kids play hard, play for each other and give maximum effort, all the things we've been preaching and practicing and go out and try to execute. I thought we got a lot out of it."
span class="Apple-converted-space"> 
East Coweta maintained a 34-7 lead at the half after its quick start. 
The effort came on the heels of a 33-3 win over Sandy Creek in the Indians' spring scrimmage.
"A lot of kids got to play, got some experience," Small said.  "This group loves playing with each other and competing for each other. So there was some carryover for the kids." 
Despite the arrival of game week, however, East Coweta expects to keep the same pace that it has all summer in its preparation for Kell on a much bigger stage
"I don't say we 'up' it," Small said. "We stay who we are and try to get better every single day."