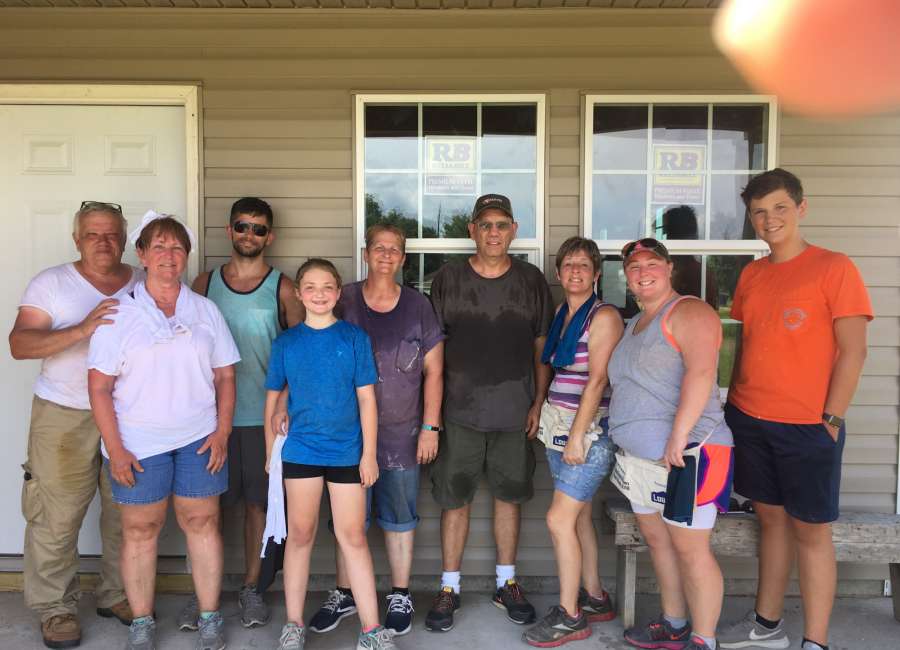 By TOM BARNETT
Special to The Newnan Times-Herald
Mission team members from Oak Lawn Baptist Church served in Tutweiler, Miss., for their annual mission week from July 9-14.
This is the 12th year members have served in the Mississippi Delta, known as one of the poorest areas in the United States.  This area, approximately 90 miles south of Memphis, is primarily farming. Rich soil grows thousands of acres of corn, cotton and soybeans.
Little white churches dot the farmland – reminding of years past when farming was more labor intensive and farm owners would donate land to their workers for church locations giving them places of worship.
The environment is known for the extreme summer heat and humidity because of the Mississippi River nearby and many swamps and bayous.
During the week Oak Lawn members worked with Tellahatchie Habitat for Humanity installing siding on a new home.  This affiliate, known for their conservative use of funds, builds two – sometimes three – homes annually with only two part-time employees and volunteer groups that come in from around the nation to assist.
In addition, during the week Oak Lawn members divided their efforts to help a local pastor rebuild his porch.
Oak Lawn members were also able to worship on Sunday with the local congregation at Friendship Baptist Church, where Pastor Robert Watkins ministers.  On Wednesday evening, Oak Lawners ran a mini-Bible school and gave out donated items including three cases of Bibles.
David Arrington, Oak Lawn pastor, taught the Wednesday Night Bible Study during their visit.  During the week individuals volunteered to lead evening and morning devotionals, setting a spiritual tone for the week.  Team members cooked their own meals in Habitat housing and volunteered for housekeeping chores during the week.
Oak Lawn mission teams have ranged in size from 10-30 people. For many mission team members, the mission trip is an event that highlights their year, including renewing friendships made with acquaintances from the Delta.
Planning for the next year begins in January for the coming summer where reservations are already made.  A favorite scripture reminds us of our responsibility as Christians, Galatians 6:10 – "As we have therefore opportunity, let us do good unto all men, especially unto them who are of the household of faith."
Making the trip from Oaklawn this year were David Arrington, Parker Arrington, Cindy Barnett, Tom Barnett, Cassie Gaddy, Wonda Gaddy, Jenna Hodnett, Danilyn Holliway, Debbie Moreland and Cody Yeager.