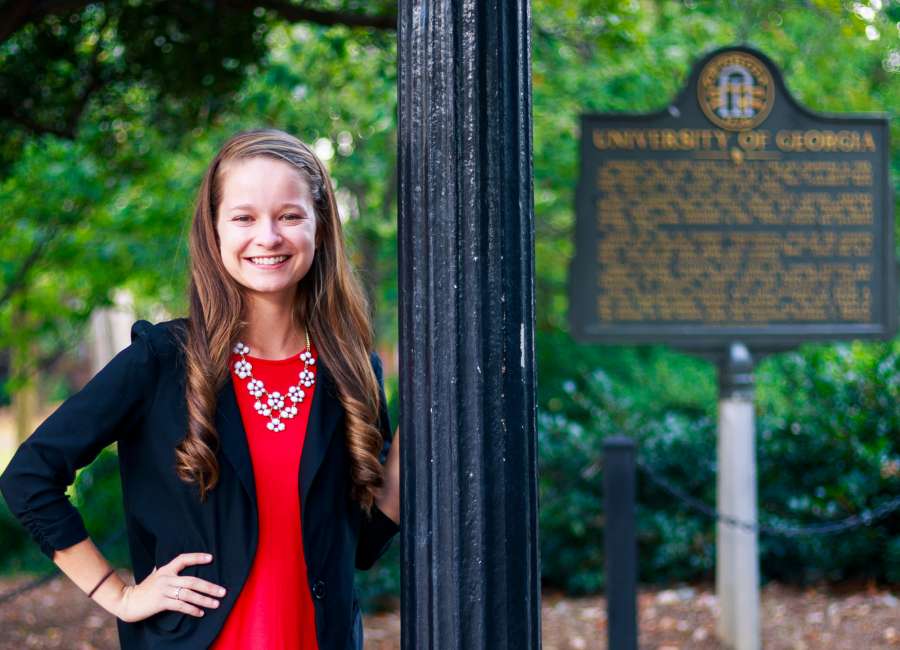 Mindy Griffith is about to begin her fifth year at the University of Georgia as a drum major for their Redcoat Marching Band, and she has been named an 'Amazing Student.'
UGA picks a student to profile once a week as part of a series through their news website UGA Today, and Griffith received an email saying she had been chosen as one at the beginning of the summer.
Griffith said she always thought it would be cool to be named an Amazing Student, but didn't think it would ever happen.
'It was wild when I got the email,' Griffith said.
Griffith graduated from Newnan High School in 2014, where she was named the homecoming queen in 2013.
While at NHS, Griffith was a member of the marching band and played the piccolo for two years before she became a drum major for her last two years.
'I wouldn't be anywhere where I am now without my teachers and high school experience,' Griffith said.
When it came time to pick a college, Griffith said that she had always wanted to go to Georgia Tech, but after visiting the campus with friends she didn't feel that she should go there anymore.
Griffith said she instantly fell in love with the school.
'The minute I finished the tour, I knew this was where I wanted to go,' Griffith said.
Now, Griffith is a tour guide for UGA, and she said she thinks it's cool that she can give high schoolers a tour experience like she had.
Griffith auditioned for the Redcoat Marching Band and played piccolo for her first three years at UGA before becoming a drum major.
She is studying music education and said she is considering joining the Peace Corps or going to law school later in life.
While at UGA, Griffith has been involved withOmicron Delta Kappa, a leadership society, of which she was the president last year.
Griffith was also the president of a music fraternity, Sigma Alpha Iota, which has a focus on service.
Griffith said the application process was intense, and it took her several days to complete the application.
UGA then selected 20 students to do interviews, before they narrowed it down to the five men and five women that would be on the court, of which Griffith was a part.
Although Griffith did not win homecoming queen, she said the band gave her a crown and chanted 'Mindy's our queen' during the fourth quarter of the homecoming game.