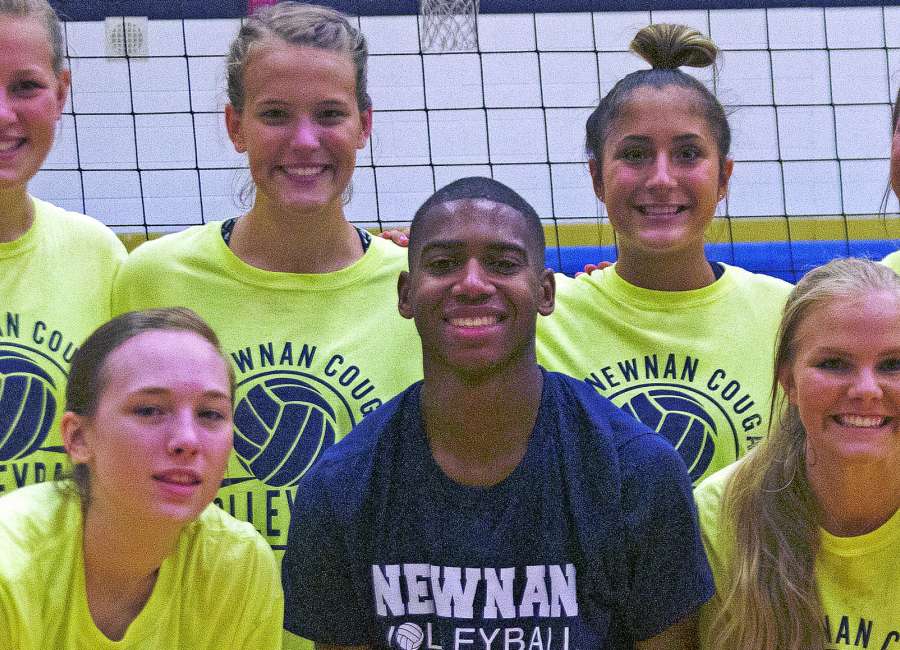 When Newnan High School announced it had hired Amber McClure-Fayerweather to take over as coach of the volleyball team there was plenty of celebration.
At just 38 years old, McClure-Fayerweather had already accomplished more than some high school coaches achieve in their entire career.
span class="Apple-converted-space">  high-energy coach spent three years at Newnan rival East Coweta leading the Lady Indians to the Class AAAAAA Final Four in 2015 before moving on to Harrison High School where she led to the Lady Hoyas to back-to-back state titles in 2016-17.
McClure-Fayerweather was ready to put her spin on an already talented Lady Cougars squad that reached the Final Four last season.
Before McClure-Fayerweather could ever coach a match with the Lady Cougars, tragedy struck the newlywed  and she lost her short battle with cancer earlier this summer.
McClure-Fayerweather's impact has been felt at her new school and the Lady Cougars are dedicating the season to the the young coach who had big plans for her new program.
"It's been a really hard summer, and our team is going out and dedicating the season to 
her," said Janet Brown, who has been named the head coach.
Brown has been named the head coach of the program and admits she will serve more in an administrative role and turn the on-court duties over to former Division I volleyball player Megan Chevalier, who played at Georgia Southern,.
The Newnan coaching staff inherits a team that made history last year, compiling a 37-6 record, winning the county title and going 8-0 in Area 2- 7A.
"We are going in with the mindset that we are going to practice and play hard because that's what she would have wanted," Chevalier said. We have been working all summer to get better and stronger." "It didn't take me long to know there is a lot of talent on this team," she said. "That part is there. We just have to figure out how we can get everybody on the same page."
Chevalier hopes her college background inspires the Lady Cougars.
"I just want them to know whether they are a starter or on the bench they can make a contribution," she said "I didn't always start, but I worked hard and played at the Division I level. Everybody has a blank slate here."
Newnan returns a deep team with six seniors, including twins Morgan Sestrich and Madison Sestrich, Elle Oldham, Tatum Boston and Madison Headley.
Juniors Emily Spencer, Mary Beth Headley and Maggie Bates bring depth and experience to the team.
A trio of sophomores are also expected to get playing time, including Caroline Darracott, Tatum Boston and Drew McLendon.
Newnan jumped started its 2018 season with 3-1 record in Sequoyah Classic beating Centennial (2-1), and sweeping Creekview twice. 
"Those early-season matches and tournaments are going to be a really big measuring stick for us," Chevalier said.
Newnan heads into the Area 2 7A portion of its season trying to repeat as league champions.
Rival East Coweta finished second in the area last year with Wheeler and Westlake also making the state tournament out of Area 2.
Newnan beat East Coweta as part of the Coweta County Tournament and also knocked off Northgate to earn county bragging rights.
Winning another county tournament on Sep. 13 is on the Lady Cougars short list of accomplishments.