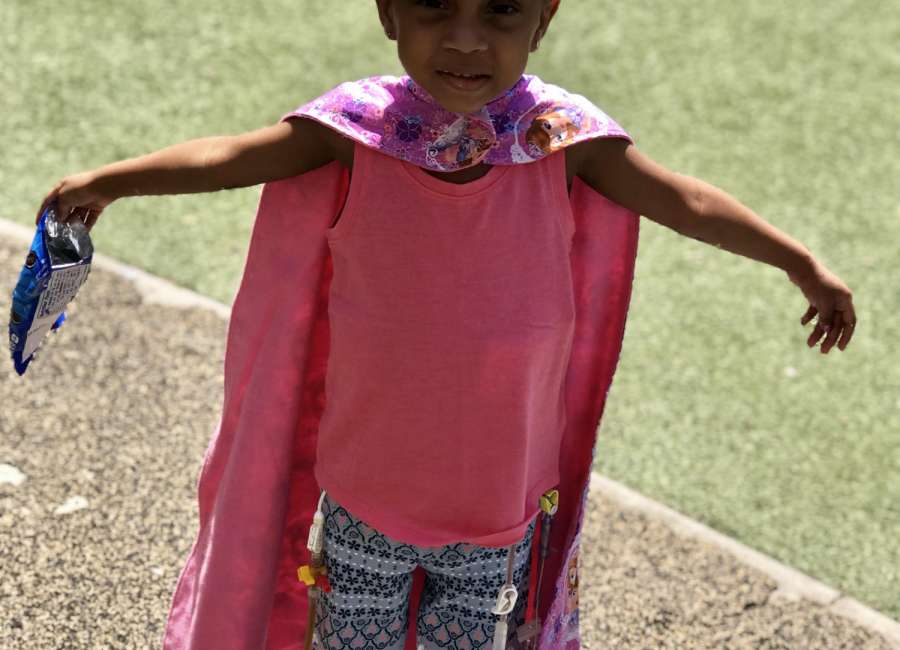 Three-year-old Aubrey English came out of her mother's womb fighting for her life.  
The Fairburn toddler was born at 26 weeks and weighed 1 pound, 10 ounces, according to her mother, Mikeon English.
Aubrey spent time in the Neonatal Intensive Care Unit before she could come home.
Mikeon said what Aubrey lacked in age and stature, she more than made up for with her cheery disposition and commanding presence around the house.
"She is the youngest of four kids. But Aubrey has a strong personality and runs the household around here," Mikeon said with a laugh.
The toddler's love for arts and crafts was only interrupted by ongoing speech and physical therapy sessions to help Aubrey overcome side effects of her premature birth, her mother said.
They were challenges the toddler was close to overcoming in April. No one knew the little girl's toughest opponent was yet to come.
That changed when Mikeon took Aubrey to see her pediatrician, Dr. John Edwyn Carter, with Piedmont Pediatrics in Newnan.
"She was urinating a lot, like five or six times within 30 minutes," Mikeon said. "I thought she probably had a urinary tract infection or bladder infection. But during the exam, Dr. Carter felt Aubrey's belly and said, 'I feel something different on her.'"
"I felt a lump in the area of her liver," Carter said. "I was hopeful it was just constipation. I told them to try a few things at home and come back in a few days."
According to Mikeon, after a round of antibiotics failed to clear up the mysterious lump, Carter insisted Aubrey have blood work and an ultrasound.
The test showed a mass on the toddler's liver.
Aubrey was immediately sent to Children's Healthcare of Atlanta, where Mikeon works as a nurse.
CHOA specialists diagnosed Aubrey with an aggressive liver cancer called hepatoblastoma.
"It was definitely a shock," Mikeon said. "It wasn't something I expected. I took her to the doctor, and a few days later our whole world turned upside down.
"We were beginning to feel we were at a great place with Aubrey," she continued. "She was finishing up several therapies. Then we got hit with this news … it was hard."
According to Mikeon, more tests showed the tumor markers in Aubrey's blood registered at 400,000. In a healthy child, that number would be less than 10, Mikeon said.
A CT scan confirmed the cancer, which consumed the entire right lobe of Aubrey's liver, she added.
In May, doctors removed 50 percent of the toddler's liver, plus her gallbladder.
A few weeks later, Aubrey began chemotherapy.
While the cancer diagnosis was not the news the English family hoped to hear, Mikeon said doctors at CHOA were quick to credit Carter for catching the tumor early – and potentially saving Aubrey's life.
"This type of tumor is rarely found where doctors can remove the entire tumor from a liver," Mikeon said. "The doctors at CHOA continue to praise Dr. Carter for finding the abnormality. His persistence helped Aubrey's course of treatment.
"He didn't miss anything. He actually listened to us and didn't just throw antibiotics at Aubrey," she continued. "It brings tears to my eyes. I consider him our angel. Things could be a lot different."
Carter said hepatoblastoma is common in premature babies.
"I knew cancer was a possibility when I felt the lump in the area of her liver, but I was hopeful it wouldn't be," he said. "When I received Aubrey's  results, I called Mikeon to let her know Aubrey was at stage one and it had not metastasized. She had a very good prognosis."
Mikeon said Carter's compassion for her daughter didn't end with her diagnosis.
Carter, who has been a pediatrician in Newnan for 24 years, continues to follow up on Aubrey's progress. He and his staff at Piedmont Pediatrics also presented the English family with a check for $770 to help pay the toddler's medical bills.
"Tiffany, our front office coordinator, found out about a fundraiser the family's church was having for them," Carter said. "I was out of town and couldn't attend the event. We put the flyer and information about the family at the front desk with a collection jar. The entire staff and our patients contributed, and we raised $770 in less than two weeks.
"It is tough seeing them go through this and we wanted to support them anyway we could," he added.
Carter refuses to take credit for saving Aubrey's life. Instead he places the praise on Mikeon for trusting her intuition and bringing the toddler to his office.
Meanwhile, Aubrey continues to wage war on the cancer that has invaded her body.
She has two more rounds of chemotherapy, and her family hopes she will finish her treatments by early October, Mikeon said.
"I'm very surprised she has handled things as well as she has," Mikeon said. of her daughter. "We tried to explain it to her. She knows she has 'bad things' in her belly that we have to get out. But it's hard to tell her why we have to keep going back to the hospital. We tell her she has to get the medicine to get rid of the 'bad things.' But I'm not quite sure how much she understands."
While Mikeon and Carter may disagree on who potentially saved the toddler's life, they both agree Aubrey was a born fighter and won't let cancer get the best of her.
"Aubrey is tough and has been a fighter her entire life," Dr. Carter said. "She also has a wonderful support system. When she started chemo, her mom and Grandma shaved their heads so they'd be just like Aubrey."
"She gets tired easily, but she still wants to get out and run around. We're so proud of her," Mikeon said. "I want her to grow to be healthy and strong and live a normal life."