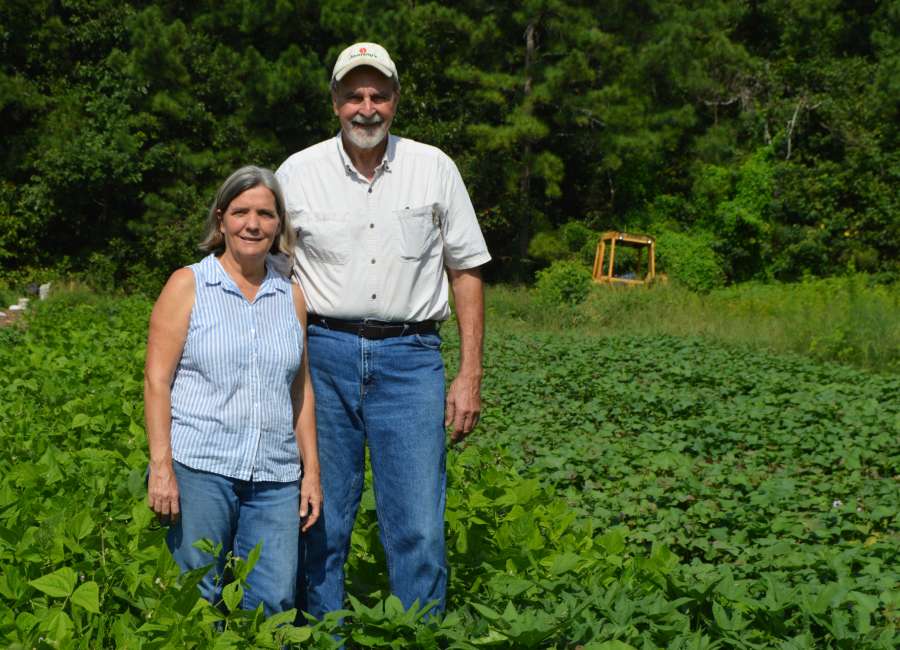 Mike and Judy Cunningham will soon trade their neighboring town of Turin, Georgia for the exotic foreign city of Turin, Italy.
The owners of Country Gardens Farm off Highway 154 in Sharpsburg will jet to Italy in September for the country's 2018 Terra Madre Slow Food Conference.
The Cunninghams were chosen as delegates to represent the Slow Food Atlanta chapter. The couple said they've been waiting eight years to take this trip.
"I was skeptical we were going to be picked," Mike said with a laugh.
"He kept saying, 'They're going to pick someone younger.' But I still filled out the application. We learned about a month ago we were picked to go," Judy said. "This conference has been on our 'bucket list,' so we're excited about the opportunity."
The Slow Food Movement was founded by Italian political activist and journalist Carlo Petrini in 1986, according to a news release.
The campaign takes a stand against fast food and works to promote locally grown foods and traditional cooking.
"He wants to preserve the local food culture and put more value on food, not just buying the most food for the cheapest price," Mike explained. "He showed us we throw away so much food every day …  we place very little value on it."
The couple said Petrini and the Slow Food Movement also encourages small farms.
The Cunninghams heard Petrini speak at the Georgia Organics Conference in Athens several years ago. His ideals struck a chord with the couple who provide a Community Supported Agriculture (CSA) group.
Residents sign up for the group for a nominal fee and can pick up a bag of produce each week from the Country Gardens Farm.
"The community supports us and each season we know how much to plant, which crops are popular and when the produce will be ready to harvest," Mike said. "When we take time to slow down, prepare a meal from local sources and share that meal with family and friends, we enjoy it more and place more value on the food."
The Cunninghams also teach local residents about the Slow Food Movement through a variety of classes on the farm, such as planting crops, organic gardening methods and preserving produce. They also provide recipes on how to prepare meals with fresh vegetables and herbs.
The couple will be able to share those same lessons with more than 3,000 participants at the Slow Food Conference in Italy.
The Cunninghams will also have the opportunity to take cooking classes, visit a local trade show and network with farmers and chefs from all over the world.
The couple's main mission is bring new ideas back to Country Gardens Farm and share them with the community.
"We're excited to go," said Mike. "The trip will help enhance what we're already doing here and maybe implement new programs and plans."
The Cunninghams will head to the Slow Food conference Sept. 18.
A fresh food dish
Many people agree that fresh fruits and vegetables picked right off the vine or harvested from the ground are the healthiest choice for family meals.

However, Mike and Judy Cunningham said sometimes people pick their produce  – but have no idea how to cook it.
Judy typically provides recipes during some of her classes at the Country Gardens Farm and in the community.
Here's one of her unique dishes using long beans, also known as noodle beans. The vegetable is similar to green beans, but are thinner and longer, Judy said.
Stir-Fry Noodle Beans
This stir-fry recipe is a quick and easy way to prepare noodle beans. It can be made mild or spicy by adding either bell peppers or serrano peppers.
Ingredients:
1/2 pound noodle beans, cut into about 3" pieces or leave long
1 Tbsp. sesame oil
4-6 chilis, roughly chopped
1 tsp. whole peppercorns, lightly crushed
1/4 t sea salt
3 tsp. sesame oil
Tamari sauce to taste, can also use soy sauce
1/2 t sugar (optional)
Recipe:
Add 1 Tbsp. sesame oil to your medium hot saute pan.
Add chilis and lightly crushed black peppercorns.
Stir-fry till fragrant.
Add beans and stir-fry for 5-6 minutes.
Season with sea salt and sugar.
Toss and stir-fry for a few more minutes.
Remove from heat and stir in the 3 tsp. of sesame oil. Sprinkle with tamari or soy sauce.
These beans will still be crunchy. To soften them, put the lid on the skillet and let simmer for a little longer.
(Recipe: Mike and Judy Cunningham, Country Gardens Farm)