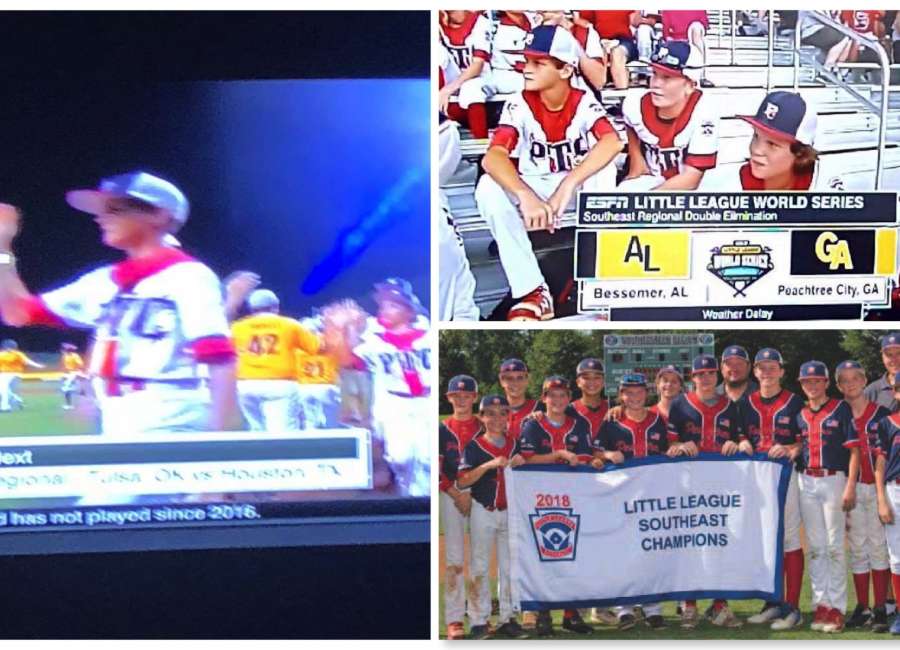 By Chris Goltermann
Last year, Peachtree City Little League's Jayce Blalock swung for the fences with towering home runs that had his team one win away from reaching an elusive trip to the prestigious World Series in Williamsport.
But on Wednesday, two more promising baseball talents from Coweta County were able to finish Peachtree City's quest one year later.
Led by Jansen Kenty's complete-game 13 strikeout performance along with some defensive heroics from Wills Maginnis, Peachtree City successfully advanced to the Little League World Series (LLWS) in Williamsport, Pa., after shutting out Virginia's Loudon South 3-0 in the Southeast Regional final in Warner Robins.
The regional featured state representatives from six states including Alabama, Florida, Tennessee, West Virginia and both North and South Carolina.
Peachtree City went undefeated while representing Team Georgia and earning the league's first-ever trip to Williamsport. They became the seventh state lineup since 2001 to advance to the LLWS and aspire to be the first representing Georgia to capture the title since lineups from Columbus and Warner Robins won backto- back in 2006 and 2007.
Tournament play begins at the LLWS next Friday at 8 p.m., against the winner of the West Region. The eight representatives from the U.S. will be joined by eight international teams in the event with the championship game slated for Sunday, Aug. 26 at 3 p.m., on ABC.
In Wednesday's Southeast Regional final, Team Georgia connected for all three runs in the third starting with an RBI single by Kenty.
The 13-year-old then continued to shut down Virginia while allowing three hits. He got out of a jam in the fourth, after consecutive runners reached to open the inning. In between a wild pitch, Kenty struck out the side to get out of the jam.
Kenty was able to complete the victory in the sixth on his 86th pitch knowing it was his last batter having reached the allowed 85-pitch limit.
Maginnis equally helped out defensively with an over-the-shoulder grab of a popup from second base in the sixth to prevent a leadoff runner from reaching.
Kenty began the double-elimination regional with a similar 13-strikeout effort over five innings against Tennessee.
While he was forced from the game due to the 85-pitch count in a no-decision, Team Georgia went on for a 1-0 walk-off victory following back-to-back hits to open the bottom of the sixth. Along with 26 strikeouts in two appearances over 11 shutout innings, Kenty only yielded eight combined hits and just two walks.
It's been a trend for the Peachtree City All-Stars.They also went undefeated at the state level, giving up just five runs in four games to move on to the regionals.
After shutting out Tennessee in a game where Maginnis also had a hit, Team Georgia held off Virginia 4-3 in the first meeting between the eventual finalists.
Virginia tied the game with two runs in the bottom of the inning before Georgia came up with a clutch sacrifice fly in the sixth to break a 3-3 tie.
Up next was an 8-3 victory over Alabama to reach the regional finals.
Kenty and Maginnis have older brothers that play in feeder baseball programs at Newnan and East Coweta High, respectively, and the pair may equally be destined to become future rivals.
Along with Blalock, currently a freshman at Trinity Christian, Coweta County continues to have a bright future on local diamonds.
In last year's Southeast Regional, Blalock belted mammoth home runs , including one that was belted into the trees while measured at 375 feet. The highlight went viral and earned him a trip to SunTrust Park where he also cleared the fence during an impromptu batting practice session.