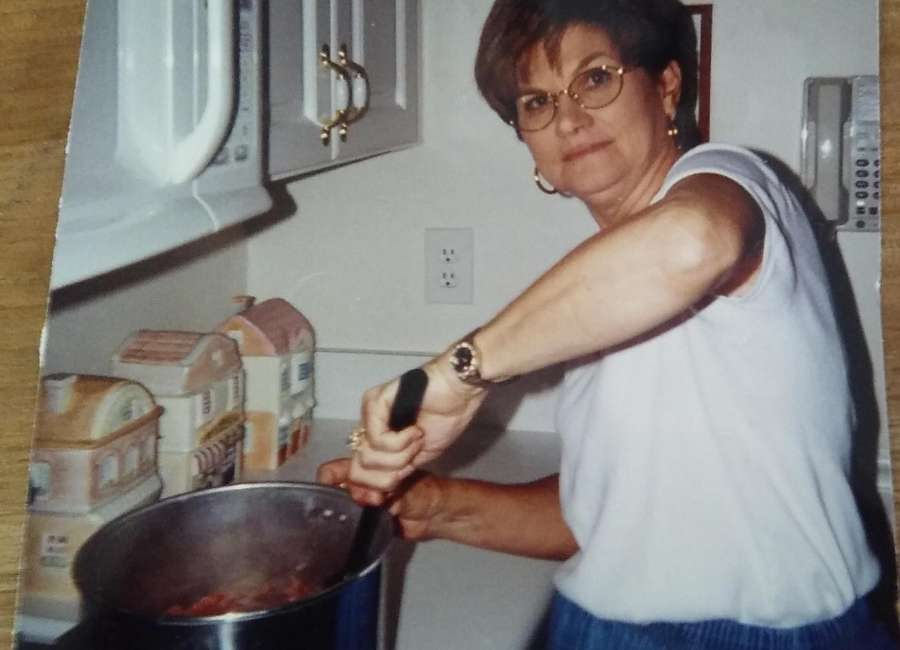 When Billie Duyka married 56 years ago into a family from Czechoslovakia, now known as the Czech Republic, she not only gained a husband, but generations of unique, homemade recipes. 
Duyka was only 20 years old at the time and living in Wharton, Texas – just south of Houston.
Her favorite dessert as a child was chocolate pie. She quickly learned the decadent dessert was one of her mother-in-law's favored pies to bake for the family – and rightfully so, said Duyka.
Mary Duyka's recipes for pies and a popular Czech dessert called kolache were handed down for more than six decades.
Billie Duyka decided she wanted to carry on the tradition and would sit by her mother-in-law in the kitchen, watching and taking notes as the elder woman baked the sweet treats.
"I was just fortunate enough to learn how to make them," Duyka said. "She didn't measure out any ingredients, so I would watch her. As she took out the ingredients, I would measure them out."
Duyka learned how to create a family favorite pastry that is popular in the Czech Republic.
"Kolache is a sweet bread with poppy seeds, an apricot or other fruit filling on top, surrounded by cream cheese. It can be eaten as a dessert or for breakfast," Duyka explained. "In Texas, I lived in a mostly Czech neighborhood, and people would make kolache all the time. There is a little town in Texas called West. They're known for their kolaches. People will drive down from Dallas to get them."
Duyka said while the pastries are one of her favorite treats to bake, she doesn't make them very often.
"It's an all-day affair to create the dough and filling and then bake them," she said.
Everything Duyka makes is from scratch, from the crust to the fillings. This includes her homemade peach, apple and blackberry cobblers.
Duyka said she learned those secret recipes from a church cook in Texas.
"She made me promise not to give the recipe to anyone else until she died," Duyka said.
During the week, Duyka's main job is working for Contemporary Catering as a designer.
But her career doesn't stop Duyka from spending time in her kitchen baking goodies for family and friends.  
"My husband works for Home Depot, and they sometimes hold events. I'm  known as the 'Cobbler Lady' to his coworkers," Duyka laughed. "I'll make baked goods for my church or for neighbors. My kids, grandkids and I fix pie and cobbler every Christmas, too."
While Duyka's favorite dessert creation is chocolate pie, she also bakes coconut, lemon and buttermilk pies.
Duyka enjoys baking, but she mostly savors serving her delectable desserts to loved ones.
"It makes me happy to create something that someone enjoys eating," she said. "Baking also brings back memories of my mother-in-law and my mom.
"I give a lot of credit to my mother-in-law for having patience with me and letting me measure everything out. She's part of the reason I love cooking," Duyka added.
Duyka said she plans on passing down the family recipe to her children and grandchildren.
Chocolate pie creations
By MELANIE RUBERTI
Billie Duyka's chocolate pie is a big hit among her family and friends.
The creamy, decadent dessert is a delicious way to top off a holiday meal or serve at special events.
Chocolate pie can be created with a simple filling or jazzed up with a variety of flavors and toppings.
Here are a few recipes to try for your next family meal, holiday gathering or just because you're craving chocolate pie.  
Chocolate Pie
Ingredients:
1 ½ cups granulated sugar
1/4 cup + 1 Tbsp cornstarch
1/4 tsp salt
5 large egg yolks
2 2/3 cup whole milk
1/2 cup heavy cream
6 oz dark chocolate, finely chopped
4 tablespoons of butter, cut into pieces
1 ½ teaspoon vanilla extract
Homemade Whipped Cream
Recipe:
In a medium saucepan, whisk together sugar, cornstarch and salt.
Add in egg yolks, milk and heavy cream. Transfer mixture to stovetop over medium-high heat and whisk ingredients together until it begins to thicken.
Once mixture has thickened (it should be a pudding-like consistency) whisk constantly. Bring mixture to a boil and continue to whisk for 60 seconds before removing from heat.
Immediately add chocolate, butter and vanilla extract.
Whisk until ingredients are smooth and chocolate and butter are completely melted.  
Pour pie filling through a fine mesh sieve into a medium-sized heatproof bowl. Allow to cool for 15 minutes, stirring occasionally to prevent skin from forming.
Pour filling over prepared pie crust and cover surface with clear wrap, making sure that the clear wrap is pressed against the surface of the chocolate to prevent a skin from forming.
Refrigerate at least 6 hours to allow chocolate pie to firm up and set.
Homemade Whipped Cream
Prepare Whipped Cream shortly before serving pie.  
Combine 3/4 cup heavy cream, powdered sugar and vanilla extract in a medium-sized bowl.
Use an electric mixer to stir on low-speed. Gradually increase speed to high and beat until stiff peaks form.
Pipe or scoop whipped cream topping over pie just before serving.  
(Recipe Courtesy: sugarspunrun.com)
Decadent Chocolate Espresso Pie
This triple chocolate pie's bold espresso flavor is balanced out by its sweet and creamy topping. It's a dessert both java lovers and non-coffee drinkers will enjoy.
Ingredients:
1 1/2 c. milk
1 c. cornstarch
3/4 c. sugar
1/2 tsp. salt
1 tsp. instant espresso powder
3 large egg yolks
1 tsp. vanilla extract
1 bar semisweet chocolate
1 bar bittersweet chocolate
4 oz. milk chocolate
baked piecrust
Espresso Whipped Cream
1 1/2 c. heavy whipping cream
2 tsp. heaving whipping cream
2 tsp. instant espresso powder
6 tbsp. powdered sugar
grated chocolate
Recipe:
Whisk together 1 cup milk and cornstarch in a small mixing bowl until smooth.
In a 3 1/2-quart saucepan combine sugar, salt and remaining 1/2 cup milk. Cook over low-heat, stirring frequently until sugar is dissolved. Whisk in espresso powder and cornstarch mixture. Cook over medium heat until mixture thickens, about 5 to 7 minutes.
Whisk about 1/2 cup cornstarch mixture into egg yolks in a large mixing bowl. Whisk this back into espresso mixture in saucepan and cook over medium-low heat 5 minutes, or until mixture is thickened.
Remove from heat and whisk in vanilla and chopped chocolate.
Transfer to pie crust. Place plastic wrap directly onto filling (to prevent film from forming). Let stand 1 hour; then refrigerate for 6 hours.
Microwave 2 teaspoons cream in a small microwave-safe bowl for 10 seconds. Stir in espresso powder.
Place remaining cream in a chilled mixing bowl. Beat at medium-high speed until soft peaks from. Add powdered sugar, 1 tablespoon at a time, until medium firm peaks form. Add espresso mixture, beating just until incorporated.
Spread over chilled pie and top with grated chocolate.
(Recipe Courtesy: www.countryliving.com)