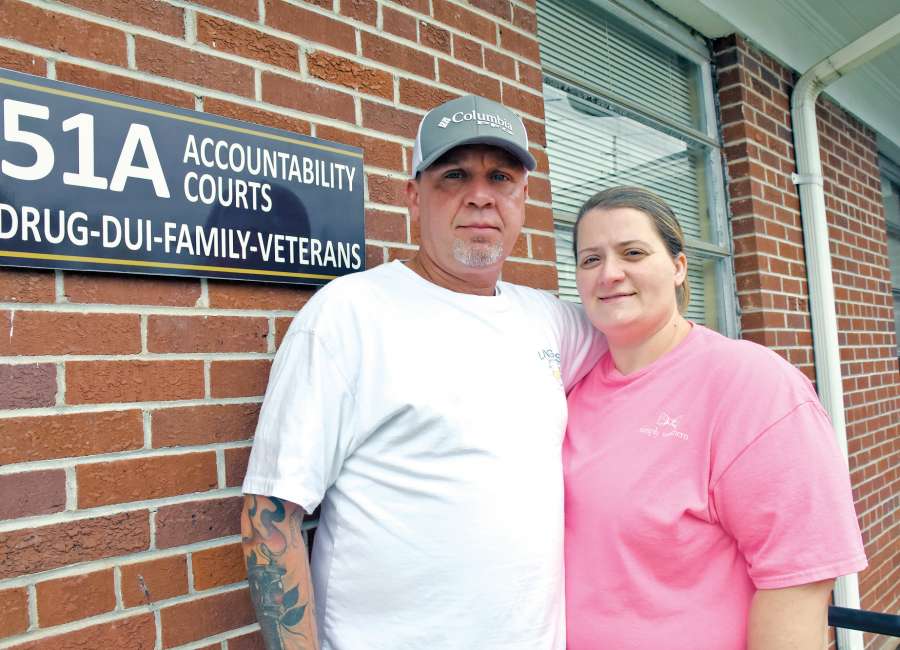 Ronnie "Runt" Head grew up in Coweta County, but said he didn't get involved with drugs or alcohol until his late 20s. 
When a custody battle eventually took away his children, his life was turned upside down.
As a result, he took to using methamphetamine as a coping mechanism. Like many addicts, he eventually began selling the drug to help supplement his own habit.  
"It consumed my whole life," Ronnie said. "In addiction, people don't often understand the loneliness it stems from, and it fueled my drug addiction."
An Unlikely Friendship
For over a decade, Task Force Agent Victor Mcphie has spent his days and nights navigating the world of narcotics in Coweta County.
While working for the Newnan Drug Task Force and GBI West Metro Drug Task Force, he eventually crossed paths with Ronnie.
"We often meet good people in not-so-good places," Mcphie said.
As a narcotics investigator, Mcphie said he knew Ronnie didn't belong in the world he was currently inhabiting and told him so.
"Ninety percent of all crime stems back to drugs, and Ronnie was heading down the same, inevitable road of destruction," Mcphie said.
Knee-deep in his addiction at the time, Ronnie hadn't been charged with anything too serious – yet. In his heart, Mcphie knew there was always a chance for him to break out of the cycle.
"Everyone involved with drugs aren't bad people. They're just battling an addiction, and that's where Ronnie was at that time," Mcphie recalled. "I told him everyone makes mistakes, but the wise learn from them."
Over the next several months, Mcphie made a point to keep in touch with Ronnie and encouraged his recovery. An unlikely friendship formed between the two men.
Upon hearing of Ronnie's entry into drug court, Mcphie was hopeful, but knew his friend faced a hard road.
"As the saying goes, 'You can lead a horse to water, but you can't make it drink,'" Mcphie said. "Well, Ronnie chose to drink."
Beginning the Journey
Following a string of arrests stemming from drug possession, theft and probation violation, Ronnie hit rock bottom and saw drug court as his only hope. In 2015, he took on the greatest challenge of his life.
"Drug court brought me back to life," Ronnie said.
The journey from rock bottom was a difficult climb for not only Ronnie, but for those who still stood by him– including his future wife, Jillian. For nearly a decade, she remained with Ronnie through the darkness.
"When you're in love with an addict, it affects every aspect of your life," Jillian said. "I lost my car and went from a 2,800-square-foot house to a one-room apartment because I couldn't give up on him."
With Ronnie enrolled in the 20-month program, her days began at 4:30 a.m. when she drove him to drug court for drug testing and then to work.
"You do everything you can to make them feel better because you don't know the root of the problem or how to fix it," she recalled. "But so many give up on them, so they keep doing drugs with old friends because their company makes them feel good."
Through classes provided by drug court, Ronnie began to realize the roots of his addiction and learned how to love and forgive himself.
"You can put things on paper and see what everyone else is seeing," he recalled. "Through relationship rebuilding, I saw how strong my wife is and what my kids missed from me."
While Ronnie persevered through the program, he saw others who eventually fell off. One friend went back to prison. Another was killed in a car accident, and one friend was shot in the head.
Ronnie was reminded of the old saying – "if the drugs don't kill you, the lifestyle will."
Ready for a Change
One morning before leaving for work, Ronnie took a look around his neighborhood in Arnco and surmised the odds of relapse were relatively high.
"To my left, meth-heads. To my right, meth-heads," he recalled. "I told Jill to start packing because we had to leave. I didn't know where, but God always finds a way."
The couple relocated to Grantville and began attending Change Church – founded by another recovering addict, TJ Boyd.
"Like many of us, Ronnie's made some wrong choices and they've led us down a dead-end path," Boyd said. "Drug court is a great program if you work it correctly, and along with his faith which gave him strength, it's helped him stay the course.
"It's always easier when you have a family supporting you and Change Church was that family that stood by him, encouraged him and wanted to see him succeed."
Hope for the Future
With the cost of meth at an all time low and the purity at an all time high, Mcphie said people like Ronnie are fighting tougher odds than ever. And with stark options like death or prison, having access to drug court is one of the greatest lifelines a struggling addict can have.
The benefits from a successful recovery are two-fold.
"If he gets back on track, his life is better and our community is a safer place because he's not out there putting people at risk because of his addiction," Mcphie said.
"Judge (Joseph) Wyant believes in Ronnie and people like him," he said. "If they don't have an outlet, they're going to turn back to that environment where relapse is nearly inevitable."
While Ronnie sings the praises of drug court every chance he gets, his only complaint is the accessibility.
"I wish everyone had access – not just those on the other side of the law," he said. "I think you'd see a lot more people taking advantage of that."
Ronnie has remained clean since 2015 and enjoys stopping by drug court regularly to help those who might just be starting off.
"I tell folks that I've been there and there's hope, but you have to give it everything you've got," he said. "But if I can do it, anyone can."